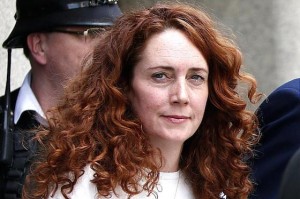 The political debate moved out of parliament several decades ago, into the judicial arena in a wave of enthusiasm for 'judicial review' – now it is being played out in the criminal courts. The Old Bailey has become the equivalent of the Jeremy Kyle show for the political wonks inhabiting the Westminster bubble.
Labour had no problem with Silvio Berlusconi controlling the entire Italian media; not a peep was heard from them about the dangers of 'media moguls'. Nor was there a hint of criticism of Rupert Murdoch when his vast empire was supporting Labour policies. There was no talk of 'press regulation' as Blair's 'babes' were proudly paraded on every front page. Newspapers published stories of royal antics to the delight of anti-monarchists with never a whisper of complaint as to how those stories were acquired. Nor a hint of the 'power' wielded by 'celebrities' against vulnerable young girls when those same celebrities were trooping in and out of Downing Street at the invitation of Labour politicians. The stars of Labour adored Rebekah Brooks, then married to one of Labour prime fund raisers, Ross Kemp – she stayed for 'sleepovers' with Sarah Brown, counted Cherie Blair amongst her close friends, but most of all, it was her long standing friendship with Alastair Campbell, an ex tabloid editor himself, which saw her courted by Labour's hierarchy.
Is it really so sinister that she should also be friends with Cameron? Her husband went to school with him, they were neighbours; it would have been odd if they weren't friends – the school connection and the neighbourliness are surely more pertinent here than Cameron's political allegiance. I'm more suspicious of her friendship with Gordon Brown, who lived the other end of the country. Much was made of the fact that Cameron rode a horse belonging to the Met Police. A sign of the 'power' wielded by Murdoch again? Yet Rebekah's husband is a race-horse trainer, despite the media's attempts to label him as a 'sex-toy mail order' merchant – he maintains a yard full of horses. Exactly the sort of person who would be offering a home to a retired horse. If my husband's friend happened to be Prime Minister, I guess I'd be offering him the safest horse in the yard to ride when he wanted to, rather than a highly temperamental race horse…
Come a change of government, and the criminal courts are full of characters who 'should have been arrested years ago'. Historic sex crimes, historic hacking crimes, historic invasions of privacy, historic inquires into historic inquiries.  A mass historic hysteria.
One of the most unpleasant aspects of all this, is that our political future is being decided by the avowedly unelected. The lawyers and judges. At a cost of many millions to the tax payer. Guilt is being determined by allegation – and if the jury of ordinary citizens refuse to play ball and insist on returning a 'not guilty' verdict – then the media and the CPS is on hand to reinforce the slurs.
I find it impossible not to feel sympathy for Rebekah Brooks. Even following her acquittal, the media was keen to emphasise who precisely they could name that she had slept with – sub text: 'she's just a slapper' – that she lived in the same county as 'royal princes' (probably for the same reason they chose the area – near to London and some very pleasant houses which she could afford); that her Father was a 'tug boat crewman' – Sub text: 'she's just trailer trash, slept her way to the top'; that her main 'relationship' was with Rupert Murdoch – sub text: 'she probably slept with him as well'; and most hurtful of all; her daughter was born via surrogacy – sub text: 'she's not even a proper woman'.
That the media was able to print all this was because of the decision by the CPS to bring her sexual relationships, her daughter's origins, her background, into evidence. Rebekah has always been noticeably reticent about her private life. She has preferred to be judged on her ability to do her job in the testosterone charged atmosphere of the tabloids.
There may be some point to the ritual humiliation of Max Clifford in a historic sex abuse trial; the comments regarding the size of his penis could be said to be relevant to whether the witness had ever even seen his penis. Was there any point to revealing the contents of a late night, drink fuelled, emotive e-mail between Rebekah and Andy Coulson? It was said to show evidence of their 'closeness' and thus of the imperative of believing that such closeness obviously extended to a shared deliberate conspiracy to 'hack' phones.
To me, it smacked more of the same callousness that led police to search the cot of her new daughter at 4.30 in the morning – a desire to humiliate, to punish, irrespective of the ultimate jury decision. It is as though guilt is being decided at the moment of allegation, and the jury's eventual decision is all but irrelevant.
That the allegations are inevitably against the BBC, against journalists and ageing celebrities, and the constant harping on about the wrong doing of 'Tory toffs', speaks more of political point scoring by an ideology that finds itself out of power and distrusts the electorate to vote it back into power without serious 're-education'.
Rebekah's trial was not really about phone hacking. That was just a vehicle to hit back at Rupert Murdoch for having ceased to support left wing ideology. Like the USA and Russia, the real protagonists are to afraid to fight each other openly; they use proxies in the judicial courts.
The unelected lawyers have reportedly hoovered up close on £100 million both defending and prosecuting – and humiliating – a woman who should be lauded for her ability to to have done her job so well that she rose from junior secretary on the old 'Post' to Chief Executive of a multi million pound corporation. If anybody believes that Rupert Murdoch gave her that job because of her prowess in bed, they want their head seeing to.
He gave her the job because she could do the job better than any of the drink sozzled candidates lurking in the news room. She proved it too – turning in record profits year after year – the sure fire way to Rupert's heart. No wonder he was so fond of her. No wonder the rest of the news rooms are so keen to see her portrayed as an old slapper…
We are paying for this Jeremy Kyle style electioneering.
Ho Hum


June 26, 2014 at 11:24 am

Frankie


June 26, 2014 at 6:20 pm

Olivia


August 17, 2016 at 2:37 pm

Jonathan Mason


June 26, 2014 at 3:22 pm

Ho Hum


June 26, 2014 at 11:34 am

GildasTheMonk


June 26, 2014 at 2:15 pm

GildasTheMonk


June 26, 2014 at 2:46 pm

Anna Raccoon


June 26, 2014 at 4:31 pm

Mr Wray


June 26, 2014 at 4:37 pm

Frankie


June 26, 2014 at 6:23 pm

Johnny Monroe


June 27, 2014 at 5:19 pm

binao


June 27, 2014 at 7:56 pm