J32 – Liverpool demands 'Justice for the 32'!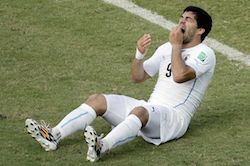 The tragically injured Louis Suarez is ignored by the Referee.
Fifa and various ill-informed football commentators are making strenuous efforts this morning to deflect the blame for the tragic crushing of 32 innocent molars in Louis Suarez' mouth by the irresponsible actions of a shoulder belonging to the Italian player Giorgio Chiellini. 
The truth will be extracted! 
As the temporary wearer of the red Liverpool No 7 shirt, Louis is an honorary Scouse, and will be rabidly defended by an army of hysterical football fans. 
Louis, whose personal motto is 'If you can't beat 'em, eat 'em', has been the subject of vicious attacks by foreigners before.
Branislav Ivanovic's forearm dealt a mighty blow to his molars in 2013, a tragedy dwarfed by the incomprehensible decision of a decidedly dodgy three man supposedly 'independent' regulatory commission to prevent the hero of Liverpool from single handedly winning the next ten games. 
Nor is this the first time that a shoulder has been employed to crush Suarez' impacted incisor brilliance – in 2010, Dutch player Otman Bakkal employed his Trapezius muscle to force Suarez' into an unavoidable over-bite situation. Suarez gracefully accepted an incredible seven match ban which should have been contested. It is the mark of the man. 
Now Liverpool fans are demanding a public inquiry into statements made by foreign referees claiming to have seen 'nothing' – statements which had been significantly amended. Doctored photographs appearing on the Internet showing alleged 'bite marks' are 'unremarkable' and 'not exceptional for a social or leisure occasion'.
Television replays show Suarez moving his head towards Chiellini, who responded by swinging an arm deliberately into Suarez' mouth before chasing the referee to apparently insist he had been bitten on his shoulder.
Once again there are growing fears that one of the most gifted players on the planet could be heading for the exit door, simply because of the authorities insistence on forcing players to wear gum guards, thus bringing their overbite several centimetres in front of where any self respecting Uruguayan expects it to be? If the half time oranges hadn't been removed from play, would Louis have been able to exercise his molars in a satsuma? 
Regardless of how reprehensible the actions of these foreign players were, he is Liverpool's biggest asset (£80 million quids worth)(and morals don't feature highly in the business of modern football). 
Should La Liga be allowed to steal this much maligned son of the Kop? Liverpool demands answers and Justice for the impacted 32 Molars. 
Ivor Bigdril – Official Dentist to England's World Cup Players.
the moon is a balloon


June 25, 2014 at 10:46 am

Anna Raccoon


June 25, 2014 at 9:28 am

Frankie


June 25, 2014 at 12:11 pm

Ho Hum


June 25, 2014 at 10:26 pm

Ho Hum


June 25, 2014 at 10:27 pm

Hubert Rawlinson


June 25, 2014 at 11:02 pm

Ho Hum


June 26, 2014 at 1:31 am

Ho Hum


June 26, 2014 at 1:42 am

Hubert Rawlinson


June 26, 2014 at 11:10 am