Not Even Whispered It Softly?
"Nothing strengthens authority so much as silence". Leonardo da Vinci.
Post-Leveson, the Dead Tree Press has been keen to show that, unregulated, they can expose much wrong doing in our world that could protect us from evil. The departed Jimmy Savile has been the poster child for this movement. His name attached to unsubstantiated facts used to drive business to the failing web sites of the previously all powerful news conglomerates. The airwaves are full of elderly journalists telling us that they 'knew all along' but were too frightened of his 'power' to say anything. So many fearless journalists, so much fear!
What they mean, of course, is that their editors wouldn't publish unsubstantiated gossip, for fear of getting sued by the irate subject.
Paul Connew of the Daily Mirror is fond of retelling the story of how he was approached by two girls from Duncroft with the tale of the horrendous abuse they had allegedly suffered at the hands of Jimmy Savile. He couldn't publish it – because the girls refused to sign an affidavit exonerating the Daily Mirror if they were required to substantiate the story. It, apparently, didn't occur to him to run the story without naming anyone, nor campaign for an inquiry into abuse at an unnamed children's home, nor walk into his local police station and place the information there, nor accompany the girls and support them whilst they did just that, nor anything actually; just wait until the man was dead and he could get a 'good story that any journalist would want' – free from fear of libel, and the need to substantiate the story.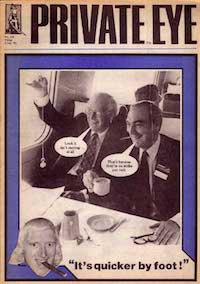 There was a newspaper, or rather magazine, that was famous for being fearless. It was Private Eye magazine, presided over by Richard Ingrams. They took on the mighty and powerful, and were frequently sued – Jimmy Goldsmith comes to mind. Journalists would give them tit bits of stories that their papers wouldn't run, and Private Eye thrived on publishing them. I am forced to believe that not one journalist ever took his concern regarding Jimmy Savile to Private Eye – for they never so much as hinted of concern regarding him until he was dead, in fact he featured on their front cover. Either that, or they were more frightened of Jimmy Savile than they were of Jimmy Goldsmith, which I do find hard to believe.
Journalists who have worked under Richard Ingrams at Private Eye and The Oldie described him as "brilliant", "extraordinarily brave", "reckless" and "kind" after he announced his retirement on Friday. He is on the record as saying that he never suppressed any stories about Jimmy Savile. 
In what turned out to be Ingrams' last Oldie editorial he paid tribute to freelance journalist Miles Goslett who brought in what was arguably one of the 22-year-old magazine's greatest stories – the BBC's cover up of the Jimmy Savile scandal, for which it jointly won scoop of the year at last year's London Press Club awards.
So, the BBC is 'guilty' of covering up something that even the fearless Private Eye knew nothing of?
What of the BBC journalists who 'knew' of Savile's alleged offending? Probably the most famous is David Icke. Sports commentator turned Lizard spotter. Now David is a 'proper' journalist – started life on the old Leicester Mercury, where he shared a desk with Tom O' Carroll of Paedophile Information Exchange fame.  David is fearless and brave – doesn't mind accusing the Duke of Edinburgh of murder, or Ted Heath of illegal homosexual activity.  Surely David Icke would have been exposing this alleged wrong doing so 'widely known' in journalistic sources?
Erm, in the interests of research, I have painstakingly ploughed through all 300+ articles David Icke has written about Savile – not even confining my search to 'Jimmy Savile' – and the only time the word Savile has flowed from his keyboard, before the lurid Exposure programme, was in respect of a 23 year old graffiti artist called Paul Savile, and a murder suspect wearing a Savile Row suit. Once the programme had been broadcast, Icke was straight out of the blocks with a deluge of 'I was right about Savile after all, I've been telling people he was a paedophile for years' articles.
Who on earth had he been telling? Not his own readers, that is for sure.  Surely the Police or Childline was who he should have been telling – but no evidence that he did that either. His old colleagues at the BBC maybe?
Today we learn of another alleged paedophile ring. Colet Court and its 'senior' version St. Paul's School – two of the most prestigious, and expensive, establishments for nurturing the future opinion makers and shakers. For 50 years anything up to 18 teachers are alleged to have hideously used and abused their pupils, which we are helpfully told include George Osborne and Dominic Grieve. The dark hint on the Icke site is that this is how they have managed to 'get away with it for years' – it is those top Tory toffs again – protecting paedophiles! Obviously they must have known what was going on, it just wasn't possible in a school with 18 teachers allegedly fondling and buggering pupils with gay abandon. The victims might not have had the courage to come forward to the police, but it is inconceivable that other pupils wouldn't have been aware that there were 'dark' goings on (dark is the new fashionable word in these matters) therefore those who became 'top Tory toffs' must have known and were complicit by their silence…let loose the political hounds! Did all those silent Colet and St Paul's ex-pupils become top Tory toffs? Not a bit of it. Some of them became left-wing firebrands. BBC journalists even. BBC investigative journalists. BBC investigative journalists with a penchant for publishing stories regarding child abuse. Still we never heard a word of this suspected abuse. Amazing. They must have been busy on other programmes eh?
Perhaps there was an element of not wanting to reveal their own highly privileged background – it is so much easier to rant about privilege and corruption amongst those who have had an elite education from a perceived image of 'son of the welsh valleys made good'.  Do meet another recipient of the elite education provided by Colet Court and St Paul's throughout the years allegedly presided over by paedophiles – Meirion Jones.  The fearless investigator of historic sex abuse allegedly carried out by dead celebrities at his aunt's school.
Just lurve that t-shirt Meirion – have you still got it?
Today there is a cross-party call for a National Inquiry similar to the Royal Commission in Australia, to investigate historic child sex abuse. It is an excellent idea. I suggest they start by demanding mandatory reporting by anyone who is approached with a tale of historic sex abuse. Not just the authority figures who could conceivably be sued – anyone. Especially journalists. Because if they are to be believed, there has been an evil conspiracy of silence regarding historic sex abuse, not by top Tory toffs, but by journalists hanging onto the story 'any journalist would want' until the alleged perpetrator is dead.
It's called putting the children first – not your career.
In other news, a cash starved child protection division in Peterborough was too late to save little Amina Agboola from her 'known to be violent' new 'step-dad' – 19 year old Dean Harris.
And Operation Yewtree costs have now topped £3,000,000. Legal?
Decent?
Honest?
Truthful?
Margaret Jervis


June 4, 2014 at 11:10 am

erichardcastle


June 5, 2014 at 2:32 am

Margaret Jervis


June 5, 2014 at 7:46 am

John Graham


June 7, 2014 at 7:13 am

John Graham


June 7, 2014 at 7:14 am

Anna Raccoon


June 4, 2014 at 11:16 am

Gloria Smudd


June 4, 2014 at 4:42 pm

Anna Raccoon


June 4, 2014 at 4:45 pm

Gloria Smudd


June 4, 2014 at 5:03 pm

Margaret Jervis


June 4, 2014 at 11:49 am

Margaret Jervis


June 4, 2014 at 12:44 pm

Atticus Flinch


June 4, 2014 at 3:08 pm

Moor Larkin


June 4, 2014 at 3:14 pm

Moor Larkin


June 4, 2014 at 3:49 pm

Margaret Jervis


June 4, 2014 at 3:59 pm

Anna Raccoon


June 4, 2014 at 4:12 pm

Moor Larkin


June 4, 2014 at 4:14 pm

Margaret Jervis


June 4, 2014 at 4:28 pm

Carol42


June 4, 2014 at 8:44 pm

Duncan Disorderly


June 4, 2014 at 8:15 pm

Lucozade


June 4, 2014 at 9:58 pm

Jonathan Mason


June 5, 2014 at 4:52 pm

Ho Hum


June 4, 2014 at 10:53 pm

Anna Raccoon


June 5, 2014 at 4:36 pm

Anna Raccoon


June 26, 2014 at 12:43 pm

Peter Raite


June 26, 2014 at 12:51 pm

Anna Raccoon


June 26, 2014 at 1:15 pm

Peter Raite


June 26, 2014 at 1:52 pm

Peter Raite


June 26, 2014 at 2:03 pm