Grayling Spawns Again – more Cod.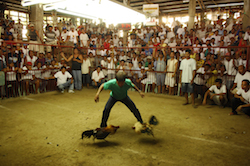 Inmates place their bets on the unscathed survival of the latest pupil at Grayling's 'School for Scandal'.
The Criminal Justice Bill has attracted a lot of attention – not least because of the provisions to amend that most favoured of current charges – the possession of extreme pornographic images. There are other sections of the Bill, however, listed under 'and for connected purposes'. Hidden in there is a provision so breathtaking in its stupidity that I thought I must be dreaming.
Whilst our media are consumed with the dangers the world might hold for young women, our new Head of the CPS crows that the CPS is now comprised of 60% women, presumably suitably indoctrinated in the dark arts of prosecuting elderly celebrities, and television companies vie with each other to turn damaged middle aged women into light entertainment – Chris Grayling has his own ideas on how to create a society safe from abuse for young girls – in an 'economically efficient manner'.
Crying 'Eureka' from his bath tub, he has reinvented the wheel first thought of by Professor W O Bell in the 60s – the key to helping young offenders is to help them back into education! Duncroft, Ms Jones and Professor Bell, stand up and take a bow – 'tis only on this blog that you will get any credit for having put this revolutionary idea into practice 40 years ago. Grayling thinks it is all his own work…
It does work – and many of us have emerged from Duncroft to live long and useful lives – but I wouldn't fancy our chances had we had to endure Grayling's version of this 'enlightenment'. Read on MacDuff – and prepare to be amazed.
He doesn't say what his brilliant idea will cost – "we have not provided monetised estimates of costs and benefits where doing so would prejudice the effectiveness of a competition for the delivery of services". Apparently every area of the costing would be so prejudicial to the free market, but he is certain that it will be more 'economically efficient'. Estimates of the cost from outside sources suggest around £85 million, and plans are obviously fairly advanced even without the legislation because it is planned to be up and running in 2017.
He is to build a new 'secure college' in the East Midlands for young offenders. I like the terminology – 'tis what used to be called an approved school – but most unlike Duncroft.
This one will house 320 children. Whilst you might recognise the 5% of young future female inmates of 12 – 15 year old girls as being 'children' – you would have a tough job establishing which were staff and which were inmates amongst the 290 odd 96% of young offenders who are fully grown, 17 year old males.
This particular group of young males have a 76% chance of reoffending on release – they are not 'all angels'! Throwing 30 12 year old girls into this mix is a recipe for disaster – though I note that Schedule 4, (8(c)) and (10) plans to allow for 'reasonable force' [according to rules which have not yet been published] to be used in order to restrain them…in 2008, the Court of Appeal [R (on the application of C) (a minor) v Secretary of State for Justice [2008] EWCA Civ 882] ruled that using force (Pindown) to maintain 'good order and discipline' amongst young offenders was 'inhuman or degrading treatment' and contravened Article 3 of the ECHR. Quite how he plans to keep all those hormonally challenged 17 year old males off the 12 year old girls without using force remains to be seen.
Since Grayling is so concerned about not affecting the 'free market of competition for services' I am assuming that this hell hole will be privately run and staffed – yet there is no mention in the Bill of minimum training levels or qualifications. These things will be established by Ministerial order once he has got his Bill through parliament. You know, whilst we are no longer looking…worryingly, Grayling says he want providers to 'innovate' in the running of this establishment.
Logic dictates that if 95% of the inmates are tough young males, then the regime will cater to their needs, and they will dominate the atmosphere.
Is this really where the millions expended on 'child protection' and the pursuit of elderly celebrities has led us? A couple of cheap television programmes, a new 'King' of the 'kiss and tell', or more prosaically the 'kiss and felled by Yewtree' these days, risen to take Max Clifford's place, and our response is to throw a handful of young girls into a massive new prison filled with young men and say 'tis OK, they are being educated'?
Does anybody care?
Anna Raccoon


May 9, 2014 at 7:45 am

Jonathan Mason


May 9, 2014 at 8:35 am

Ho Hum


May 9, 2014 at 9:17 am

Anna Raccoon


May 9, 2014 at 9:28 am

Anna Raccoon


May 9, 2014 at 8:37 am

Big Bill


May 11, 2014 at 12:25 pm

Jonathan Mason


May 9, 2014 at 10:47 am

Anna Raccoon


May 9, 2014 at 10:53 am

Ho Hum


May 9, 2014 at 11:08 am

Anna Raccoon


May 9, 2014 at 11:24 am

Jonathan Mason


May 9, 2014 at 12:46 pm

Ian B


May 10, 2014 at 3:12 pm

Jonathan Mason


May 11, 2014 at 1:51 pm

Ian B


May 11, 2014 at 5:54 pm

Jonathan Mason


May 12, 2014 at 12:21 pm

Ian B


May 13, 2014 at 6:52 am

Joe Public


May 9, 2014 at 10:15 am

Anna Raccoon


May 9, 2014 at 10:24 am

Ho Hum


May 9, 2014 at 10:30 am

Jonathan Mason


May 9, 2014 at 12:49 pm

Anna Raccoon


May 9, 2014 at 9:18 am

Woman on a Raft


May 9, 2014 at 12:38 pm

Jonathan Mason


May 9, 2014 at 12:55 pm

Duncan Disorderly


May 9, 2014 at 10:51 am

Mike-the-PUNK


May 9, 2014 at 2:06 pm

Ho Hum


May 9, 2014 at 9:48 am

Anna Raccoon


May 9, 2014 at 11:46 am

Ho Hum


May 9, 2014 at 7:56 pm

Anna Raccoon


May 10, 2014 at 10:51 am

Jim Bates


May 10, 2014 at 12:24 pm

Ted Treen


May 10, 2014 at 10:32 pm

DerekW


May 10, 2014 at 7:03 pm