Time was when the travelling folk from Romania, in their colourful horse-drawn vehicles, would ask a local farmer for permission to stop for a few days, and to feed and water their horse.  They might even sell him a few clothes pegs.
That was before the advent of 'World Heritage Sites'. Nowadays, councils have a duty to provide a space to put the travelling man's caravan for a few days – EU Race Directive (2000/43/EC) – and if the council has the misfortune to be in a 'World Heritage Site'  – gosh, it gets expensive.
You can buy a house in Twerton for £160,00 including the price of the land. So you may wonder why, given that the council already owns land in Twerton, it is proposing to spend £192,000 on each small piece of that land, a total of £1.8 million pounds, landscaping that land to the specifications demanded by today's 'Travelling man'. It is categorically not building a house on each site…goodness me no, today's Travelling Man doesn't want a house. Even though the 'Preferred Options Stage Detailed Site Assessment Report' says that you could have 15 houses on the space occupied by every six of these 'pitches'. 
'Modern Travelling Man' wants a driveway that will accommodate a trailer and a caravan. He wants a shed that he can lock up; he wants a self-contained bathroom and kitchen in an ancillary building; he wants an 'outside drying area' for clothes;  he wants outside lighting, drainage, water, and gas supply, and the site to be sound proofed from the nearby road so he can get a good night's sleep, and he wants the site to be landscaped in accordance with a World Heritage Site. The Homes and Communities Agency which is chucking £750,000 into the pot to pay for all this is insistent on these standards.
But that is not the end of this council's troubles.
For not all the Twerton 'Travelling Men' are fourth generation Romanies wedded to their way of life, some are what might be termed 'New Age' travellers, and they are ecologically minded; they want 'low-impact' environmentally friendly material to be used – they don't want any old hard-core dumped on the site,  they want to be assured that the hard standings are lime and asbestos free, they want 'off-grid' and sustainable energy sources, not expensive national grid companies. They probably want to be assured that there are local 'organic veg boxes' available at the nearest food bank…
All is not lost for the rate payers of Twerton though, for they have been assured that the council will recoup that £1.8 million in, er, around 23 years. They are working on the basis of 80% occupancy of this desirable new all mod cons site, at around £100 a week rental, roughly the same as a council house in the area.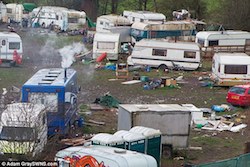 Trouble is, Travelling Man doesn't like that idea at all. He says if Twerton Council think he can pay that, he will just push off and find another piece of wasteland, and in no time at all, it will look exactly like this – his present site.
So what is Twerton Council going to do with a beautifully landscaped, outdoor lit site with ancillary buildings which have no bedroom, but have a kitchen with washing machine and dryer, a bathroom, a 'utility area' and extra long driveways?
Your suggestions on a postcard.
Anna Raccoon


May 8, 2014 at 1:47 pm

Edgar


May 8, 2014 at 8:58 pm

Gypsy Rose Lee


May 8, 2014 at 7:45 pm

Engineer


May 8, 2014 at 9:28 pm

Engineer


May 8, 2014 at 9:29 pm

Gloria Smudd


May 8, 2014 at 9:40 pm

Edgar


May 8, 2014 at 9:07 pm

Ted Treen


May 10, 2014 at 10:20 pm

Ted Treen


May 10, 2014 at 10:23 pm