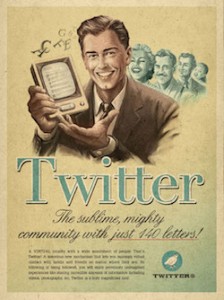 You have to love Twitter. 'Tis s truly wondrous playground; twixt the indiscrete selfies, the pussies displayed in adventurous poses, (calm down at the back, the catz, the catz…..) the hysterical hair-pulling and insult brandishing mutually balanced by the embarrassing hero worship of those who've said what you wanted to hear, there are occasional nuggets of interesting news. More nuggets than you will find on Sky these days which seems to have abandoned news in favour of a world wide search for yet another howling woman.
Sky reached its nadir for me the other night with an interview with four of the most terrifying women I have ever set eyes on; tattooed and bolted through the nose, scowling and muscled, bright green talons flashing on knuckle-dustered hands, they were the 'shock and awe' version of the allegedly female sex. The SAS would have baulked at the task of approaching these women with anything less than a Heckler & Koch 320, you certainly wouldn't consider an assault with a vulnerable tool like the humble penis.
They proceeded to relate the terrible crimes of which they had been proud to have committed. Eek! Sky's Terrifying reasons why it's safer to stay in front of your TV set these days: No274.
'Cept the camera honed in on what could have been the putative zygote of a tear forming in the corner of one heavily blackened eye. Could have been glycerine too, I wouldn't put anything past Sky. No matter, we were invited to speculate on the cruelty of these women's lives – for it seems they were, you guessed it, 'vulnerable victims'. Fashion victims, yes; victims of a mad psychotic tattoo artist in the throes of drug induced paranoia, possibly; victims of a punch in the eye with a fistful of chimney soot, I can accept; but 'vulnerable'…? Dear God, you haven't seen anything looking less vulnerable since Ghengis Khan turned up 'dressed to kill' at a funeral in Samarkand.
It seems they'd been 'groomed'. 'Groomed' to believe that if they committed horrendous acts of violence and cruelty, if they robbed their ageing grand-mother, put the family cat in the microwave, turned the budgerigar into curry and stole the flywheel bolt off the neighbour's car to decorate their bulbous noses, then when they were 14 or 15 or so, they could offer themselves up sexually on a dank garage floor to similarly attired young men – and be 'accepted'. Now, by 'groomed' I don't mean that any of the young men had ever told them so; I mean that they had decided themselves that this was the way to attract male members (sic) of their local gang.
In the merest flash of a penis, or perhaps the flash of the merest penis, all blame was transferred – for no sooner did Terrifying Apparition catch sight of Teenage Penis, than all past crimes were absolved, and all future crimes were attributed to the fact that not one, not one! of the owner's of those teen-age penis' ever did say, 'go away you horrible excuse for a woman, and come back when you have learnt to look and behave as though you had some respect for yourself'; nope they had been transformed into 'vulnerable victims' and now Sky was panting at the gate, ready and willing and barely able to contain their lust for yet another howling woman. I gave up and turned over to France 24.
-.-.-.-.-.-.-.-.-.-.-.-.-.-.-
France 24 was an education! Did you know that there were grown up women, taking responsibility for themselves in this world? I had no idea! 200 of them, with no GPS, no government support agency, no charity to counsel them, no 'funds raised to support them' – just a compass and a 1:100,000 scale map. 13 hours a day of hard gruel, and no, they are not allowed to follow each other – that is strictly forbidden. Not only that, but many of them use it as a route to raising money to help other people – can you imagine? Buried under the list of 199 other competitors, from all over the globe, I found the one and only British woman who not only could live up to the ideals of:
You need talent, determination, courage, solidarity and a sense of sharing to take part in our event. If you recognise yourself in this description, then you are ready to live up to our motto, "sharing true values".
But had got off her backside and was out there doing just that. Jeanette James. Go on, she's got an e-mail address, show her your support. And do follow the race, I can't think why Sky have never mentioned it. Maybe I can.

Rallye Aïcha des Gazelles 2014 – Journée de la… par Rallye-Aicha-des-Gazelles
-.-.-.-.-.-.-.-.-.-.-.-.-.-.-
I have stayed away from the story of the missing plane, #MH370; too much maudlin' 'blue' Sky TV thinking for me. It is not the first time 249 souls have perished in one day – it happens every day, all around the world there are grieving relatives of the mangled remains from road traffic accidents, industrial accidents, self inflicted 'accidents', psychotically inflicted accidents at the hands of others. I just don't get that one man's grief is any more news worthy than another's, merely because the 'story line' photographs particularly well. Intruding on grief is still intruding on grief, and as you watch the sad line-up of relatives and their sometimes bitter explosions of grief onto the world stage, I always end up wondering how all the other relatives of that day's world death toll must feel? Was their son or daughter any less worthy of emotional eulogies from TV presenters who never met them?
I suspect, though feel free to correct me, that possibly the hysteria around 'our' apparent urgent need to know the fate of #MH370 as opposed to the sanguinity with which earlier generations greeted the various disappearances of ships and planes in the Bermuda triangle, is partly fear of the power of social media to dream up fresh conspiracy theories, and partly the demands of rolling news for ever more reasons to be fearful, (parts one, two and three).
It has resulted in 10 aircraft, including a United States Navy P-8 Poseidon, two Chinese transport aircraft and two Japanese patrol planes, plus Chinese ice breakers, British war planes, American aircraft carriers and all the personnel aboard risking their lives in one of the most dangerous seaways (with a hurricane due any hour) all searching a three million square miles area trying to track down a four foot square wooden pallet.
Mike Barton, chief of the Australian Maritime Safety Authority's rescue coordination centre, told reporters in Canberra, Australia, that the wooden pallet, which was spotted Saturday, was surrounded by several other objects, including what appeared to be strapping belts of different colours. 'We went to some of the expert airlines and the use of wooden pallets is quite common in the industry,' Barton said. 'They're usually packed into another container, which is loaded in the belly of the aircraft. … It's a possible lead, but we will need to be very certain that this is a pallet because pallets are used in the shipping industry as well.'
Is it just me who feels we are losing a sense of proportion over this loss? I know its important for future air safety that we know as much as possible about past air accidents, but not so many weeks ago, the EU banned all Nepalese planes from flying into Europe owing to their appalling safety record – and yet you can bet that this coming 'Everest season', there will be thousands of enthusiastic young gap travellers flying into Katmandu. We might wail about the dangers of air travel, but we still spend our evenings on-line working out which is the airline offering the cheapest ticket to some exotic destination.
Which is probably the one which spends the least on maintenance and pays the lowest wages to its staff…
Meanwhile, millions of pounds of tax money is expended paying trained personnel who haven't yet seen the wood for the seas.
Anna Raccoon


March 24, 2014 at 12:14 pm

Margaret Jervis


March 24, 2014 at 5:48 pm

Jonathan Mason


March 24, 2014 at 7:45 pm

Jonathan Mason


March 25, 2014 at 4:28 am

Jonathan Mason


March 25, 2014 at 4:44 am

Jonathan Mason


March 25, 2014 at 5:05 pm

Jonathan Mason


March 25, 2014 at 7:13 pm