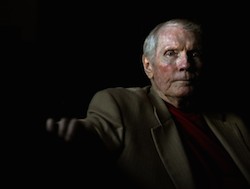 But there will be no funeral. Surely you have to have a funeral? No, actually. The law only says you must dispose of the body of the person who has died 'by burial, cremation or any other means' – if you are opting for burial, that means consecrated ground and that means entanglement with the established church. If you are opting for cremation you can just load the dear departed into your mate's pick-up truck and drive him straight to the crematorium.
I do actually know someone in France who was faced with what he thought was his duty to 'dispose thoughtfully' of his older brother, the one who had run off with his wife and left him severely in debt for many years, who did just that – in the back of a plumber's van complete with all the tools. The ever so slightly non-plussed crematorium, several hundred miles away from the scene of the death (my friend didn't speak French so had opted for the only crematorium he knew of in his home village) silently untangled the stiff-as-a-board remains of (strange, he was called Fred too) without comment, demanded their 750 Euros and went about their business without further bureaucracy. France can amaze you sometimes.  It was only weeks later that my friend remembered he had tucked Fred's death certificate into Fred's top pocket with a flourish and a pat, in a final sardonic gesture of brotherly solidarity – and thus that had gone up in flames too. Now that took some sorting out. It's always the paper-trail that floors you in France.
But back to today's Fred. Why no funeral? Surprising, because Fred was a staunch church attender and deeply religious; he was head of a large and exceptionally close family. Moreover, there were large numbers, perhaps thousands, of people who would have been only too proud to have been able to say they had attended Fred's funeral. That last may hold a clue.
For Fred Phelps, 'tis he, was famous, world famous, for attending other peoples funerals. I cannot find any example where he was actually welcome! Still puzzled? Try 'Fred Phelps, head of the Westboro Baptist Church'. You've heard of them, to be sure. They are the outfit that regularly turned up at the funerals of  those who died of aids with placards that read 'God hates Gays'. Fred didn't just hate Gays though. He hated Jews, negroes, immigrants, politicians, celebrities, even other church leaders who didn't accept his particular brand of literal reading of the bible. Fred was the ultimate 'Troll' – he even managed to offend the bigoted and intolerant Klu Klux Klan – you have to give the man some credit, not many people manage to pierce their thick skin and find their caring, sharing, molecule. They used to turn up at the same funerals to demonstrate against Fred!  Not all the funerals, you understand, even bigots stick to some of their principles.
So the funerals of military heroes turned into bun fights. For in Fred's mind, those who died in the field of duty were being punished for dying on behalf of a nation that accommodated Jews and gays, immigrants and all the other people Fred preached against. The TV cameras jostled for front row seats as inflammatory placards were ostentatiously waved in front of them and the Klu Klux Klan turned up in their best bed linen. It made for great TV, and also made Fred's church world famous.
The amount of media coverage this man garnered, you might have thought that he was part of a large group of religious fanatics; the truth was, he was just a sad old man with a placard, whose church amounted to 40 of his close family plus a dozen or so individuals disconnected from society who had found some comfort in being part of this dysfunctional 'family' cult. That's right, 40 of them. You wouldn't think 40 individuals could make such a noise in the world, become so famous.
They can with the aid of rolling news, and the need for colourful, confrontational, pictures; the need for keyword hits – Aids, Military Heroes, Gays, Hate crimes – these are the stories the media feeds on and these are the reasons that Fred become world news – and a million people who had never heard of Topeka in Kansas descended on the Topeka Citizen site last week doing wonders for the advertising reach of 'Mr and Mrs Doug Clemence's Farm Sale' (including air plane items [nooo?] and 200′ of decorative fencing…) and the Lake Shawnee Golf course.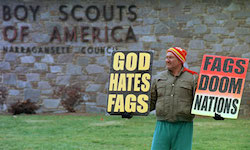 So, farewell Fred, King of Trolls; you fed the media beast well. You did wonders for the anti-smoking campaign too.
That is some achievement – your family not being able to have a funeral for you because it would have been too damned popular.
Anna Raccoon


March 23, 2014 at 10:58 am

Anna Raccoon


March 23, 2014 at 11:14 am

Anna Raccoon


March 23, 2014 at 12:58 pm

Ho Hum


March 23, 2014 at 2:50 pm

Mudplugger


March 23, 2014 at 9:30 pm

Moor Larkin


March 24, 2014 at 10:51 am

Fat Steve


March 24, 2014 at 9:01 am

Anna Raccoon


March 24, 2014 at 11:23 am

Moor Larkin


March 24, 2014 at 10:52 am

The Blocked Dwarf


March 25, 2014 at 8:24 am

Ho Hum


March 25, 2014 at 9:45 pm

The Blocked Dwarf


March 26, 2014 at 1:13 am

Moor Larkin


March 26, 2014 at 9:15 am

Ho Hum


March 26, 2014 at 9:43 am

Moor Larkin


March 26, 2014 at 10:08 am

Ho Hum


March 25, 2014 at 9:50 pm