'International Clitoris Awareness Day' – and 'Adopt a Clitoris'. Have you done your bit for the 'dark continent' and adopted an African clitoris yet? Shame on you. They are an endangered species you know. The Clitorii, not Africans.
Down on the border with war-torn Mali, in what used to be known as Upper Vulva Volta, lies Burkina Faso. As Lonely Planet says: 'How many of your friends even know that Burkina Faso exists'. The latest attraction for those who wish to 'Adopt an African clitoris' isn't yet listed on Lonely Planet's 'Top 10 attractions' in Burkina Faso – surely an oversight on their part. They are to be congratulated, though, for managing to scrape up 10 attractions never mind the Top 10 for the delight of the bored gap year traveller.
It is one of the poorest nations on earth. Out of 229 nations, there are only 26 whose inhabitants manage to earn less per head every year. There is little electricity, and where there is, it doesn't work for days on end. Fresh water is at a premium. Education is practically non-existent. The men sit in the shade of the Shea trees, whilst the women laboriously grind the Shea nuts into Shea butter to complement the endless diet of millet porridge. When it gets cold at night, the men stir themselves to chop down the nearest Shea tree for firewood…thus making a bad situation even worse. Every year they lose 32,000 hectares of the very trees they are dependent on.
You could spend all day making a list of the things that Burkina Faso has desperate need of – but whatever your views of the rights or wrongs of Female Genital Mutilation, a new clitoris for some of the women would be hard pushed to make it onto the front page. That would be because you don't have the fertile imagination of the French journalist Claude Vorilhon. Claude who did you say? Vorilhon. Don't worry about memorising it – he soon changed it after his epiphany.
One December morning in 1973, Claude was driving to his office in France, when he decided to drive to a nearby volcano instead; I'm sure a lot of you have been similarly tempted on your way into work. Anyway, young Claude trotted up the volcano and there he met a three foot tall, extra-terrestrial being with pale green skin, almond-shaped eyes and long dark hair who emerged from a flying saucer, as they do. This apparition told him – helpfully in fluent French – that humans were created in laboratories by his people from another planet and commanded him to pack in his day job and spread the word that more of these apparitions were set to return to earth.
Journalists are a gullible lot, as we know, prepared to believe any unlikely tale, so naturally Claude did pack in his day job,  changed his name to Raël, and has been happily fund raising for his 'International Raëlian Church' ever since. [Ed: I'm watching avidly to see you make the connection between Flying Saucers and Female Genital Mutilation, Ms Raccoon] [MsR: Keep watching, you miserable misogynist, I will get there!]
Claude, now Raël, was a little whizz at thinking up newsworthy ideas. So when Dolly the Sheep was cloned, and one of his new disciples, Brigitte Boisselier, turned out to be a French chemist working for Air Liquide, he announced he was setting up 'Clonaid', a foundation to finance the cloning of the first human being. Brigitte in turn announced that she had successfully cloned a human being. The New Scientist breathlessly announced its birth on Boxing Day 2002 – although the requested 'proof' never seems to have emerged. Cloned from who, or what, has not been revealed. No matter Brigitte was a true believer, and in time a grateful Raël handed the Bahamas based 'Valiant Venture Ltd Corporation' – aka 'Clonaid' over to Brigitte.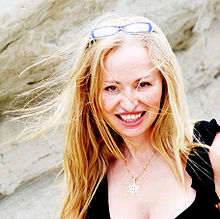 The angelically visaged Brigitte was promoted to 'The Order of Angels' within the Raëlian church and moved to North America to promote the organisation and the various 'good causes' that it needed money for. She too changed her name, to Brigitte Roehr. (Which makes keeping track of these individuals mighty difficult!) Anyway, Dr Roehr as she now was, realised that Los Angeles was a hotbed of women who had no need to spend their day grinding Shea nuts, or millet, in fact they had precious little to do all day other than 'lunch' and get incredibly excited about other women's clitorises.
'Only £2 a week to adopt a Siberian Tiger' was quickly becoming passé in trendy Los Angeles, so Brigitte hit on the idea of 'Adopt a Clitoris', specifically one in Burkina Faso.  Female Genital Mutilation is a hot topic amongst women who have no other woes in life than an unstimulated Clitoris. When you are neither starving, nor dehydrated, nor living in a mud hut, nor watching your child die of malnutrition, it must seem awfully easy to believe that not experiencing sexual exhilaration is the worst thing in life.
 'Adopt a Clitoris' turned into yet another company colloquially know as 'Clitaid'. They were financially very successful. They raised a lot of money. They built a new purpose built hospital in Burkina Faso. On the face of it, a laudable result. Except.
Except this hospital wasn't built to save the lives of the starving children. No, not content with campaigning to change the minds of those who see Female Genital Mutilation as the unacceptable face of some cultures, and I should say here, that I find any mutilation of children unacceptable, because, and equally, I don't think we have any right to impose our personal beliefs on other people – something which 'cuts' both ways – the magnificent funds which the women of Los Angeles had raised was used to build 'The Pleasure Hospital' where they have installed Dr Marcia Bowers to rebuild the missing clitorises.
Dr. Marcia Bowers, is a surgeon who has more than a passing interest in a missing clitoris on account of being born plain 'Mark Bowers', a father of three, still married to 'his' wife, but who now lives with Carol Cornetto, a woman described charitably in an apparently complimentary article as 'a barrel-chested, sun-flogged, old-school butch who used to work on the railroad and is missing a couple of fingers from an unrelated accident.' [Sheesh! That was complimentary]?
'Did live with' – apparently Dr Marcia has now ditched the fragile Ms Cornetto, left her behind in Trinidad where he ran the charmingly named 'Pussy Factory', from which he was wont to return declaiming "Carol, I changed a man into a woman, a woman into a man, and the dog into a cat today. What did you do?"and taken off for Burkina Faso pastures new. Obviously Carol hadn't done anything so exciting. [God knows who he lives with now, I'm losing the will to live].
Surprisingly, although the people of Burkina Faso are desperate for aid, anything – fresh water, medical supplies, food, what yer got? – they were less than impressed by this latest development, to say nothing of the people that were promoting it, and amid dark mutterings that the Raëlian church might be somewhat more interested in attracting followers amongst the desperate and uneducated population of darkest Africa, they have refused to allow the hospital to open. With any luck they may even insist that this magnificent new facility starts work by devoting itself to saving lives.
Dr Boisselier is on the ball as ever though – she claims it is all a plot by the Catholic church 'which supports paedophilia' and who are 'criminal accomplices of those who mutilate the genitals of African women'.
Yup, she's suing them…
[From UFO's to Clitorises via the Upper Vulva Volta, OK Ed?] [Don't expect an April Fools' Day contribution this year, my imagination is no match for real life].
I'll let one of the grown ups explain….

Of of a variety found in a bag of Bassett's Clitoris Allsorts…

OK, I'll get my coat.

Only the black ones. Bertie's very particular.

As ever, a fascinating article that reveals the stupidity, deviousness, farce and gullibility that plague our world. Those who are fed up to the back teeth with the daily half-hour of "news" looped endlessly should pay Anna a visit.

I'm reminded of that lovely line by Willy (sic) Russell in 'Shirley Valentine'

"I'd never heard of the clitoris. I thought it was pronounced Clit-aw-ris. I thought that would be a lovely name. Hello – my name's Clit-aw-ris…"

Priceless.

Does max hastings, "button mushroom" qualify?

"…but who now lives with Carol Cornetto…"

Just the one..?

Although I could be interested I'm afraid Mrs Ancient+Tattered would soon put a stop to said interest!

Anna, a marvellous article, with probably the best set of comments we'll see all year. Ted Treen's contribution must surely win a "comment of the month award"

Your readers may be interested to know that the source of Carol's bio also includes this gem:-

"…….Bowers is at first reserved and impenetrable…….."

Impenetrable! That is class subtlety.

Anna, this is a bit offtopic, but it DOES clearly reflect the same sort of deranged mindset about priorities, AND it happens to be something I wrote just a couple of days ago and shared publicly on another blog just about an hour ago. When I finished writing it I looked at it and thought, "I have NO idea if I'll ever find anywhere this fits in." but in terms of the mindset of spending money on a hospital to rebuild clitorises in a country where there's probably a child dying every minute of the day from dirty water etc, I think this fits.

====

Lights! Cameras! Action!!!

OMG! Our news crew found an African village where there is a two year old child lying in a pool of her own feces, slowly dying of a combination of dysentery, cholera, and malaria!

An advisory team has been dispatched to counsel the family and make a determination as to whether they should be flown to a health center in a province several thousand miles away so the child can be treated and her imminent and painful death averted.

Oh… wait… uh oh… we just found out there are several MILLION such little girls and boys. Sheeesh. That's too depressing. We can't help them ALL! What'll we do for the evening news?

I've got it! Over here guys! Look! Here's a little Indonesian boy. He looks fat and happy and healthy, but he's SMOKING! If he keeps that up there's a good chance he'll get some kind of illness from it, maybe he'll even die when he's in his seventies instead of living into his eighties! And the visuals of him smoking make for great footage and will DEFINITELY open up those pocketbooks to write checks for our sponsors. Screw the starving diseased dying millions of infants, THIS kid smoker is our news story of the night! We can turn it into a week-long series, make a video that will go viral on YouTube, revisit it in a week and a month and a year from now to see if he's still smoking or has been cured or maybe (with a bit of luck) even died in a writhing pool of agony from something or other we can blame on his smoking!

Hinckley! Get that camera over here where he's blowing smoke rings and stop filming those kidnapped child prostitutes! That's too raunchy for our sponsors and there's no money in it. Anyhow, I've got a date with one of them once we wrap up here!

====

Reminds me of the story line on the Seinfeld comedy show on TV in which one of the characters has forgotten the name of a girl, and knows that it rhymes with part of the female body, but still cannot recall it. At the end of the show he finally remembers–Dolores. Lame, I know.

(This in turn reminds me of a chemist's shop I know in the Dominican Republic called Farmacia Dolores. This could easily be mistranslated into English as "the pharmacy of pains.")

Clitaid is ridiculous in the context of Burkina Faso, but I am surprised that Jimmy Savile's name has not been associated with their fundraising. If all we hear is true, then a sponsored Clitathon would have been right up his alley.

@JonathanMason
Most of the stories in the public realm relate to his failing to be very "romantic" and it all being rather Seventies in a "Wham bam thank you mam" kind of way, so if those victims are to be believed they might just as well have been victims of FGM too, for all he cared.

It's always struck me that if I was being raped the failure of my partner to satisfy my needs would not exactly be an issue.
Maybe I'm just old-fashioned.

Just reminded me of the Australian approach to foreplay – "Brace yourself, Sheila".

The subject makes me feel, well, a little awkward…and it's not because I have to rub up on female anatomy, naughty Anna!
A sense of the indelicate confines my protest to the fact that most women are being deliberately denied the sexual arousal of a ridiculously large…wait for it, Anna…bank account, along with a guards red 997 turbo.

I remember watching Clive Anderson interviewing Raël at the start of his broadcasting career on C4 on "Clive Anderson Talks Back". That would have been 1990/91. Raël was suitably humiliated, but the 'aliens' hadn't taught him how to decipher Clive's sense of hunour.

I love Ted Treens witty comment Anna. Don't forget lads, the gals are off to the plastic surgeon to get their vulvas enhanced in this country too. With aneasthesia of course, hopefully not with dirty razor blades. You might find one of those in a packet of Poppets, if there are such sweeties.

Ohhhh….I can't wait to adopt one…..do you think it will send me postcards from the seaside or a card at Christmas?

Well I don;t know about "rebuilding" the clitoris- once the erectile tissue has been cut out I don't see how that would be possible. The clitoris contains 8,000 sensory nerve endings- twice as much as the glans penis! So it could not be replaced with any old bit of spare tissue.

However, the physical damage caused by FGM is horrendous. For example, in Ethiopia some other Western group has funded a hospital for the repair of fistulae, a fistula being an abnormal passage between two organs or between an organ and the outside, eg in this case from the bowel to the vagina, ie the woman is permanently leaking shit from her vagina. These women are social outcasts- although the condition is not their fault, I guess one can understand why their company might not be desired given the lack of hygeine facilities, wipes, soap, etc etc.

In the case of the most drastic form of FGM, the husband is required to cut his wife open on her wedding night. Extreme complications of childbirth develop due to the amount of scar tissue that develops, and very lengthy obstructed labour then causes the fistula.

Given the above outcomes, and the fact that FGM is performed without anaesthetic, and purely for the purpose of reducing the woman's capacity to experience sexual pleasure and thus making her less likely to "stray", it's hard to imagine a more horrible practice.

Thousands of British-born girls of African origin are still at risk of this being done to them- although FGM is illegal in the UK there has never been a prosecution in this country- unlike in France where there have been a good many. Political correctness has apparently been a major reason for the lack of action in this country. Specifically, the dogma that anything is OK if it is a "cultural practice" among some ethnic minority. Due to the reluctance of professionals to interfere with anything relating to religion (well, one specific religion, anyway!), campaigners against FGM find it necessary to emphasise that it is not sanctioned by the Quran, the Talmud, or the Bible.

Given the above, I'm surprised that you, Anna, would trivialise this issue.

As for the Raelians, the Roman Catholic Church have even stranger ideas (2000 year old rabbi can turn himself into a piece of bread, Pope incapable of error, etc etc) but that doesn't stop some of their orders and local priests doing genuinely good work.

"Given the above, I'm surprised that you, Anna, would trivialise this issue."

You are welcome to believe that repairing FGM is more important than food, water and shelter, but I cannot agree with you – that is not to trivialise FGM but to see it in perspective.

The issue that I thought about when I touched on this "sensory" issue in an earlier comment was that the charity seems to be actually defrauding the donors and the putative patients. This hospital is named Pleasure Palace? …..and doctors are claiming to be able to reconstruct something that is impossible to so do? [q]"once the erectile tissue has been cut out I don't see how that would be possible" [/q]

Getting behind the news media I wonder if the Catholic Church is blocking this hospital because their local workers know it's principal promise is a fraud. Given that FGM is a done deal for the individual who has undergone it, in regards to the pleasure principle, then it would seem to be that all the hospital can be good for is the general health of the locals.

One is left with the nagging suspicion that without the "sex" angle though the Raelians know they would never have got the rich Californians to part with their dough in the first place. It seems a little tactical manoeuvering might be most efficacious for everyone involved. If nothing else the local now-pregnant FGM girls can get themselves reopened in a safer way than merely busting apart in childbirth like some outtake from Alien.

Anna, I don't think Pete was emphasizing the importance of "repairing" victims of FGM as much as he was stressing the horror of the practice in the first place. I've always been amazed in the US that the feminists have not expressed a more coherently united outrage against the practice. Respect for religious freedom has its boundaries, and outright torture of innocent children CLEARLY steps over those boundaries.

– MJM

That is because there is a hierarchy of grievance. Feminism comes below race.

After all if the grievance industry actually helped people what on earth would they have to be aggrieved about?

There are several types of FGM and at least two that I'm aware of involving male genital mutilation (yes, that's a thing, and yes circumcision is the milder form of it) as well.
"Pete" was talking about one of the more extensive types of FGM. Quoting the wiki:

Female genital mutilation (FGM), also known as female genital cutting and female circumcision, is defined by the World Health Organization (WHO) as "all procedures that involve partial or total removal of the external female genitalia or other injury to the female genital organs for non-medical reasons." … It is typically carried out, with or without anaesthesia, by a traditional circumciser using a knife or razor.[9] The age of the girls varies from weeks after birth to puberty; in half the countries for which figures were available in 2013, most girls were cut before the age of five.[5]

The practice involves one or more of several procedures, which vary according to the ethnic group. They include removal of all or part of the clitoris and clitoral hood; all or part of the clitoris and inner labia; and in its most severe form (infibulation) all or part of the inner and outer labia and the closure of the vagina. In this last procedure, which the WHO calls Type III FGM, a small hole is left for the passage of urine and menstrual blood, and the vagina is opened up for intercourse and childbirth.[10] The health effects depend on the procedure but can include recurrent infections, chronic pain, cysts, an inability to get pregnant, complications during childbirth and fatal bleeding… The practice is an ethnic marker, rooted in gender inequality, ideas about purity, modesty and aesthetics, and attempts to control women's sexuality.[13] It is supported by both women and men in countries that practise it, particularly by the women, who see it as a source of honour and authority, and an essential part of raising a daughter well.

I do note in his comment he talked only of type 3 (the least common) , and only mentioned men as perpetrating the practice. He also mentioned cases where the type 3 was performed improperly and caused complications.

In short, Pete's comment:
A. Needlessly genderized the practice. Way to keep a narrative about a War between the sexes going. Good job, Pete, ol' buddy!
B. Made as if the exceptional bad case was the rule.
C. "Given the above outcomes, and the fact that FGM is performed without anaesthetic, and purely for the purpose of reducing the woman's capacity to experience sexual pleasure and thus making her less likely to "stray", it's hard to imagine a more horrible practice." So claims Pete. But those are not all of the reasons, of course. There are religious and cultural ones as well, same as with male genital mutilations.

While I think that all unnecessary genital surgery should be avoided and downright outlawed for both males and females when they are of too tender an age to possibly consent and esp when such are performed in less than perfectly sterile hospital type conditions, I would freely admit that food, medicine, and shelter would easily trump any concerns about types one or two of FGM and about normal male circ as well. These practices are usually safe enough. Anyway, whether type 3 is outlawed outright in Burkina Faso or not won't make much of a difference in terms of 'quality of life' for women who are dying anyway, and this ridiculous reconstruction project will do even less.

OK Anna, you make a sound argument. I guess that having been circumcised at far too tender an age to have any memory of it, I don't tend to have any strong feelings against "male genital mutilation" that might, according to your classification, be similar to a Type 1 (?) FGM. I've generally tended to think of female genital mutilation in terms of the more extreme operations and of them being performed at ages when the victim was fully aware and horrified at what was being done to them.

Reasonably clean and healthy food and water would certainly seem to trump stopping the equivalent of infant circumcisions in terms of global importance, though that doesn't mean I approve of any pressured genital chopping at any age, particularly without anesthetics and proper hygiene.

– MJM

Michael:
A circumcision is a surgery, and what is the problem with unnecessary surgeries, EVEN when performed in a hospital environment?
Complications. The amount of circumcision related injuries and deaths (yes, baby male humans have died when a botched circumcision resulted in an infection, and some have lost their penises and had to be 'regendered' *look up the famous case of David Reimer*). Whether stuff like infection occurs in one out of every ten thousand cases or as little as one out of every million, it doesn't really matter because the larger culture doesn't seem to really care that this is happening for no good reason at all.
And in the US (which is where I live and the only place I'm familiar with male circumcision law and politics) male circumcisions can be performed by just about anyone no permit , medical facilities, or medical training required. Mine was performed in a Polish town hall, and they made quite a ceremony of it from what I understand. There's also the fact that circumcision, while there is argument about any real health benefits, was initially pushed in the US by John Harvey Kellog (one of the founders of the breakfast cereal company) as a way to curb masturbation. There's also a 'very interesting' jewish practice that some types of ultra -orthodox jews perform after they have cut off the foreskin. This is known as 'metzitzah bpeh' and I urge you to look this up and wonder why this is not illegal as in any other circumstance we would call this sexual abuse. In the US, at least, things are kind of messed up : metzitzah bpeh is defended rabidly in the few (mostly big) cities where it is kind of a common practice, and because of ultra-orthodox votes the very idea of regulating, let alone stopping male circumcision is a total non-starter. Meanwhile, because it MIGHT be construed as disrespectful to women, even the very prick of a clitoris with a needle in a medical facility (the very very mildest type of FGM imaginable; basically a totally symbolic cut) is a total no-go. We do seem to value the body integrity of our female babies more than our male ones, at least in my first-world country.

Anyway, my circumcision went well, there's no indication that I was damaged other than the fact that I'm reasonably certain the thousands of nerves I'm missing have somewhat – but obviously not entirely – made sex less pleasurable for me. I also know that , like the case in most problematic cultural traditions my parents meant only the best, and were not malicious, merely uneducated. But more to the point, I can complain about that one in ten thousand (or whatever) victim of male circumcision, I can worry about the sexual abuse implications of ceremonial oral, and I can debate whether a practice needs to be medicalized or totally pushed out existence, only because I'm free not to worry about food, shelter, and more extreme medical conditions.

Sheeeesh.

I now know more about circumcision than I *ever* wanted to know.

I wonder what brought these practices about? The "old" explanation, at least for male circumcision, was that it was done to prevent infections. I'm gathering that this was probably more of an excuse than a real reason.

The FGM practices, as repulsive as they are, at least seem to have some clear, though horrible, motivational basis in terms of a sick male-dominance-over-and-control-of-women effort, but what on earth ever inspired tribes of early humans to start thinking it was a good idea to chop off bits of their babies' penises????

MJM

Michael J. McFadden,

Re: I wonder what brought these practices about? The "old" explanation, at least for male circumcision, was that it was done to prevent infections. I'm gathering that this was probably more of an excuse than a real reason"

Why an 'excuse'? What other reason would they have had that they felt the need to cover up with an 'excuse'? Some men get circumcised voluntarily, some babies get it done on doctors advice. I've heard that most American men are circumcised whether their religious or not. Why would they choose to do this over and over again, regardless of religion, for anything other than health or practical reasons?

Actually, the main reason for male genital mutilation seems to be cultural discrimination, that is a marker for one's tribal or familial identity. That's why the Jewish started doing it , at least. Nowadays there are supposedly some health benefits concerning spreading aids or acquiring certain types of cancer. Of course all of this is rather contested, more to the point even if there is a medical benefit to the practice there's no real reason this has to be done at birth: it could just as easily be done later in life when the person involved can give informed consent.
But you see quite a bit of money comes into play here. Some Doctors make a pretty good portion of their income from the rather routine circumcision of male infants, something that many hospitals recommend to the new mother or dad.

Clarence,

Re: "Nowadays there are supposedly some health benefits concerning spreading aids or acquiring certain types of cancer. Of course all of this is rather contested, more to the point even if there is a medical benefit to the practice there's no real reason this has to be done at birth: it could just as easily be done later in life when the person involved can give informed consent"

They've been doing it routinely in America for a lot longer than the aids 'epidemic' and probably longer than that type of cancer has been known much about.

I think it would be better to wait till they can decide for themselves too, but it's probably done as a baby so that they can get it over with without remembering the procedure and because in places like America it was considered such a normal thing to do, a bit like tying the umbilical cord to make a belly button, that to not do it might have marked the kid out as different – and so why not have it done when everyone else does..?

Luco, you wrote, "in places like America it was considered such a normal thing to do, a bit like tying the umbilical cord to make a belly button, that to not do it might have marked the kid out as different – and so why not have it done when everyone else does..? ;)"

And yep, that's exactly what my sense of it was once I became aware of its existence as a kid.

I had a lady friend with no belly button at one point: evidently she'd had some abdominal operation at some point as a young child and whatever doc operated simply closed up her belly without an external belly button! Since she was so young at the time there was no evidence of a scar.

Of course maybe that was just her cover story and she was really a succubus or something!

Engineer: "Clitori" is the plural only for Italian clitorises. (j/k)

– MJM

Lucozade:

Yes, I think "why not" is the dominant paradigm, though I am happy that an increasing amount of parents are against this practice and are not having it done at birth.
The 'why not' is simple: Even if it's not very risky when something does go wrong the problems can be catastrophic: I'd hate to have to explain to a kid of mine why daddy and mommy decided to rename 'Glen' to 'Glenda' because of a botched operation that wasn't even essential. "Oppsie, sorry Junior. Let's go get you a new penis…oh, wait, we can't…" Also, there's the potential loss of sexual pleasure such that if they ever do get real 'regenerative' medicine, I'd like a new pair of eyes(was born far sighted) and a new foreskin, please.

I think this thread illustrates that quite a few people don't even know that male circumcision can go wrong. That, and the fact that all the campaigning against female genital mutilation tends to (as campaigns do) emphasize the worst types and worse outcomes also explains why we are so blase in the USA about this ancient practice.

Clarence,

Obviously it would be better not to circumcise if it is not required as it could always be done at a later date but not un done.

Perhaps it was more beneficial in the days when people never washed as regularly as they do today and so more dirt would get trapped if you weren't circumcised?

And now, I apologize for dropping in and not introducing myself.
I'll just say Hi, Anna. I hope you do get better soon. I first discovered your blog early last year when looking up the Jimmy Saville witch-hunt, and I've been lurking ever since because of the vast knowledge you bring of some aspects of the case and the high quality of your articles.

Well, I've learnt something. The plural of 'clitoris' is, it seems, 'clitorises'. Not 'clitori', 'clitorises'.

I've never needed to know the plural, as I&#8217