"As good be hang'd for an old sheep as a young lamb"?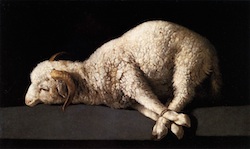 The new breed of righteous 'paedophile hunters' are not a tribe exclusive to the UK. I suspect they were introduced to the native population like grey squirrels – possibly from Australia, where they are even more prolific than in the US if that is possible.
Yesterday, one of the better known, Derryn Hinch, was released from prison in Melbourne, loudly complaining of the unpleasant nature of some of the individuals he had been forced to share his temporary home with. Not that he had done a lot of 'sharing', he had requested solitary confinement 'in accordance with his wishes after he said he was worried for his safety and health'.
Why would somebody ostensibly 'on the side of the angels', an outspoken 'moral crusader', have found himself in prison? Because, as is the case with so many of these 'moral guardians', he thought he was above the law, better than the law, that the law was merely there to punish the people HE pointed a finger at. Derryn was jailed for his sixth offence of 'contempt of court'.
Derryn is a 'shock jock', a 'C' list radio celebrity, whose career is dependant upon remaining in the news. What better way, in today's climate, than to point the finger at well known people and say 'he's a paedophile'. It is a fashion that we have taken to in the UK, as non entities who might have spent their life unknown, become household names with an army of followers, by publicly labelling any celebrity who has had the misfortune to be accused of past indiscretions with a nubile fifteen-going-on-sixteen year old as a paedophile.
I had thought that this was merely a cynical move to build a career in journalism, but the uncomfortable thought has crossed my mind from time to time, that possibly worrisome thoughts had entered their minds – and what better way to hide in plain sight than at the end of the pointing arm? That uncomfortable thought resurfaced when I found this old blog post from Derryn on the 'way-back' machine – oh dear; bedding a fifteen year old Derryn? So you too are attracted to the young and nubile and get caught out by a mountain of make-up and a determined teen-ager?
That deleted blog post and the subsequent denouncement of Derryn as a hypocrite who should be charged and convicted was back in 2005; since then, the young woman has been persuaded, we know not how or why, to come forward and say that Derryn was mistaken, she was 17. Perhaps she was. When she met Derryn she said she was 25, so she obviously lied on at least one of these occasions, it is a matter of opinion as to which one.
My point being, not to rake over old Derryn coals, but that when you take a lingerie and swimwear model, dressed up to the nines, out to dinner and subsequently to bed – and she turns out to be 15 after closer interrogation, you are behaving as you are genetically programmed to. To subsequently find yourself in court when she has remembered that er, actually, she was 15 and you are now a wealthy celebrity, doesn't turn you into a 'paedophile' who was 'grooming' a child, and should compensate that child.
Or, at least, it does in the eyes of the law, but the publicity which the paedo-hunters direct to these cases is to trivialise and turn attention away from a very real problem.
Down in the shires of Gloucestershire, far from the prying eyes of the TV cameras and the salacious detail gatherers, a young girl was painfully recounting the details of an all too familiar situation. She was born at a time when it was every woman's right to demand a divorce from a man who now bored her; at a time when genetic Fathers were an optional extra to be seen on birthdays and Christmas, if she was lucky; when having to tell your teacher that your surname had changed, yet again, was a familiar ritual at the beginning of term; when teen-agers were all powerful in a household, able to dress as they pleased and go where they pleased, financed by whatever they demanded; where boyfriends were allowed to stay overnight.
She saw nothing wrong in displaying her pubescent body around the house in front of a succession of young men who had no genetic bond with her; inevitably one was attracted to her. He sexually abused her – for many years. He has now gone to prison. As he should. That is Paedophilia, and rightly condemned and punished – by our judicial system.
Where I part company with the celebrity paedo-hunters, and find myself wrongly accused of being a 'supporter of child abuse', is their belief that building a broadcasting career on the back of naming elderly celebrities as Paedophiles, and demanding that they be named and shamed for long-ago dalliances with young groupies is actually doing anything at all for the protection of children. It isn't. I believe it will positively harm them.
They are diverting time and resources from the wholly inadequate system we already have to protect young people. If you want to campaign for 'child protection' then look towards protecting children before they are abused. Not tweeting the details afterwards. And for God's sake stop using the issue as a way to enhance political divisions.
No matter how extreme the law you call for to chemically castrate 'all Paedophiles' – a term which now includes even patting a 15 year old on the bottom over her clothing – or whole life tariffs, even the death penalty; no matter what orders you put in place to ensure that those thus labelled are not allowed to 'live within 50 miles of a school' or take any gainful employment; you will never, ever, change the basic evolutionary fact that we are all attracted to the youngest, fittest, healthiest example of the human race that we can possibly get into bed with. That applies to men and women.
Animals protect their young cubs – and we used to. Even as young children we were taught how to wriggle in and out of our bathing costumes under a towel on the beach, not taken to a tanning parlour to get an 'all-over' in readiness for our trip to Ibiza with our school friends. We were walked home by Fathers, brothers, teachers – and we understood why. Both men and women took protecting their young from danger as their first duty, not last, after their own desires. The majority of men were protective of women and young girls – and we were taught to stay away from situations where we might come across those who were not so well inclined.
Back in the 60s, we hitch-hiked everywhere; if, God forbid, we had found ourselves in the situation with somebody – it invariably involved the phrase 'are you in favour of all this 'free-love' business' – that we might have got ourselves into a sticky situation, we extracted ourselves as fast as possible, and looked to the next adult, male or female to help us. Our expectation was that most adults would protect us. And they did. Who would now stop their car on a dark rainy night if they saw a young girl in distress running along the road? Particularly a man.
We have engendered an atmosphere where our young females act as temptress, and we demand that any male who is so tempted is ruined for life, more effectively than if he committed a murder.
In fact, why not silence the only witness to your sexual desires? Why take the risk that she may go to court in 30 years time, and you may be ruined for having sex with that lingerie model who said she was 25? Why not wring her neck instead?
Some 'child protection' model we are building.
Anna Raccoon


March 8, 2014 at 1:47 pm

Jonathan Mason


March 8, 2014 at 5:28 pm

Lucozade


March 8, 2014 at 5:42 pm

Jonathan Mason


March 8, 2014 at 7:18 pm

Lucozade


March 8, 2014 at 8:16 pm

Jonathan Mason


March 8, 2014 at 7:32 pm

Lucozade


March 8, 2014 at 10:07 pm

Margaret Jervis


March 8, 2014 at 11:16 pm

Lucozade


March 9, 2014 at 12:23 am

macheath


March 10, 2014 at 4:30 pm

Engineer


March 10, 2014 at 7:22 pm

Lucozade


March 10, 2014 at 9:05 pm

Lucozade


March 8, 2014 at 10:38 pm

Anna Raccoon


March 9, 2014 at 7:33 am

Anna Raccoon


March 9, 2014 at 8:47 am

Lucozade


March 9, 2014 at 9:32 am

Margaret Jervis


March 10, 2014 at 9:22 pm

Lucozade


March 11, 2014 at 10:41 am

EyesWideShut


March 9, 2014 at 8:59 pm

Lucozade


March 10, 2014 at 10:45 am

Eric Hardcastle


March 10, 2014 at 5:03 am

EyesWideShut


March 9, 2014 at 3:52 pm

Lucozade


March 10, 2014 at 6:51 am

Lucozade


March 10, 2014 at 12:14 pm

Jonathan Mason


March 10, 2014 at 9:10 pm

Jonathan Mason


March 10, 2014 at 9:21 pm

Moor larkin


March 10, 2014 at 9:39 pm

Lucozade


March 11, 2014 at 9:05 am

Jonathan Mason


March 11, 2014 at 6:31 pm

Lucozde


March 11, 2014 at 9:21 pm

Lucozade


March 10, 2014 at 2:07 pm

Engineer


March 10, 2014 at 7:17 pm

Lucozade


March 10, 2014 at 8:59 pm