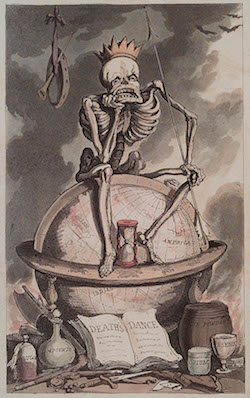 We have been witnessing a modern morality play. A danse macabre where 'God's messenger' is endlessly represented by a later-life, and unfortunate, image of the charity fund raiser and disc jockey Jimmy Savile looking like the genetic love child of a Jerusalem artichoke and Marty Feldman with his hyperthyroidic bulging eyes.
In the 14th century the purpose of these plays was to teach the truth that all men must die and should therefore prepare themselves to appear before their Judge. Today the 'truth' is that all men 'must' sexually abuse vulnerable women – and should the spectre of Jimmy Savile have touched their lives, prepare themselves for being sucked into the vortex of defamatory innuendo, Yewtree allegation and financially ruinous defence in front of a human judge.
No wonder the homogametically-challenged rush into print to deny ever having met Savile! Once the bony finger extended from the charnel-house of Feminism has been pointed, all reason to decline to dance is considered futile, puny, even risible. Further 'messengers' are summoned forth to reinforce the message – 'he is a dead man walking' – even as the human judge pronounces the juries verdict of 'not guilty'.
The alchemist of this transformation of modern superstition-free society into fearful medieval peasant audience was undoubtedly Mark Williams-Thomas.  He has demanded the honours and laurels be laid at his door in homage to his 'courage' in taking the confused and contradictory confabulations that were laid before, and rejected by, Surrey Police in 2007, as 'evidence' that Jimmy Savile was not the harmless eccentric who gave of his free time endlessly to bring cheer to the less fortunate, but a predatory paedophile who spent 'every waking moment' sexually abusing the vulnerable.
I became involved when I realised that the confabulmentary Williams-Thomas was so proud of, had been cobbled together from the entrails of the story originally pitched to the BBC by Meirion Jones – I was deeply suspicious. At the time, the story was of more interest because of the suspicion that the BBC had practised censorship of a valid story in favour of lauding one of 'their celebrities'. This version of events was certainly heavily trailed in the media by those who wished to see Meirion as a victim of right-wing establishment 'protectionism'.
That amused me somewhat, for despite Meirion's adult portrayal of himself as 'son of the valleys', the boy from the Rhonda, pitching in 'enthusiastically' with the lot of the striking miners, who had 'done good' in the egalitarian atmosphere of the BBC (???) I was perfectly aware of his previous incarnation as spoilt and cosseted Public schoolboy (Westminster, wasn't it Meirion?) (briefly interrupted when he was 'rusticated' [such an upper-middle class word!] for hooliganism. An unfortunate incident with a goldfish….). Champagne socialists of the world unite!
How was I so aware? Because long, long, ago, before Meirion had adopted the dark shirt and navy trousers of left-wing metro-man made good, there was another Meirion. The short trousered, snotty nosed, and snotty mannered young nephew of the head mistress of Duncroft, the school at the centre of these allegations. Surely it couldn't be the same kid we used to baby sit in the TV lounge that was now innocently being portrayed as a fearless investigative reporter who had chanced, in later life, upon a story 'that any journalist would want' concerning a school called that just happened to be called Duncroft?  Indeed it could! There was something distinctly fishy about this tale.
Since that time, since Williams-Thomas went off to ITV with Meirion's 'research' and claimed the fable of Duncroft as his own, the story has grown ever more complex, with layer upon layer of of flaming torch-bearing activists seizing on the story to improve their own vested interests, heaping ever more post-humous vilification and accusation on the conveniently deceased corpse of James Savile.
It is easy to forget, as we are told of the 'immeasurable good' that the Savile saga has done, in giving 'victims a voice', in giving them the courage to 'come forward' with their inner pain and ruined lives, that the entire edifice, still to this day, rests upon the words of those original 2007 complainants to Surrey Police. Were they telling the truth? Did they have honourable motives? Were the forged letters from Surrey Police just a red herring, a last desperate throw of the dice to be taken seriously? Were the complaints of bullying by those who had interacted with them on various forums as they recounted their stories  to each other genuine, or the work of 'child abuse supporters'?
If they were entirely truthful, then so be it. Savile was a monster.
If they weren't telling the truth – then those three women (and their 'witness'), aided and abetted by Williams-Thomas, set the scene for a danse macabre, which has cost the country millions upon millions of tax payer's pounds; wasted hours, nay days, nay weeks, nay months, of police man hours that could have been spent investigating serious crime; deprived worthy charities of millions of further pounds; diverted further millions of pounds towards charities that 'could no longer cope' with the flood of enquiries for 'victim' support; seen the desecration of burial monuments belonging to random Savile relatives; vilified an entire family by association; seen charities refuse further funding for fear that they might be associated with Savile's name; forced two generations of 'Duncroft' girls to relive their unhappy childhoods that they had long since left behind them; not to mention the destruction and havoc wreaked at the BBC. The collateral damage has been immense.
Operation Orchard has yet to report. Operation Orchard is the authoritative inquiry into those original allegations.
Why is anybody – other than the oppugnare of lawyers, even suggesting that millions of pounds worth of claims regarding subsequent allegations be settled before there is any authoritative voice as to whether the original allegations had any truth to them?
Edited to add: Beggin' yer pardon – Operation Outreach, the love-child of Operation Orchard, which was the original 2007 investigation. Apologies.
Anna Raccoon


February 22, 2014 at 11:03 am

Moor Larkin


February 22, 2014 at 12:34 pm