Super Star – Freddie Starr.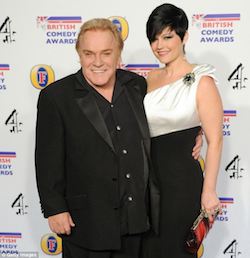 Freddie  said he wasn't going to be messed around like this any longer – and now that the police have arrested him, but still not charged him, for the fourth time in 18 months without giving any indications of their intentions whether to charge him or not – he has decided to take the fight to them.
Today they put an allegation to him that they had previously decided not to question him about. It is not a new allegation.
When he answered his bail in January, his solicitor wrote to the Police and Crown Prosecution Service to express concern for the amount of time that the investigation was taking and to put them on notice that the decision to keep Freddie on bail for this amount of time without charge was potentially unlawful.
Both the Police and the CPS responded by saying that a decision whether to charge or release would be forthcoming by 12 February 2014, at the latest.
Today is February 12th 2014. They have neither charged nor released him. 
Freddie is now filing an application in the High Court for Judicial Review in relation to the conduct of the police and CPS.
This should get very interesting.
Scousers do it standing up – they definitely don't take it lying down. Freddie Starr has Liverpool grit stamped all the way through him.
Mudplugger


February 12, 2014 at 8:47 pm

SamBest


February 13, 2014 at 3:10 am

Carol42


February 13, 2014 at 3:14 am

GildasTheMonk


February 12, 2014 at 9:16 pm

SamBest


February 13, 2014 at 3:11 am

Mudplugger


February 13, 2014 at 8:21 am

SamBest


February 13, 2014 at 3:12 am

Carol42


February 13, 2014 at 3:17 am

sally stevens


February 13, 2014 at 3:25 am

Duncan Disorderly


February 13, 2014 at 8:09 am

Ellen Coulson


February 13, 2014 at 11:02 am

Ellen Coulson


February 13, 2014 at 2:55 pm

Moor Larkin


February 13, 2014 at 2:03 pm

Eyes Wide Shut


February 13, 2014 at 2:10 pm

Eyes Wide Shut


February 13, 2014 at 2:19 pm

Moor Larkin


February 13, 2014 at 2:25 pm

Carol42


February 13, 2014 at 2:34 pm

Eyes Wide Shut


February 13, 2014 at 3:01 pm

Lucozade


February 13, 2014 at 2:57 pm

Moor Larkin


February 13, 2014 at 2:44 pm

Moor Larkin


February 13, 2014 at 2:54 pm

Lucozade


February 13, 2014 at 3:02 pm

Eyes Wide Shut


February 13, 2014 at 3:09 pm

LambertGenie


February 17, 2014 at 9:39 pm

Eyes Wide Shut


February 13, 2014 at 3:31 pm

GildasTheMonk


February 14, 2014 at 9:48 am

Moor Larkin


February 13, 2014 at 3:34 pm

Dai Brainbocs


February 13, 2014 at 3:41 pm

Moor Larkin


February 13, 2014 at 3:43 pm

Duncan Disorderly


February 13, 2014 at 3:49 pm

Eyes Wide Shut


February 13, 2014 at 3:54 pm