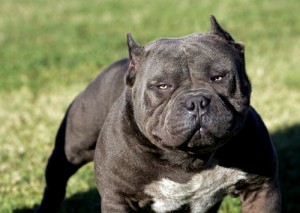 Would you? I mean really? You'd leave your 11 month old baby in the care of this charmer?
It seems that you wouldn't be quite as crazy as the knee-jerkers would have you believe…
"Pit bulls typically lived in their owner's homes, where they earned the nickname 'nursemaid's dog' because they were so reliable with young children. In fact, "Pete the Pup," the children's friend from the old TV series 'Our Gang,' was a pit bull."

So says the American Society for the Prevention of Cruelty to Animals.
Sadly the Pit bull's 'macho' walk, balls swinging in the wild, half closed eyes with that 'wot you lookin' at' expression, lurching from side to side in the manner of a heavy weight boxer on steroids making his way to the gym, has made it an attractive street accessory to those in need of an intimidating air.
But don't we all know from the media that Pit bulls have a special 'locking mechanism' in their jaws that make them especially dangerous when they bite? Er, no, we don't.
Domestic dogs: 320 LBS of pressure on avg. A German Shepherd Dog, American Pit Bull Terrier (APBT), and Rottweiler were tested using a bite sleeve equipped with a specialised computer instrument. The APBT had the least amount of pressure of the 3 dogs tested.
Karen Delise has written a marvellous book which is instructive in these days of media judgement – detailing precisely how the media came to demonise a dog previously known for its 'nursemaiding instincts' – and has found some brilliant examples of Labradors mislabelled as 'Pit bulls' because they had bitten someone, and a Yorkshire terrier apparently 'mauled by a Pit bull' – an event laconically described by the vet as not possible 'unless Pit bulls are now carrying shot guns' – the dog had a bullet lodged in its spine, nothing else!
The media's monstering of the Pit bull has had the unfortunate effect of persuading even more unsuitable owners to come forward, attracted by the Pit bulls 'new reputation' of menacing aggression. I wonder how many more people have been searching Google for 'child-porn' since the media's monstering of Jimmy Savile?
11-month old Ava-Jayne is unlikely to be the last victim of a badly trained dog belonging to the new partner of "the most beautiful and adorable little girl" as she was described by her Father – Mother's 'last year partner'…..
After Ava-Jayne, it is the dog I feel sorry for.
Anna Raccoon


February 12, 2014 at 12:12 pm

Greg lance watkins


February 12, 2014 at 12:34 pm

Anna Raccoon


February 12, 2014 at 1:07 pm

Backwoodsman


February 12, 2014 at 4:44 pm

Anna Raccoon


February 12, 2014 at 5:01 pm

GildasTheMonk


February 12, 2014 at 1:21 pm

Frankie


February 12, 2014 at 7:30 pm

GildasTheMonk


February 12, 2014 at 12:56 pm

The Blocked Dwarf


February 12, 2014 at 1:09 pm

Anna Raccoon


February 12, 2014 at 1:10 pm

GildasTheMonk


February 12, 2014 at 12:56 pm

Anna Raccoon


February 12, 2014 at 1:14 pm

Moor Larkin


February 12, 2014 at 2:33 pm

Single Acts of Tyranny


February 12, 2014 at 6:37 pm