This royal barge of kings, this aquatic'd isle,
This flooded land, this seat of Zeus,
This other Venice, water-paradise,
This water park built by Nature for herself
This blessed lake, this marsh, this bog, this England.
Or as Richard might well have said – 'My kingdom for a flat bottomed boat'….
Just one more time I am going to listen to Sky drumming up fear and indignation by claiming that the damage to the railway line at Dawlish has 'cut off Devon and Cornwall from the rest of the country'. If not being able to pass through Dawlish cuts Cornwall off from the seat of 'all that is good and interesting', otherwise known as Metro London, perhaps someone could tell me how the feisty Cornish mackerel get to London on a Sunday? 'Tis a mystery to be sure how this obscure tourist branch line which, according to the anorak who works in the office of the rail regulator and laboriously records these things, saw a mere 400,000 people last year -and that figure includes Aunt Betsy travelling by train from Teignmouth to see her sister, rather than walk three miles, not to mention all the rain soaked tourists who just fancied a cheese sandwich and a cup of tea – has managed to morph, in Sky's reportage, into the conduit between the powerhouse of Cornish industry and 'London, saviour of the world'. Dawlish is not Clapham Junction.
Last month, they were obsessed with Yalding. Wide angle shots of expanses of water in an area known as Little Venice – the clue was in the name, folks – contained 'homes' belonging to people who were angry and surprised to find that buying a 'mobile home' sited on a piece of land that the planners would not allow a permanent home to be built on, overlooking acres of marshland, meant that sometimes those flood plains might flood. This was the government's fault. Many times did Sky show the footage of David Cameron besieged by angry voters incensed that Cameron hadn't put a lid over Yalding…..
It is distressing to find your house full of water. I do have sympathy with the 40 homes in Somerset that actually are flooded. I have been there myself. Over the past 25 years Mr G and I have restored 11 houses. 10 of them were riverside properties. We have always been aware of the risk.
House number 11 was at the bottom of a slight gradient – perhaps a rise of five yards, this was East Anglia after all, and a good half mile from the nearest stream. I didn't want to buy it, it seemed a bad omen to me that it wasn't 'riverside'. Guess which house flooded? The only house which flooded? All the rain in all of East Anglia gathered at the top of that 'hill' as it was laughingly described, and rushed straight down towards us……it isn't a pleasant experience.
But if you buy a house in 'Fordgate' – hello? Ford? a clue in there somewhere – which is near Bridgwater – another clue there, surely; in Somerset, the ancient summer grazing lands of pre-Christian era farmers, then is it really reasonable to expect the environment agency to decimate the great crested newt population by draining the entire area so that you don't get wet feet?  How far do the rest of us have to dig into our pockets to support the environment agency's efforts to ensure that you never, ever, have to replace your washing machine because it flooded? Should everybody who has had to replace a washing machine because it filled with limescale be given air time to demand the environment agency remove all the lime from their water supply?
The answer seems to lie in numbers. 40 houses surrounded by water picturesquely cascading off tractor wheels is good TV.
40 houses scattered independently round the country where the occupants have 'lost everything' because the next door neighbour decided to rig his shower up to the gas mains/set fire to the boyfriend's x-box – or just because they bought a house at the bottom of the nearest thing Norfolk possesses to a hill – don't provoke a political crisis.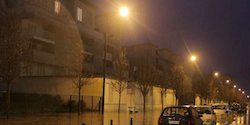 By the way – this area of Southern France is just as bad: this was Bordeaux when I went to the hospital on Friday. You won't see it on the TV; it's not news. It happens every year.  Even the French don't blame Hollande.
Did you know that one of the first roads built in Britain was in Somerset? 4,000 years before JC! Ancient man took one look at the Somerset levels and thought – "Chances are me feet'll get wet rounding up them hairy Bison, best I build a raised road then".
6,000 years later, modern man builds a collection of 1970s bungalows on the same site, and he reckons it's David Cameron's responsibility when his feet get wet.
Jeremy Poynton


February 9, 2014 at 1:34 pm

The Blocked Dwarf


February 9, 2014 at 2:59 pm

Jeremy Poynton


February 9, 2014 at 7:23 pm

Major Bonkers


February 10, 2014 at 3:03 pm

Radical Rodent


February 9, 2014 at 3:33 pm

Radical Rodent


February 10, 2014 at 12:13 pm

Jeremy Poynton


February 9, 2014 at 7:26 pm

Anna Raccoon


February 9, 2014 at 2:14 pm

GildasTheMonk


February 9, 2014 at 6:41 pm

Jeremy Poynton


February 9, 2014 at 7:33 pm

The Meissen Bison


February 10, 2014 at 11:33 am

Moor Larkin


February 10, 2014 at 11:57 am

The Meissen Bison


February 10, 2014 at 3:05 pm

Cascadian


February 9, 2014 at 11:58 pm

GildasTheMonk


February 10, 2014 at 10:55 am

Jeremy Poynton


February 9, 2014 at 7:36 pm

Moor Larkin


February 10, 2014 at 9:35 am

Moor Larkin


February 10, 2014 at 11:01 am