What happens if three butterflies flap their wings simultaneously?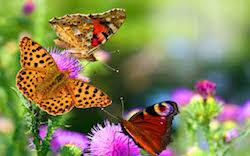 Edward Lorenz's 'Butterfly effect' sounds positively poetic – a beautiful butterfly innocently flutters its wings in sunny Brazil; in far off Texas, ugly storm clouds gather and lives and homes are wrecked as a tornado wreaks havoc. Chaos theory would have us believe that the butterfly is responsible for the ensuing carnage.
However, butterflies emerge and flap their wings all over the world, day after day – and Texas has the occasional good weather day…!  Perhaps it takes a concerted effort from a number of  butterflies? (You may prefer to insert the word 'Moth' into the Raccoon chaos theory at this point – you will see).
I have been looking afresh at the origins of our current moral panic, only one of many down the ages, but the one we have to deal with today.
What particularly caught my attention was the frequent appearance of the claim that 'top Tory politicians' were involved. Reading the Felstead family's sad and meticulous chronicling of their sister Carol's place in the history of the Satanic Abuse moral panic – it jumped out at me. 'Abused by two Tory politicians' (with a claw hammer no less!). How weird that the North Wales children's home child abuse story (now into the 'Inquiry into the Inquiry 'stage!) should have been so closely tied to tales of a 'top Tory politician' and then the 'Elm House' child abuse story also laying claim to the involvement of a 'top Tory politician' – then Duncroft and the Savile saga – so much made of his apparent connections to 'top Tory politicians'.
Could it really be that there was a 'top Tory politician' who was a preda-Tory paedophile, and that people had been trying to expose him for years? Could it be that there was something about being a Tory that led one down this deviant path? Surely not the 'public school, fags and beatings' innuendo – for half the Labour Party is also the product of public schools!
Logically, if paedophilia is an incurable aberration of the brain, then it should be evenly distributed through the population. It didn't make any sense – yet time and again, with the monotony of alien spacemen having green eyes, this defining characteristic turned up in early accounts that led to major outbreaks of moral panic. Did anything else connect these outbreaks?
I fell down a rabbit hole, and have only just climbed out. For the sake of brevity, I shall refer to 'North Wales', 'Elm House' and 'Duncroft'.
Now, long before 'North Wales' became an investigation into abuse at a children's home, it was an investigation into a local politician alleged to be involved in pornography and child abuse whose case had been 'mysteriously dropped' when the police 'lost evidence'. The informant was not a 'victim' but Dennis Parry, Clywd Council leader. Dennis said that his informant was a 'Tara Davidson', (Richard Webster's spelling page 189) also not a victim, but a former MI5 agent (allegedly!) who told him a long tale involving freemasons, and organisations of the Catholic Church, da dum, da dum, and the all essential politicians……this informant, who also claims to be behind subsequent stories published in the now defunct Scalleywag magazine – was none other than Andrea Davison, who prefers to be known as 'Tara'.
Good God! Not THAT Andrea Davison. Yep, one and the same one – still claiming in her present Macur review statement (at 2.6) to have been at Duncroft. Well I'll be darned!  You see I have always been somewhat suspicious that there might have been some tenuous connection between Andrea 'I was at Duncroft' Davison, and dear Fiona.
Fiona who, you say? Fiona of the forged letter, Fiona of the Levitt report, Fiona who kicked off the rehashed Duncroft story by going to the police claiming to be a witness to abuse 'which had never been investigated'. That Fiona. It was the forged letter that got to me – for Andrea Davison had just been sentenced to jail – for forgery. Forging passports I thought initially – but then discovered that it was also extensively University degrees – and hadn't I been told that Fiona's house displayed several framed University degrees? Not many people have 'several degrees' – but perhaps they were genuine. Perhaps the forged letter had 'been sent to her' as she claimed, along with other people. Who could have forged it and why? Andrea and Fiona are about the same age, maybe they knew each other in a past life? Not Duncroft, but elsewhere? Maybe Fiona has been sadly misjudged, perhaps she really did innocently receive that forged letter through the post and decide that the least she could do was to work towards reopening the stale investigation into Jimmy Savile's visits to Duncroft?
I googled Davison and the details of her criminal past. It wasn't just forgery, but forgery as part of a fortunately rare and specific crime – 'Boiler room scams'.
That's when things got really spooky. For it seems that Andrea is not the only Davison to have been convicted of 'Boiler Room Scams'. There was an Adrian Davison too. Fair enough, there are approximately 27,000 Davisons in the UK – and whilst Boiler Room scams may be reassuringly few and far between – the name wasn't that unusual. Boiler Room scams probably didn't 'run in the family'. Not close family anyway.
But hold up! Now that is a weird coincidence! There was a Christopher Fay sentenced at the same time as Adrian Davison for 'ancillary offences'. Except that it wasn't a 'co-incidence' – it was one and the same Chris Fay who kicked off the investigation into the 'Elm House' child abuse saga….
What is it with these 'child protection activists' – it's never a victim directly – who claim to be aware of abuse in children's homes and their predilection for forged documents and boiler room scams?
Why do I feel uncomfortable that certainly two, if not three, of these people show indications of having common interests outside of their interest in reporting child abuse?
Because we currently have three (more actually) major police investigations and Inquiries running, costing millions of pounds,  and creating disruption and misery in hundreds of lives, that possibly have more in common than merely a story line including 'abuse by 'top Tories'.
All the talk of 'cells' and 'rings', 'disinformation agents' and 'political activists' exerting their power to hide child abuse has had us all fully occupied looking outwards to see if there is any truth in the stories – perhaps we should be looking inwards at where these stories emanated from. It seems a long time ago now that I wrote these words:
There have been many people working in the background of this story. Somebody forged the letter that Fiona produced saying the investigation into Savile was being dropped due to his age. Somebody, I am alarmed to tell you, set up a Facebook entity in the name of a former member of staff encouraging former residents to tell them their story. How many children – now adult – felt safe communicating with what they thought was a trusted member of staff? It took a high level call to a Director of Facebook before that entity was taken down – it has never been established who set it up. Certainly not that member of staff. The entire Facebook group which had been urging girls to come forward with tales of abuse was taken down just before the broadcast of the story. I am not alone in having received threats for having 'dissed' the tale of 'institutional child abuse over a number of years'.

Why were the Home Office records of girls who had been sent there by the justice system, handed to Barnardos, a private charity? Why were later records, of girls who were sent there under the auspices of the mental health regime, handed to Barnardos, a private charity? Why are they still listed as safely in the possession of the National Archive? Who has seen them?

Someone in the background has had a keen and determined interest in building this story.
What happens if three butterflies flap their wings simultaneously – or even three moth-eaten political activists reading from the same crib sheet? Do we end up with a Tsunami of child abuse allegations, compounded by a line of 'me-too' claimants? 
For the avoidance of doubt; a declaration. I entirely accept that there are children subjected to illegal and inappropriate sexual activity that is incredibly damaging to them. They have my total sympathy, and I am 100% behind criminal sanctions against the perpetrators.
The law of averages dictates that some of those children will at some time have been resident in children's homes. It equally dictates (and may well be weighted in the direction of) some of the perpetrators being attracted to vulnerable young individuals without much sense of self worth living in children's homes.  That makes a lot more sense to me, if that is your sexual intention, than taking a job in the BBC or putting yourself forward as a Conservative Party candidate in order to prey on such children. Ditto the old meme of 'Scout Master'.
As far as Elm House is concerned, I have enough trouble keeping up with the Duncroft saga – but it seems to me that if you run a hotel in an era when homosexuality is illegal and direct your advertising towards the 'gay market' then you are not going to attract so much the established and stable male couples (who have a perfectly good home) as those in search of an occasional venue – and inevitably some of those will be accompanied by young and vulnerable 'rent boys'. That behaviour is still illegal and deserves to be prosecuted – but it is a long way from the lurid tales, employing 'spook language' of 'trafficking', 'cells', and organised 'rings'. It is plain and simple individualised child abuse, without  the celebrity 'keywords'.
What I am particularly talking about here is how, and from where, this particular 'script' of Tory Party involvement in 'rings' of paedophiles  in disparate venues across the country, that dates right back to the beginnings of the Satanic Ritual Abuse fable, has emerged – and why it has emerged from the Blogosphere depths to take centre stage in the media. 
And whether we might usefully spend as much time looking at the propagators as we are spending hunting shadowy perpetrators.
Where are all the dedicated investigative journalists? Gone to ground, every one. Come out! Your country needs you!
Sambest


January 31, 2014 at 1:10 pm

Margaret Jervis


January 31, 2014 at 2:19 pm

Duncan Disorderly


January 31, 2014 at 1:17 pm

Anna Raccoon


January 31, 2014 at 12:03 pm

Margaret Jervis


January 31, 2014 at 6:11 pm

Margaret Jervis


January 31, 2014 at 6:37 pm

Margaret Jervis


January 31, 2014 at 6:45 pm

Sambest


February 1, 2014 at 4:08 am

Margaret Jervis


February 1, 2014 at 3:40 pm

SamBest


February 2, 2014 at 3:35 am

Anna Raccoon


February 2, 2014 at 4:58 am

A Subject


March 16, 2014 at 4:06 pm

SamBest


February 2, 2014 at 10:26 am

Anna Raccoon


February 2, 2014 at 11:52 am

Anna Raccoon


February 2, 2014 at 4:33 pm

SamBest


February 3, 2014 at 8:18 am

Eyes Wide Shut


February 3, 2014 at 12:10 pm

SamBest


February 2, 2014 at 8:08 pm

gordon bowden


December 21, 2014 at 4:33 pm

Soundman


December 21, 2014 at 4:47 pm

gordon bowden


December 21, 2014 at 5:41 pm

Soundman


December 21, 2014 at 6:04 pm

Anna Raccoon


December 21, 2014 at 6:27 pm

Anna Raccoon


December 21, 2014 at 6:33 pm

gordon bowden


December 21, 2014 at 6:39 pm

gordon bowden


July 26, 2015 at 9:45 pm

Matt Quinn


July 26, 2015 at 10:14 pm

Matt Quinn


July 27, 2015 at 10:25 am

gordon bowden


July 27, 2015 at 8:20 am