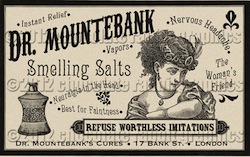 Multiple bottles of smelling salt being wafted around in the Blogosphere today. Purveyors of Free Speech dropping like Guardsmen on a hot August day. It would appear that the 'well informed citizens' of Blogland have just discovered that GCHQ don't just listen in to phone calls ala 1970, but have moved with the times and now routinely read e-mails as well. Who would have thought it?
Not only that, but they do it in conjunction with our main allies! Incredible! So incredible that it has become front page news. Hypocritical hypocrisy from the newspaper which has campaigned for a couple of years now for State interference in the so-called rights of newspaper to publish information that they hold. Other newspapers, of course; for other newspapers publish tittle-tattle concerning left wing Luvies and their exotic love lives, whereas The Guardian engages in 'journalism' revealing that the on-line world is not the grown-up free zone that some desire and is subject to the same surveillance as your average Ford Focus when it pulls into a petrol station to fill up.
We are monitored throughout the day and night, at petrol stations, in children's play parks, in our offices, on the tube – putting our rubbish out, for God's sake! Why the hysteria on discovering that e-mail is monitored? Send a letter by post if you are that concerned!
Or stick your boyfriend on a flight back to the gay's favourite playground, Copacabana beach, with a USB memory stick in his pocket? It seems that doesn't work either. The international law free zone of the transit lounge, that left wing writers across the world were commending for its ability to keep Edward Snowden out of the reach of the judiciary, has now turned round and bitten them on the backside – it appears it is also capable of keeping David Miranda, boyfriend of Guardian journalist Glenn Greenwald, out of the reach of the judiciary for an entire nine hours. There's a thing!
Not only that, but the government threatened the Guardian with the legal force of 'prior restraint'. You remember 'prior restraint' surely? That is what the Guardian were championing not so long ago as the means by which errant newspapers tabloids could be silenced, prevented from publishing stories that the subject objected to – rather than being able to publish and then risk the legal consequences. Injunctions for want of a better word. The Guardian didn't think that newspapers tabloids ought to be able to say just about anything in the name of free speech, they should be regulated, rather than leaving it to libel laws to punish the perpetrators….
You might think that the paper which has been in the forefront of championing the redemption of Alan Turing, or even a group of journalists based on Copacabana beach, might have realised that having a complete record of communications being passed from one gay bar to another and ending up God knows where might just upset the intelligence services. Given the number of articles they have written recently lauding Alan Turing for his ability to comb through conversations that the Germans thought were private and thus break the code, allowing the British to pin point the whereabouts and deliver death most precisely to those they chose. Given that they don't think the security services can be trusted with this information – what makes them think that a bunch of Brazilian queens are a better guardian?
I assume that their real objection is that the government is 'spying on its own citizens'. Indeed they are. That is probably because the enemy no longer arrives in wooden boats wearing tricorn hats to ensure that you know who they are. In fact some of the enemy are now known as 'British citizens'. A state of affairs that The Guardian has long championed.
Once upon a time, the intelligence services dolled themselves up in tricorn hats and hung around in foreign ports in order to find out who was planning to topple the government and install a foreign ruler – am I dismayed that they have kept up with the times and now read e-mails? Not in the slightest. 20 years ago GCHQ were listening in to the world's phone calls.
Quite why the unelected Guardian and a bunch of computer experts think that they are better placed to decide what we should know and what should be concealed – until such time as it makes a better 'story' – than the muppets with a predilection for padlocking themselves inside their luggage, beats me. Still, Mrs Rushbridger's hypocritical histrionics are quite entertaining in the meantime.
Remind me, does the Guardian think that the blogosphere should be regulated? And Twitter? And the Tabloids?
In fact the last bastion of 'say whatever you want' speech should be The Guardian? There's totalitarian for you.
August 22, 2013 at 23:40




August 22, 2013 at 18:40










August 22, 2013 at 21:24







August 22, 2013 at 22:25




August 22, 2013 at 18:36




August 22, 2013 at 16:41




August 22, 2013 at 10:40







August 22, 2013 at 08:32







August 21, 2013 at 23:36




August 21, 2013 at 21:13




August 21, 2013 at 21:05










August 21, 2013 at 22:19




August 21, 2013 at 20:10




August 21, 2013 at 17:54







August 21, 2013 at 21:20







August 21, 2013 at 17:50










August 21, 2013 at 19:31







August 21, 2013 at 20:40







August 21, 2013 at 20:53




August 21, 2013 at 21:15




August 21, 2013 at 17:05







August 21, 2013 at 15:58







August 21, 2013 at 15:57









August 21, 2013 at 15:59




August 21, 2013 at 15:32







August 21, 2013 at 15:06










August 21, 2013 at 15:22










August 21, 2013 at 14:25












August 21, 2013 at 13:51







August 21, 2013 at 13:34




August 21, 2013 at 13:16







August 21, 2013 at 13:08







August 21, 2013 at 12:37




August 21, 2013 at 12:16










August 21, 2013 at 13:18







August 21, 2013 at 14:08