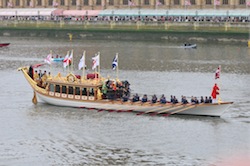 It sounds grand doesn't it? Britain sending a gun boat to sort out those pesky Spanish? Actually an aircraft carrier, HMS Illustrious – pity she doesn't have any aircraft any more, what with the Harriers having bit the dust and all that. Still, I don't suppose the Spanish will laugh too much. It could have been worse, in these touchy-feely days of 'green' policies I shouldn't have been surprised to hear that we had dispatched the royal barge Gloriana with a crew of iPod listening marines straining at the oars. Ready to burst into tears if the Spanish nicked their iPods.
I'm told that if you take the total length of the much disputed 'territorial waters' round Gibraltar as being 12 miles – then HMS Illustrious has 70 square miles to patrol. 70 square miles filled with tourists on jet skis dodging Spanish bullets, grieving relatives attempting to scatter ashes (the Spanish tried to forcibly tow them into Algeciras, the doughty British coastal patrol snuck up and cut the tow rope – that's the spirit lads!) cigarette smugglers by the dozen in fast rubber boats, Spanish fishermen looking for the last of the herrings, not to mention the concrete blocks Gibraltar is reputed to have sunk to deter 'illegal' fishing – then the expected arrival of HMS Westminster and HMS Montrose poses a major problem – where are you going to put them? There won't be enough water left to float a rubber duck.
Spain has apparently sold £145 million quids worth of 40-year-old Mirage jets to Argentina – that'll frighten the RAF in the Falklands, I don't think. Neither Spain nor Britain can afford the money for so much as a single bullet, so why the sabre rattling? Is it just to keep the financial scandals off the front page during the month of August?
Gibraltar is a curious place at the best of times. I went there 30 years – some ten years after husband No 1 had written a turgid pot boiler for W H Smith lauding the British Royal Family. I think he sold around 100 copies in Britain, but there in Gibraltar, 10 years later, amongst the Bobbies sweltering in blue helmets, the red phone boxes, fluttering union jacks, were hundreds of copies of said tome. Every shop had dozens of copies pinned up outside. The island was plastered with them. It was surreal sight.
What happened to the EU and its free movement of workers? Its commitment to bringing peace and harmony to Europe? And why did we have to 'send' a gunboat to Gibraltar – if it's such a strategic post for us, why wasn't one permanently stationed there? What good does it do in Portsmouth?
Ooh, look! HMS Illustrious sets sail with a full compliment of cuddly toys on board…I might have known Cameron wouldn't send her off with live bullets. Far too expensive, and what would that nice Mr Clegg of the Spanish wife say?
Rule Britannia!



August 12, 2013 at 15:52




August 9, 2013 at 22:43







August 9, 2013 at 14:40







August 9, 2013 at 13:05










August 9, 2013 at 12:35










August 9, 2013 at 12:07







August 9, 2013 at 11:38




August 9, 2013 at 11:34




August 9, 2013 at 11:32




August 9, 2013 at 11:29




August 9, 2013 at 11:27







August 9, 2013 at 12:37










August 9, 2013 at 10:38







August 9, 2013 at 09:49







August 9, 2013 at 09:44