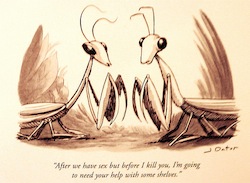 The keening and wailing from the feministas yesterday after prosecutor Robert Colover performed his duty as an official of the court and disclosed evidence which 'suggests an explanation or partial explanation of the accused's actions' was ear deafening.
Initially, the commentators were baying for the head of Judge Nigel Peters, The Sun describing the expected 'fury' – for their readers did not know of the incident before The Sun published its story; children's charities were quick to pile in behind – Paul Jackson, a junior numpty for the NSPCC described the disclosure as a 'perversion of justice'.
Eventually, one or two media folk who could actually read, realised that the true 'culprit' was the barrister whose words the Judge was echoing. They clambered over each other to demand his head on a platter – 43,236 of the outraged trotted over to the grandly named 'world's petition site' to demand that Attorney-General stop this heinous business of forcing prosecutors to disclose any fact that could possibly mitigate an offence against a woman. I'm surprised that they stopped short at that – why not demand that those accused of sexual offences not be allowed to conduct a defence at all?
This wasn't the defence counsel blaming the victim – this was the prosecution barrister for the CPS speaking. We don't yet – nor do any of the dozens of journalists wailing this morning – have the full transcript of the trial. But sheer logic, something sadly missing the the main steam media, tells me that it wasn't Robert Colover voicing his personal opinion of the victim – he would scarcely have been prosecuting if that was his belief – but Robert Colover disclosing that the prosecution held evidence which described the victim as 'predatory and egging on the accused'.
Had he not done so, and had it later been discovered that the prosecution held such evidence, then an appeal would have held the entire conviction to be unsafe.
Robert Colover was complying with the Attorney-General's own rules for disclosure. For doing so, he has this morning been presented to the Feminstaz as a duly suspended sacrificial lamb.
Do you really want to engineer a situation where the prosecution holds evidence that would exonerate you from, say, a driving offence, but keep quiet about a letter they received from the victim admitting that it was his fault?
Of course the victim in this case was a child, and the accused was alleged to have engaged in sexual activity with her – and that according to the Feministaz means that the rule of law should be thrown out of the window.
Why not dispense with the need for a court case? An accusation alone from a woman should be sufficient to lock up the accused for life without any need to traumatise the victim further…
Welcome to 2013.



August 9, 2013 at 16:54




August 8, 2013 at 23:59







August 9, 2013 at 00:22







August 9, 2013 at 00:37







August 9, 2013 at 19:52




August 9, 2013 at 09:01




August 8, 2013 at 22:34




August 8, 2013 at 22:22







August 8, 2013 at 23:08







August 8, 2013 at 23:30










August 9, 2013 at 00:16










August 9, 2013 at 17:04







August 9, 2013 at 17:34







August 9, 2013 at 20:13







August 8, 2013 at 21:03







August 8, 2013 at 18:22




August 8, 2013 at 16:34




August 8, 2013 at 16:32




August 8, 2013 at 13:51







August 8, 2013 at 13:45







August 8, 2013 at 12:50




August 8, 2013 at 12:40







August 8, 2013 at 12:40




August 8, 2013 at 11:28







August 8, 2013 at 12:16







August 8, 2013 at 15:02







August 8, 2013 at 21:16










August 9, 2013 at 12:19







August 8, 2013 at 10:43










August 9, 2013 at 13:08










August 8, 2013 at 10:31







August 8, 2013 at 10:03









August 8, 2013 at 08:57