Puerile Savile and the Mexican Staring Frog.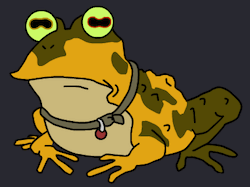 What arrant nonsense have the hacks that write our Tabloids 'Penny Dreadfuls' come up with now? What balderdash-on-stilts is served today?
When the Sunday Pictorial was launched in 1915, Lord Rothermere said that the idea was to strike a balance between socially responsible reporting of great issues of the day and sheer entertainment; as the Pictorial morphed into The Sunday Mirror in 1962 it was said to still adhere to those values.
Just before it became The Sunday Mirror, the Pictorial ran a series of articles on matters it considered of 'social importance'. A three-part series on 'Evil men'.
"Most people know there are such things – 'pansies' – mincing, effeminate, young men who call themselves queers (…) but simple decent folk regard them as freaks and rarities."
They compared homosexuality to a 'spreading fungus' that had contaminated 'generals, admirals, fighter pilots, engine drivers and boxers'. Later, they issued a "How to Spot a Homo" guide which listed 'shifty glances', 'dropped eyes' and 'a fondness for the theatre' as signs of being gay and thus 'evil'.
Today, in 2013, they have a new definition of 'Evil men'. No longer mincing and effeminate, nor attracted to young men, the new 'evil man' is a healthy – preferably white – heterosexual male, attracted to young women, but still to be considered by 'simple decent folk' as a freak and not-so-rarity.
15 years ago, in the US, the writers of the comedy show, South Park, penned an episode that was considered so outrageous and impossible, it could only be comedic. In an act of revenge against what they saw as unfair criticism, two journalists invented a creature they called the legendary 'Mexican Staring Frog of Southern Sri Lanka'. Falling ratings had caused the fictitious show to lose its appeal and so it is turned into 'Trash TV'. Claims of Satanic worship, and the ability of the mythical Frog to wreak havoc in peoples lives with the merest glance, abound.
The parallels with the saga of Jimmy Savile and the desire of the hacks in the dead tree press to portray his staring eyes at every opportunity and illustrate the most tenuous link to his name with hyperbolic repetition from the lexicon of conspiracy theory is unmistakable. The producer responsible for airing the Mexican Staring Frog saga ended up in Hell with only Saddam Hussein for company when it was discovered that there was no truth to their claims – we can but hope that a similar fate awaits the journalists behind the balderdash that is served up to us today masquerading as 'News'. We have only ourselves to blame – we pay their wages. Every copy of a newspaper that we purchase reaffirms to them that we would rather read childish fairy tales than the truth.
Yesterday, the Sunday Mirror excelled itself in its drive to horrify 'simple decent folk'. They had, they claimed, a world exclusive – they had discovered 'Jimmy Savile's secret lair'. The secret HQ where he planned his 'vile acts'. The piece was illustrated with a picture of the Mexican Staring Frog 'the Beast at the height of his career and depravity'.
Acting on a tip-off, specialist highly trained forensic officers descended on a room above a record shop in Manchester and 'stripped the wallpaper from the walls'. (No doubt many a police wife will be thrilled to learn that the police are trained in such humble arts….) and then chipped the plaster off revealing names scrawled on the underside of the walls. A senior criminologist from Birmingham University (actually David Wilson who is supervising Mark Williams-Thomas' doctorate in how to libel the dead how to make a career out of a dead celebrity or some-such) was brought in to explain that before 'the internet' this was how 'paedophiles would communicate with one another' – by writing on a wall and then covering their words with plaster and wallpaper! Only another paedophile presumably, could read the secret list thus concealed. GCHQ have a lot to learn.
This Manchester wall was 'like something out of a horror movie' scrawled with names of girls and comments regarding their sexual ability. 'Kyle is a right little slag' interspersed with 'Kilroy was here' and the ominous and foreboding 'Beware of limbo dancers' written at the bottom of a door. Obviously code for yet more depravity. Police will now be sent out in squads to attempt to trace every Kyle in the Manchester area to find out her precise age at the time of writing. I just hope they don't waste too much time trying to arrest that well known paedophile Kilroy. The limbo dancer got him, years ago.
As is the way of these prosaic set-pieces on 'Savile the beast', Ben Glaze, the journalist concerned, went on to list every 'enough to make you shiver in your shoes' erroneous fact he could think of to pad out his article – for had not his source told him that "the raid had provided the clearest evidence yet to show Savile was part of a larger group of monsters".
In 1964, Savile's name was mentioned to police investigating allegations that men were exploiting girls from Duncroft ­Approved School in Surrey.
Police arrested two men in London and a ledger showed Savile was a regular ­visitor there.
No, Ben! Nice try. But not factual. Two men were arrested in London in 1964 for living off immoral earnings. The prostitutes working for them had previously attended Duncroft. Not quite the same as the impression you were trying to convey. Jimmy Savile was believed to have visited the home address of one of those men, who was also in the music business. No evidence that the girls were working from that address – and highly unlikely. No suggestion that Savile ever met the girls, nor that he visited that man in connection with girls, prostitution, or any other depravity. No suggestion that 'Savile was a regular visitor' to that house or Duncroft, and he certainly, definitely, never visited Duncroft in 1964. You just couldn't help yourself, could you Ben?
Savile was stripped of his knighthood when dozens of women came forward to say he attacked them during his 54-year campaign of abuse.
No he wasn't Ben! Knighthoods expire with the holders death. Nobody stripped him of it. Only death.
I sometimes wonder if that well known ex-journalist David Icke hasn't been cloned and installed in the features department of every tabloid. Why single out the tabloids? The so-called 'quality Sundays' are just as bad. Speaking of David Icke, the slavering commentators on his site were in full spate following this article. They gleefully imagined 'hundreds of innocent young victims' 'quivering with terror' as they scrawled their names on this wall, moments before they were gruesomely raped. They could see, they could feel, their taut little faces, white with terror, tears welling in their sad eyes as elderly celebrities advanced on them with priapic precision. They could imagine the handcuffs bolted to the wall, the whips and flagellators lying abandoned in the murky gloom – if that site isn't principally contributed to by salivating paedophiles delighting in the opportunity to discuss the finer details – I'm a Dutchman.
Unfortunately, for Ben Glaze, his 'source' who presumably had a hot line to that expert on paedophile communication David Wilson, (no-o-o, you don't think so do you? Well, it had crossed my mind too…) and the excited denizens of David Icke's site, within hours the magic conspiracy carpet on which they were all flying was pulled from under their feet. So much hyperbole was too much even for Scotland Yard; they issued a statement. Detective Chief Superintendent Mary Doyle said:
'Last year, Greater Manchester Police received allegations about historic sexual abuse that occurred in the Greater Manchester area. These allegations were made as a result of Operation Yewtree, which was the investigation by the Metropolitan Police into Jimmy Savile.
'It is important to stress these allegations were not about Jimmy Savile himself and GMP is not carrying out any inquiries directly relating to Savile'.
Not Savile's lair, his HQ, from which he and his accomplices spread out across Britain to entrap five year olds into a life of misery after all! Never mind folks, another tabloid will be feeding your desires come next week…it's the only thing paying their wages right now. Now, it is far too hot here, 38 degrees yet again, and Ms Raccoon is off to spend the day in some cold water. Try not to put me in a bad mood by coming up with more nonsense like this. Once a day is quite enough in this weather.



July 30, 2013 at 11:52










July 30, 2013 at 12:58







July 30, 2013 at 11:40










July 30, 2013 at 12:53







July 30, 2013 at 13:01







July 30, 2013 at 10:36




July 30, 2013 at 09:45










July 30, 2013 at 08:43







August 4, 2013 at 11:34










August 4, 2013 at 12:24







July 30, 2013 at 01:56










July 29, 2013 at 19:54










July 29, 2013 at 19:21




July 29, 2013 at 14:54







July 29, 2013 at 14:49







July 29, 2013 at 14:46







July 29, 2013 at 13:03







July 29, 2013 at 14:01




July 29, 2013 at 12:49




July 29, 2013 at 12:49







July 29, 2013 at 12:29







July 29, 2013 at 12:16







July 29, 2013 at 11:36







July 29, 2013 at 11:14