Exclusive – Austerity is Working!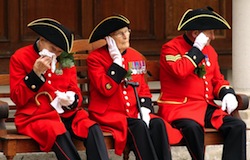 Whether you believe that austerity IS working or not depends on your definition of a desirable outcome. If it was to ensure that the 'trickle down effect' relieved poverty amongst the sofa resident young, or poured more money into the Government's coffers – then it certainly has had startling results.
When the jobs market peaked in April 2008, a record 690,000 pensioners were working. As a result of the subsequent economic slump which resulted in derisory interest rates and negligible returns on annuities, over a million pensioners have thrown out their Zimmer frame, and climbed over the eager bodies of economic migrants – not to mention the prone bodies of the 16-25s wailing that 'there are no jobs' – and snapped up those 'impossible to find' jobs!
The effect this has had on the over 65s who should have been quietly tending their roses, if only they could afford to, is shown in the figures released by Public Health England this week.
An unexpected additional 600 altruistic pensioners a week have been dutifully popping their clogs, leaving their jobs free for the young, ensuring that their sofa bound younger relatives receive a bounty that will keep them in crisps and Sky subscriptions for a few more years yet, and stuffing their inheritance tax into the Government's coffers at an exceptional rate. Pensions saved, not to mention relieving the burden on the Health service. And they say the old do nothing for the young! What greater sacrifice can a pensioner make than to lay down his life for his country?
Cumulated deaths per week are averaging around 10,500 which is around six hundred more than would be expected as the cumulated average after six months of the year. Analysts at Public Health England say that the rise in death rates is statistically significant. Every year there are almost half a million deaths and the trend has persisted for more than a year, making it unlikely to be a result of chance. The statistics are unconnected to the more controversial hospital death rates. Those relying on home carers or scared about having to move care homes might have been tipped into crisis. Problems in getting into hospital through A&E and out again to social care have also worsened. But there is no firm evidence for this.
Needless to say, the talking heads are already turning this statistic to their (various) political advantages.
Danny Dorling, Professor of Human Geography at the University of Sheffield, said: "If I was forced to pick I would say that these are the first casualties of austerity. Who is most affected when the social worker under pressure to see more people has only ten minutes rather than 20? It's the little old lady who doesn't complain."
You can always rely on a Fabian statist! The fact that his particular ideology has resulted in a breakdown of family values that mean pensioners are reliant on the State providing a social worker doesn't get a mention.
He also thinks that it might be uncaring, unthinking pensioners returning from the Eurozone in their droves carrying strange diseases…!
He said that the spike was likely to have several other causes, potentially including pensioners returning from Spain and Greece, a previously unnoticed virus and the psychological uncertainty around care home closures.
Professor John Ashton, president of the Faculty of Public Health, said that the figures could not be explained as a statistical illusion.
"It seems as though it's real. In 2012 there was a levelling off in the life expectancy of the over-80s. This is a bell going off that's saying, 'There's something going on here and we need to know something about it'."
It could also be that the elderly have decided to put themselves on their very own Liverpool pathway, despondent at the thought of living in a country where charities are allowed to defame the dead in order to fill their coffers, where the Prime Minster reduces the meaning of marriage to 'whom I wish to shag', where their care worker turns up on their doorstep and announces that in future they are to call him Sheila, and the government spends more money killing Iraqis than it does on keeping pensioners warm.
'Sod this for a game a Ludo' say the over 80s, 'I don't think I'll wake up tomorrow, God willing,'
Can you imagine the outcry if it was discovered that 600 dogs were dying unexpectedly every week? Front page of the Daily Mail for a start.
600 pensioners – and not a word in the tabloids!
July 26, 2013 at 08:13




July 26, 2013 at 00:10




July 25, 2013 at 21:40







July 25, 2013 at 18:29







July 25, 2013 at 13:48




July 25, 2013 at 12:27







July 25, 2013 at 11:37




July 25, 2013 at 11:08







July 25, 2013 at 10:43




July 25, 2013 at 21:53







July 25, 2013 at 12:56







July 25, 2013 at 08:37