Labour Day! Royal Baby Special! Name Games!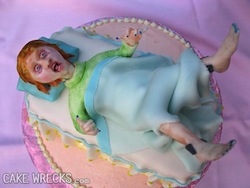 It is on its way! And by the time of posting may well be with us, in what the occasionally (only very occasionally) waggish Piers Morgan called on twitter "an Ashes birth" – over by tea time.
What deep joy! My special friend, Sister Eva Longoria, was unable to make it to London to joint the ranks of international media parked 30 deep outside the hospital, but has been in a state of extreme excitement for several weeks now. She has recreated the media experience by living in my battered VW camper van and parking the TV outside the rear door. With the aid of an aerial affixed to the roof of said van, she has been remote- experiencing the atmosphere of press frenzy by watching round the clock rolling news coverage of a closed hospital front door via a Japanese station, and consuming vast quantities of popcorn, pizza and, inevitably Riesling Blue Nun.
Note to David Cameron: Riesling Blue Nun is a WINE, and NOT a pornographic act (well it can be, but I digress…). Anyway, please do not have my interweb connected, especially as I am only half way through "Debbie Does Doncaster".
But I digress. What name would be fitting for the Royal mite? In days gone by it was the tradition to adopt the names and/or ancestry of uncles and aunts, godparents and grandparents in a kind of nomenclatural genetic splicing, which would result in names such as Frederick George Uppsala Hat Stand Alexander Battenberg Cake Brandenburg Concerto Von Coberg, who would inevitably be known in later life to his friends and the public as "Tim".
The first port of call then might be something like "Sarah Easyjet Doors To Manual", for a girl, or "Andrew Home Counties High Cost Party Planner" for a boy. But I am not sure that works. The Royal couple must move with the modern, media savvy times!
The next port of call then would be to go with the bulk of the great unwashed, and adopt the name of the first prominent "reality TV" star they can register and have a go at spelling. This is easier for girls than boys, with a rich choice including (of course) Jordan, but also Chanelle, Jayde, Stacey and anything ending in "Kardashian".
For boys the name is exclusively limited to Craig or Mark, but one should not write off other chav regulars such as Callum, which would inevitably and by Cosmic Law condemn the poor child to be the really vile screaming one knocking things over in the supermarket which is suckled on cheese and onion crisps, coca cola and endless doses of Ritalin. He would thus be the first Royal to be expelled with "attention deficit" disorder and hyper activity "issues".
"Gary" would be a fair choice but would equally probably condemn the child to develop Aspergers Syndrome and to risk life in an American Super Jail. Perhaps then, a neutral none gender specific but topical media based name. Can I suggest "Towie"? No. Sorry.
Another popular way of doing it these days is the name of the nearest available fashionable pop star. For a girl, we might have Princess Tulisa, or Princess Sheryl, or the ever popular and classic Princess Kylie. Or a combination of the three. Other possible are Princess Beyonce or the ever elegant Princess Shakira-Arse-Wiggle. Keisha is an outside bet, and Taylor is also another long shot. However, BetFred are no longer taking any bets on "Rhianna" or "Emili-Sande" or a combination of the two.
For a boy, one might have Prince Robbie, or Prince Will-I-Am, or Prince Jay-Z, thus adopting a now familiar concept of intruding stupid and pointless self aggrandising letter and numbers. Male "Rap" stars are now fond of awarding themselves academic and other qualifications they do not have as part of their own personal rebrand, hence the billionaire "Dr Dre" or the ever popular "Professor Green", so how about Grand Master George or "Research Fellow (Land Economy) James" to balance the modern with the Home Counties traditional?
Some chavs have been known to become totally disorientated by the events of child birth and in panic have adopted weird and wonderful names. Rather like geese are said to regard the first thing they see on birth as their parent, so with names: such eccentric and indeed disturbing names as Jeremy Kyle Edwards, SOCA O'Reilly, Child Support Agency Mathews, Tax Credit Rebate Robertson and CEOP Smith have been recorded.
The names of popular albums may provide inspiration; for example an adaptation of Fleetwood Mac's best selling album title "Rumours" has proved popular – Bruce Willis and Demi Moore have a child called "Rumor" Willis, I believe. However, this is fraught with difficulties, because I fear that "James NowThatsWhatICallMusic68 Wales" may be less than regal. "Les" is a good old fashioned name, popular with devotes of Coronation Street, but when combined with "Miserables" the effect can be a bit of an epic "fail".
I feel that in times such as this, one can almost always look to the Greatest Ever Englishman for inspiration. By that, of course, I mean "Sir" David Beckham. Together with his charming wife, the couple has taken to naming their children by reference to the place of their conception. This can be glamorous and cool in the case of "Paris" or "Marrakech" or, for less wealthy individuals, intriguing in the case of "A6 Lay-By". However, "Quickie in the Back of a Wessex Helicopter" is not likely to find favour with the grandparents, nor indeed his uncle Edward, for whom "quickie in the back door of a Wessex" has even more personal connotations.
Another issue is product placement. Neither the Windsor family firm nor the Middletons seem averse to turning a bob or two, and this opens up whole new possibilities for the child. "Victoria Virgin Atlantic MasterCard Wales" might be lucrative, or for a boy how about simply "The Etihad Princeling". Brand synergy is everything, and "Prince/Princess Wonga" might, however seem inappropriate.
So, over to you Raccoonistas! Royal names, appropriate and inappropriate?
Meanwhile, I must go and mop up after Sister Eva. She is getting too excited again. More Blue Nun, Sister!?
Gildas the Monk
July 24, 2013 at 17:24




July 24, 2013 at 16:29







July 24, 2013 at 17:06







July 24, 2013 at 00:36




July 23, 2013 at 20:16










July 23, 2013 at 16:45







July 23, 2013 at 15:32




July 23, 2013 at 14:40







July 23, 2013 at 14:32







July 23, 2013 at 13:47







July 23, 2013 at 12:35







July 23, 2013 at 10:31







July 23, 2013 at 10:17







July 23, 2013 at 06:26










July 23, 2013 at 06:20




July 22, 2013 at 23:58







July 22, 2013 at 23:21







July 23, 2013 at 08:22




July 22, 2013 at 22:33







July 22, 2013 at 19:41










July 22, 2013 at 19:20










July 23, 2013 at 08:55







July 22, 2013 at 18:15







July 23, 2013 at 09:39







July 22, 2013 at 17:37







July 22, 2013 at 17:33




July 22, 2013 at 17:33




July 22, 2013 at 17:28







July 22, 2013 at 16:24










July 22, 2013 at 17:01







July 22, 2013 at 16:04







July 22, 2013 at 15:57







July 22, 2013 at 15:52




July 22, 2013 at 15:51