A New Role for Our Glorious NHS?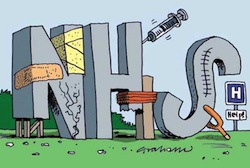 Eight years ago, James Adams was a male nurse working with 'vulnerable adults'.
Something occurred in his workplace, we are not told what, which resulted in him uttering a 'swear word' directed at one of his vulnerable patients. Did he/she kick him in the shins? Or was it just everyday frustration, the 2004 equivalent of a heat wave that made him resort to foul language? We will never know. Was this complaint a serious incident, or a fine example of political correctness in the NHS – 'he said 'fu*k in earshot of a vulnerable person'?
Around the same time, he 'asked a work colleague to buy him items of a sexual nature'. A pack of Durex for the week-end, or a full rubber Gimp suit? Was it a joke or a genuine request? We will never know.
What we do know is that those two utterances, taken together, were enough to see this expensively trained nurse cast out of the Durham and Darlington Priority Services NHS Trust for gross misconduct.
We also know that James didn't take these events as seriously as he should have done. 'A pox on Durham and Darlington Priority Services NHS Trust' he may well have cried, 'I shall take my services elsewhere'.
So, for the past 4 years he has been quietly working, without complaint, dealing with the local alcoholics for the Tees, Esk and Wear Valleys NHS Foundation Trust. A thankless task, one might imagine.
Then last June, he was pictured in the In-house magazine 'Insight' because he had won a new job as Mental Health nurse attached to the street Triage team. The picture was seen by Jackie Dyson, a NHS manager.
'How wonderful' she said, 'an experienced nurse willing to work on the sharp end of mental health, they are so hard to find'. 'Good Lord' she said, 'That is the man who once swore at a vulnerable person, can't be having that'. She instigated an investigation, and it was discovered that James hadn't disclosed his dismissal for swearing and/or asking a workmate to buy him some Durex/a Gimp suit.
Today, James is in prison, for Fraud. £89,460 worth of fraud. No, he hadn't stolen the money from a 'vulnerable person' – that was the total of the wages he had received since starting work for Tees, Esk and Wear Valleys NHS Trust. A job he wouldn't have been given had he disclosed his earlier dismissal. Ipso, it was Fraud. 'Send that man down for ten months'.
So the NHS is now minus one experienced nurse, the Alcoholics who live on the streets of Tees, Esk and Wear are safe from hearing any words beginning with 'F' or 'B', the laws relating to not lying on your application form have been upheld, and there is a round £22,000 a year on offer for an experienced nurse willing to work with alcoholics living rough. Slightly less than MacDonalds pay, but there you go.
It has set me thinking though – if the NHS was allowed to run politics, and the Houses of Parliament in particular, instead of politics running the NHS, how wonderful it would be.
Imagine Eric Joyce plaintively calling for another double whiskey, for hours and hours on end – and then on finally getting one, it is put on a high shelf out of his reach?
David Cameron jailed for ten months for having lied on his 'application form' manifesto.
Dennis Skinner on the Liverpool Care Pathway?
Ed Balls 'accidentally aborted' (and lessons learned, naturally).
The whole lot of them, dismissed summarily, for making 'inappropriate suggestions' to a voter.
This thought is going to keep me happy for the entire day. Feel free to add your suggestions for 'politics run by the NHS'.
July 22, 2013 at 08:12










July 22, 2013 at 07:59




July 21, 2013 at 21:55




July 21, 2013 at 18:10




July 21, 2013 at 17:10







July 21, 2013 at 14:37




July 21, 2013 at 14:24







July 21, 2013 at 13:03







July 21, 2013 at 18:08







July 21, 2013 at 12:40







July 21, 2013 at 11:11