Hey! You! Get Off of my Shroud!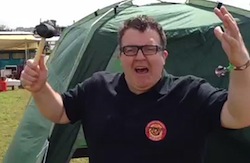 Ohrwürmer, that's Tom Watson's problem. Ohrwürmer.
There he was at Glastonbury, not a mirror in sight, snapping his fingers and striking the 'attitude', quite convinced that he was still an idealistic 18-year-old. The charismatic rhetorical odes to Labour's principle still capable of rousing the working man to banner waving indolence over a charcoal burner at his behest, when he came face to face with The Rolling Stones.
Then the first Ohrwurm struck. Hey! You! Get Off of my Shroud! it sung to him, over and over again. That's the trouble with 'earworms', the closest translation for the German Ohrwurm; once they start to promenade round the cochlea, you can no longer hear the voice of reason, of principle, or anything in between.
The hierarchy of the Labour Party he knew and loved, the inner sanctum he revelled in, was as grey and wrinkled, as potbellied and knock kneed, as a Rolling Stone. It was on its final journey to the mortuary; bedevilled by debt, in hock to the Co-operative loan sharks; bullied and abused by its 'carers' – UNITE; no longer able to live an independent and self-principled life.
Hey! You! Get Off of my Shroud! sang the once proud voice of the Labour Party to him. And he has.
Tom is a great fan of the songwriter Danny Coughlan, that permanently heartbroken crooner of unrequited love and doomed romance. He played his 'Crybaby' as he walked away from the Stones geriatric catwalk of embarrassment. 'This Time It's Over' croaked Danny to him, over and over again. Tom says this tune has 'been on a loop in my head for months now – always the mark of a great tune' – and a sign of serious earworm infection…
He went to Glastonbury's own husting in Billy Bragg's 'Leftfield', to debate with Owen Jones. Hardly a cure for melancholia, but each to his own. It should have been a raucous affair, packed to the rafters with the idealistic young; instead there were a desultory 300 there – Glastonbury these days is an aria to lost youth, the province of middle aged men in unwisely taut denim puffing on their first reefer since they went to Pink Floyd's farewell concert. The audience were hard line left activists. They cheered Owen Jones messianic call to tax the bankers, rip off the rich – barely murmuring dissent to Tom's more reasoned argument. They were indifferent to him, far more hurtful and depressing than rabid disagreement.
As Mick Taylor deftly guided the confused Keith Richards from wandering off stage mid-number, so Tom's friend guided him back to his deck chair. Deck chair Tom? Oh dear! but when arthritis strikes the knees, the muddy ground is best avoided – and after several pints of pot belly fuel, he brooded, and brooded, and brooded.
'This Time It's Over' said the earworm.
Where was the fire, the passion, the belief of his youth?
It's been missing from the Labour Party since Tony Blair marched us into the arid desert of pragmatism that was so electorally successful. It's belief. Belief in ourselves. Belief in the great cause of social progress. The marketing men, the spin people and the special advisers: they've won.
Thus he wrote – and a few hours later he resigned.
Ohrwürmer – deadly little critters.
July 5, 2013 at 14:46










July 5, 2013 at 20:31




July 5, 2013 at 12:35




July 5, 2013 at 12:30




July 5, 2013 at 12:29




July 5, 2013 at 11:03







July 5, 2013 at 12:21




July 5, 2013 at 10:17







July 5, 2013 at 11:19










July 5, 2013 at 12:19




July 5, 2013 at 10:05