Compare and Contrast – the 'hard' Left v. the 'hard' Right.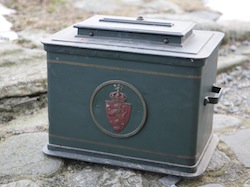 UNITE, the union we love to hate, represents the honest views of the down trodden working man, does it not? Er, maybe.
Up in Falkirk, Scotland, one of Labour's supposed bastions of strength, there is a remarkable row brewing as UNITE struggle to replace their previous place-man in parliament, Eric Joyce. Joyce was an amenable alcoholic; 'was' being the operative word. Unfortunately, he grew out of control, unseemly wrestling with other MPs, various policemen, and an under age constituency worker meant that he had to go.
UNITE don't appear to believe that their new MP should reflect the views of any old rank and file down trodden working men, rather that they should select suitably down trodden working men whose views can be safely said to reflect UNITE's view of how their parliamentary place man should be voting. To that end, the allegation is that they have been kindly paying the union membership fees, or altering the date on which they joined, for members who might have been excluded from selection process in order to get the result they desire.
UNITE, of course, do not subscribe to the 'New-Labour' or 'Blairite' policies which were responsible for the only time Labour have managed to win an election in the last 40 years…the fact that the only time they managed to appeal to the electorate was when they moved away from their hard Left Fabian policies cuts no ice with them. It is the principle that counts, they say. The market for wick trimmers has collapsed and our members should be recompensed for having their living ruined; electricity has blighted their woe-begotten lives. With this mindset, it seems perfectly reasonable that they should use those union funds, acquired by automatic deduction from workers wages, and left over from paying golden handshakes to departing officials, to 'buy' new members amenable to UNITE's determinedly backward looking policies. The fact that less than 14% of the 'automatically enrolled' members had sufficient interest in their membership to vote for their new leader may have something to do with their desire not to rely on the views of the ordinary down trodden working man.
Over here in France, we have the Front National as front-runner of the 'hard' right. The British press are fond of comparing it to the BNP. It's racist, jew hating, 'despicable' is it not? Er, maybe.
Like UNITE, the Front National has a new leader. Marine Le Pen. Daughter of Jean-Marie Le Pen. Under his tutelage, the Front National had a formidable reputation, that everybody was quite sure they understood and didn't approve of. However, unlike UNITE, Marine, the new leader, rather than manipulating events to ensure that the Front National adhered to its defence of the wick trimmers' interests, adopted a new and novel approach. They listened to what the ordinary down trodden workers were saying.
It seemed that these potential voters didn't believe that the Holocaust was a 'minor historical detail', they considered it the 'pinnacle of human barbarism'. Very well, said Marine, in future that is what we, as your potential representatives, will believe too. The workers weren't impressed with the voice of Germany telling them how to live their lives and imposing austerity on them in order to save the Euro – OK, said Marine, we'll fight to return to the Franc. (Most of the French have never left the Franc mentally – every supermarket ticket is printed in Francs as well as Euros for those who feel strongly about this).
The vast majority of the French are ordinary workers, not rich capitalists. Rather than align her party with the traditional support for Capitalism and Capitalists bosses that the Right epitomises, Marine argued that the French welfare model of 35 hour weeks, and minimum wages was right, true and fair. Neither did she support the present habit of sending her potential voters' sons and daughters off to lose their life in far-flung dusty towns because it suited the Americans or other 'world powers'.
We have had a by-election in Villeneuve-Sur-Lot, our local town and a Socialist stronghold, created by the resignation of Jerome Cahuzac, the MP who was the Minister for the Economy until it was discovered that he had an off-shore bank account that he had neglected to pay tax on. Stephen Bousquet-Cassagne stood as a candidate for the new 'voter driven' policies of the Front National.
He got 46% of the vote. It is the equivalent to the BNP getting 46% of the vote in Falkirk. Unthinkable.
But then, strange things happen when you shrug off the views and reputations of the past, and actually listen to what the voters want. Something Tony Blair discovered a long time ago, but Labour seem to have forgotten. And Cameron.
July 4, 2013 at 21:58




July 3, 2013 at 14:21




July 3, 2013 at 13:58




July 3, 2013 at 10:23







July 3, 2013 at 10:00




July 2, 2013 at 15:18







July 2, 2013 at 15:38










July 3, 2013 at 11:11










July 3, 2013 at 13:50




July 4, 2013 at 10:26




July 2, 2013 at 08:00









July 2, 2013 at 21:06




July 1, 2013 at 20:43







July 1, 2013 at 20:09




July 1, 2013 at 20:01










July 2, 2013 at 12:42




July 1, 2013 at 18:43







July 1, 2013 at 17:48







July 1, 2013 at 15:37







July 1, 2013 at 13:37







July 1, 2013 at 12:58