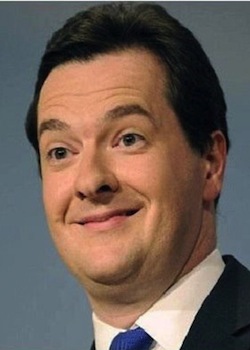 'Gideon the Gormless', or 'Jumped up Jeffrey' as Obama called him, otherwise known to us as 'Osborne Housey-house', has been calling the numbers again. The four year 'Spending Plan Review' that Gordon Brown introduced has just been announced for 2015/16. What's that you say? That's only one year, not four? Yeah, well, Gideon's not very good with numbers.
It's like watching a performing flea circus, monitoring the Con-Dem politician's pole vaulting reaction to media wails.
"Oh, you say people are concerned about immigration? How high would you like us to jump? Would a £3,000 'bond' to be paid by anyone coming from a country where they wear tea-towels on their head do the trick? OK, we'll stick that in our plans".
Look, you gormless Berk. There's a reason why the tea-towel world and his uncle overstay their visitor's visa in England, and it's NOT that they haven't had to lodge £3,000 in your fat paw. What are you trying to do? Compete with the people traffickers? £5,000 for a ticket to cling to the underside of Eurostar, or £3,000 for an Osborne 'ticket to ride' in comfort? Why not deal with the reasons WHY people overstay?
Everyone who pays into the National Insurance scheme has a National Insurance number – put it on a plastic card. If you go to the Doctor or hospital, you put the card into the machine. The French do it, and it works a treat. IF you haven't got a card, they don't actually leave you to die in the street – they deliver emergency care for heart attacks and other life threatening ailments and they give you a bill when you leave. They don't lock you up if you can't pay – they know they will be left with an unpaid bill sometimes, it's called social justice. What they don't do is give you IVF treatment or remove your tattoos, or deal with your bunions without asking any questions.
Same goes for education for endless children, translation services into Swahili dialects only spoken by 200 people or government funded drop in centres for bored Kurdish lesbians with a case pending against British Rail for failing to pay them their ex-partners pension.
Just try acting like a grown up country instead of handing sweeties out to all and sundry. There will still be some people overstaying their visitor's visa – but they'll be doing something of value to someone somewhere, even if they're not legally registered, otherwise they won't be eating. And if they're still getting their tattoos removed, it'll be because they've paid to have it done. You did want to boost the economy, right?
"Oh you say the welfare bill is too high? How about if we nick £200 back from the people who've paid most into the national handbag? Let's see, what if we take the winter fuel payment away from 'ex-pats who live in warmer climes', does that sound good?"
Can you hear that gurgling sound Gideon? Its 250,000 ex-pats laughing their socks off! Hear the slurping sound? That's 250,000 ex-pats licking the end of their pencil as they prepare to send you letters giving you the winter temperatures in their part of the Sierra Nevada mountains, or the Limousine. That's 250,000 letters your civil servants are going to have to answer, and it's 250,000 ex-pats who will still be getting their winter fuel allowance now that it is 'geared to winter temperatures'. Pity we don't have a vote, we would have voted for you for that one alone. Can't say how the pensioners in balmy Ayr or Torbay will react in the voting booth when their Winter Fuel Allowance is taken away from them on the grounds that they live in a 'warmer clime'. Priceless!
"Oh, you say people are annoyed that the country is full of people who don't speak English? How about if we insist 'migrants will lose benefits if they refuse to improve their English' to the equivalent of an average 9-year-old?"
The average 9-year-old, eh? I'm prepared to bet you that most migrants can actually say "Fu*k off you Wan*er, I've got me 'uman rights", in imitation of the average English 9-year-old. They just chose not to. Why should they, you translate everything for them. Stop making with the translations, dickhead, you'll be amazed how quickly people learn English. You'll save money and everything. Besides, have you got anybody left in the teaching profession who is even capable of testing the heights of 9-year-old English?
"You say some of the unemployed are actually unemployable? How about if I say "no one will receive unemployment benefits until they have drawn up a CV, registered for online job searches and started looking for work".
Gideon, Gideon, dearie me – are you telling me that you've been paying unemployment benefit to people who haven't had to say what they are capable of doing, and haven't started looking for work? What a dipstick you are. Unemployment benefit is supposed to be like a Christmas hamper scheme. If you haven't paid into it, you don't get any goodies at Christmas. For God's sake man, privatise it. Hand it over to First Direct or someone. They won't pay out to anyone who hasn't put at least the first instalment of the premium into their sticky fist. They'll soon sort it out – in English.
That will just leave you and the national handbag giving support to people who can't speak English, don't have any skills to put on a CV, haven't started looking for work, and live in balmy Teignmouth in a £200 a week sea view apartment. I don't think there's that many of them, so you should be able to cope.
Could you have a look at the National Deficit when you get time?
June 29, 2013 at 21:40




June 28, 2013 at 20:19







June 29, 2013 at 21:25







June 29, 2013 at 22:35







June 28, 2013 at 12:08







June 27, 2013 at 18:42










June 27, 2013 at 17:43







June 27, 2013 at 18:19




June 27, 2013 at 12:44







June 27, 2013 at 12:23









June 27, 2013 at 10:39







June 27, 2013 at 09:43










June 27, 2013 at 09:33




June 27, 2013 at 09:18







June 27, 2013 at 08:58