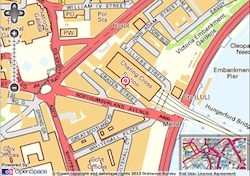 Let's see how good a detective you are!
Last night I watched one of the 'Britain's Secret Homes' series; I've found it fascinating, full of nuggets of useless information – just my sort of thing, or 'right up my street' you might say! To my amazement, last night they were literally 'right up my street', 36 Craven Street, W.C.2 to be exact. I once lived at Number 31.
I have written before of how I ended up living in two rooms at the top of that house. Initially I was squatting in the roof top cabin, but eventually managed to regularise my position and rent two rooms on the top floor from British Rail. They were officially 'offices', and I had to pretend that this was indeed the use I put them to.
There was no kitchen, but underneath the arches of Charing Cross station there was a stall which served tea and a slab of fruit cake round the clock, and in adjoining Villiers Street there was a Mom and Pop Italian cafe that served cheap food. Besides, my friend Nicky had the basement photographic studio, so I could always retreat down there in the day time for a cup of tea.
There was no bathroom either, just a toilet on the first floor that served all the offices below. No matter, in those days the Oasis swimming pool in nearby Endell Street still retained its public baths. Immense cast iron affairs with no taps. For a shilling you were issued with a large towel and a long stick – the stick was for the specific purpose of banging on the door when you wanted more water. You would sit submerged up to your neck in those mammoth baths, and as they started to cool, bang on the door and back would come the response 'Ot or cold, Miss' and a wheel outside would be winched into action until you yelled 'Stop'!
There was a wine bar in Villiers Street, reputed to be the oldest in London; I've no idea what it is like to day – it still exists, I've just looked it up – but back then it was under six inches of dust and nothing seemed to have changed in a hundred years. The clientele were an exotic crowd, some very camp individuals from nearby theatre land, a dwarf with a lethal line in filthy jokes, and some retired ladies of the night. Although I didn't drink then, a glass of ginger beer and an evening people watching was better than any television for entertainment.
I was riveted last night to discover that No 36, Craven Street was effectively the first American Embassy in London. The home of Benjamin Franklin, one of the founding fathers of the United States. I had no idea. Blue plaques didn't exist then.
The programme sent me off to Google earth to see what Craven Street looked like today. Half of it seems to have vanished, replaced by a glass and steel monstrosity – can anybody tell me what it is? 31, Craven Street, my old 'home' obviously no longer belongs to the Railway company – it has been sold – £2.7 million in 2003? Blimey, they must have installed a bath or something!
What has really stumped me though, and I would love your help with, is information on the cartoonist who rented the glass studio on the roof. (Now a penthouse roof terrace, no less!)
He signed all his cartoons 'Mac' – but he wasn't the famous Mac from the Daily Express. He was no slouch though, and I can remember that many of the cartoon were in fact menu cards from the Carlton Club, with each individual present depicted – and subsequently signed by various war time politicians. There were dozens of them littering the studio floor – and I think I am correct in saying that my first husband eventually sold them for a relative pittance.
I had made spirited efforts to trace him back then – mostly because I wanted to add the glass studio to my 'accommodation'; the railway estate office were able to tell me that before the war he had sent them a cheque for £50 which had effectively paid his rent up for something like 50 years, and so there was nothing they could do. They gave me the address of his wife, somewhere in Sussex, and I did speak to her on the phone.
Such a strange tale she had to tell. They had a beautiful old farmhouse and land in Sussex, she said, and were well placed financially, but she only saw him once a year. He had become a 'gentleman of the road', a phrase you never hear today. Sleeping in barns and hedgerows, he tramped the country, trading cartoons for food when he needed to. Once a year he would walk up her drive, spend a few hours with her, collect a small amount of money – and then disappear again.
He obviously hadn't 'forgotten' who he was; he had taken care to financially secure his studio before he went off; he was obviously very well connected politically in his day – but I can find no trace of him.
I know that many of you are journalists, or politically well connected – could you tweet a link to this piece to anyone you think might be able to help?
I wish I'd realised at the time, just how much I would value this sort of thing one day.
June 24, 2013 at 22:35




June 24, 2013 at 16:37







June 24, 2013 at 13:28









June 24, 2013 at 13:12







June 24, 2013 at 12:39







June 24, 2013 at 09:02







June 24, 2013 at 09:01