Pedallists do 'It' for the Sake of the Children….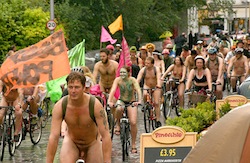 Two wheels – Good. Two legs – Bad!
The naked ambition of London's army of 'oh-so-on-message' environmentally aware cyclists knows no bounds. Two weeks ago, spectators were spellbound by the sight of the naked rear of the Peloton wobbling its way past excited groups of children. Were the cyclists equally excited by the sight of the children? We are not told, though recent court cases have told of the corrupting influence that un-pixelated children can have on a man.
However, all such deviant thoughts were banished for the day; the police looked on smiling and cleared a path for hundreds of naked men displayed their matrimonial assets for the sake of the children. There was, said the Independent, a 'strong environmental message' in their behaviour. They were exposing themselves 'in protest against car culture, climate change and our dependency on oil'. That's OK then, a naked prick penis that raises its head in support of climate change couldn't possibly alarm and distress the children. Around 100 of the participants were such committed cyclists that they had to borrow a 'Boris' bike for the day….
Lanes were restricted on Marble Arch and Park Lane "due to large numbers of spectators observing the start of the World Naked Bike Ride event".
Elsewhere in the British Isles, another 'strong environmental message' was being contemplated – regrettably, this message was displayed on two legs. If only he had rolled out his message on wheels!
Stephen Gough was being invited to add to his collection of 53 convictions for appearing 'naked in public' with another for failing to observe the Asbo he was issued with last time he left court – in the same state in which he arrived – naked. So far he has been jailed for a total of 6 years, add another 11 months to that now…
Simon Jones, prosecuting, said the naked rights activist left the court wearing just his boots and socks still holding the order to cover his buttocks and genitals.…
Perhaps they should make the Asbos bigger?
Last time Stephen appeared in court in Scotland, the former Royal Marine arrived at Kirkcaldy Sheriff Court in Fife in his own security van amid tight security with great care being taken to shield him from curious locals. He was accused, not of blatantly displaying himself in the middle of central London in front of the children, but of quietly walking 'in the vicinity of a children's park. There was no suggestion that any children had actually seen him!
Stephen is of course, the man popularly known as 'the naked rambler'. Thereby lies his problem.
On yer bike Stephen! Re-invent yourself as the 'naked cyclist' preferably with an on-message pithy message like '3rd hand smoke kills' painted on your back. Problem solved.



June 21, 2013 at 09:43







June 21, 2013 at 09:26




June 20, 2013 at 20:20







June 20, 2013 at 19:36




June 20, 2013 at 19:24







June 20, 2013 at 18:18







June 20, 2013 at 23:56










June 20, 2013 at 23:57




June 20, 2013 at 15:41










June 20, 2013 at 15:28







June 20, 2013 at 14:21







June 20, 2013 at 13:53




June 20, 2013 at 13:12







June 20, 2013 at 12:43







June 20, 2013 at 11:55









June 20, 2013 at 10:40







June 20, 2013 at 09:23