Graham Ovenden and Blind Justice.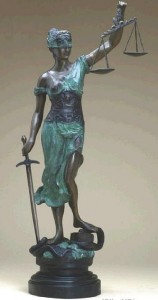 What do you know of the trial of the artist Graham Ovenden? That he taped pubescent girl's eyes shut with sticky black tape, sexually abused them, distributed photographs of them, was found guilty – and now, shock, horror, has been allowed to walk free – apparently no longer a danger to little girls?
If you are wondering how he can 'no longer be a danger to little girls', you must be assuming that he is now senile, impotent, no longer a photographer, and some means of preventing him buying sticky black tape has been found? An Asbo issued ordering shopkeepers within a 30 mile radius of his Cornish home not to sell him any gaffer tape perhaps? Chemical castration performed? Tattooed with the words 'Paedophile' on his forehead? Forced to live on an uninhabited rock off the Scilly Isles?
For are not all paedophiles prolific predatory repeat offenders? Do they not spend every waking moment of their day looking for new opportunities to brutally sexually abuse small innocent bodies; conjure their entire career to concoct further opportunities to defile another vulnerable child?
If that is the way you are thinking this morning, you must have been reading the main stream media. Allow me to take you further afield, not in defence of 'art' – there are more than enough commentators taking that angle, but in defence of truth – as opposed to keyword hit garnering moral puritanism as practised by the main stream media. Even the Guardian, which is not as other newspapers who merely discuss these issues as an excuse for titillating their readers; no, the Guardian write multiple learned articles on the same subject because they care – the fact that they get the same hits on their keywords by tagging their articles 'porn' is but an unfortunate side effect of such 'caring'…
This is not the first time Graham Ovenden has been brought before the courts to face charges of a sexual nature involving children. By the same prosecutor, Ramsay Quaife, as it happens. Is that relevant? We shall see. Back in 1993, the police were desperately trying to give one of his young models, Maud Hewes, 'a voice' as they say in modern puritan parlance. It wasn't as though Maud had gone to them with a complaint, far from it, in fact the year before she had travelled to New York to make her feelings on the matter abundantly clear, when the American authorities had tried to declare the photograph obscene.
I have known Graham Ovenden as a family friend for fourteen years – since I was four years old. I have modelled for Graham on numerous occasions – in fact, too numerous to count – for both his photographs and paintings. I have modelled for him both clothed and fully nude, both alone and with other children…. The portrait which the United States has charged as indecent is a portrait of me as I was eight years ago. I am not acting in a sexual way in the picture and Graham never asked me to be sexual or treated me as a sexual object. The accusation that the image is "obscene" is, to me, an accusation that I am "obscene," something to which I take offence.
The Police in Britain were unwilling to accept that Maud knew her own mind; surely she must be in denial, needed help to understand that a naked eight year old is an obscene sight, something no one could look on with anything other than sheer deviant lust. They thought they would help matters along by cutting and pasting the images, so that Maud could be brought to the point where she would understand that she had been violated…
When [the police] interviewed me and they looked at my photographs and they were sort of pointing at them and they were condemning — they were "condemned," they were, like, "pornographic," and "Didn't I realise that these people had used me," and "I was just a child," and "I didn't know," and "how could I possibly know that's how it happened?" Basically [they said] I had been brainwashed, you know? But he was actually looking at images of myself when he was saying that: "Do you not think this is pornography? Look at this and this and this: is it not pornography?" And it's a picture of ME!
The other thing that they did was they took the photographs and they chopped them up — they highlighted bits of them, or they showed a little bit of the photograph. It was completely out of context. And they'd be sort of going, "Oh… yeah…" And it WAS pornographic like that, in a sense.
This isn't the police 'giving victims a voice', this is the puritan police grooming an innocent girl into becoming their voice. Teaching her that her body was obscene. Unfortunately for them, Maud Hewes was having none of it. Not in 1993, nor in 2009, nor in 2013.
In that same year Ovenden's daughter Emily told The Guardian about the pressure the models had been placed under.
She knows how her friend Maud was reduced to tears, not by the recall of actual events but by the questioning about sexual acts that never took place. She knows how Maud's father felt threatened and bullied. She knows how traumatised they all were by their contact with the police – so traumatised that she's certain none of them want to talk about it.
Mention of Ovenden's daughter Emily, brings me to important family matters. Ovenden also has a son Ned. JB, one of the models who was to make the accusations in 2013, is married to Ned's best friend. The family appear to be split between those who support Ned and those who support Emily. It is, I understand, a bitterly divided family. This may or may not be relevant – but it is strange that it was never mentioned to the jury. Over 70 young girls modelled for Ovenden at various periods of his life; Three times he has been investigated by police, has been the subject of considerable media coverage, yet only two of the models ever even alleged abuse, both those close to his son Ned; others of the 70 models came forward to vigorously defend him. So what of the allegations? The lurid black tape of the Daily Mail's coverage? You wouldn't be aware of it from the coy Daily Mail coverage, but that was one of the first charges to be dispensed with. It simply didn't happen. It was white, it was a blind fold, not sticky tape; the girl was posing for a drawing commissioned by art collector Harry Lunn intended to depict 'Blind Justice'. Although the police were in possession of all of Mr. Ovenden's photographic work from the late 1950s until he photographed his last child model in 1989, they were unable to point to a single image that depicted full frontal nudity of a model with a blindfold or tape over her eyes. That is because such images did not exist.
The blindfolded girl who, like the other three former models, testified from behind a screen, denied that Mr. Ovenden ever sexually abused her.
What of the 'locked door' behind which these unspeakable acts took place? There was no lock to the studio, as Ovenden's estranged wife came forward to testify – note 'estranged', hardly his strongest supporter!
None of Ovenden's published photographs and none of his drawings or paintings were the subject of any accusations against him. Back in 2009, the police had raided his house during a three and half year long investigation. They investigated the hard drive of his computer and discovered 121 images, all versions or stages of the 16 drawings he had made and which had all been deleted from Ovenden's computer at the time his home was raided in 2006. The photograph above is one of those images. After two days of trial during which the main prosecution witnesses, the two policemen who had raided his house, had failed to turn up, the judge threw the case out…
Fast forward to 2013. The prosecutions case was that Ovenden had sexually abused four girls. Two of the girls testified that no such thing ever happened! So much for the careful police grooming. The other two girls made the accusations regarding the locked door (dismissed) the electrical tape over their eyes (dismissed) the fact that they were alone with him (dismissed, there was always a chaperone) and…
JB testified that when she was six years of age, Mr. Ovenden got into a bath with her and another girl, handed her a washcloth, and asked her to wash his "John Thomas." She did so, she said, because she didn't know any better and it was only years later that she claims to have realised or remembered that his penis was erect. She further testified that when she was 10, Mr. Ovenden embraced her from behind while she was fully-clothed, and said "Let me feel your tits."
JB was the daughter of a close friend of Ovenden who frequently stayed at his house. The fact that she later, after this event was alleged to have taken place, returned to his house to become one of his models may well be testament to his successful 'grooming'.
But that is the full extent of her allegations and also a complete account of the only crimes of sexual abuse for which Mr. Ovenden was convicted at trial.
If that account is truthful, and I accept that the jury believed it, they are better placed than I to judge its veracity, then it was an utterly inappropriate act that should be condemned and punished. I also take into account that it is her word, 30 years later, against his – but bear in mind, after three attempts to prosecute Ovenden, copious publicity, this is the only sexual crime of which he stands convicted. If he really was a serial predatory paedophile using his studio to lure young innocents into his embrace, do you not find it slightly curious that only one of his 70 models claims to have been sexually abused, and that outside his studio and nothing to do his supposedly pornographic work?
So, to the other offences of which Ovenden was convicted: The pornographic images. The very same ones that had appeared in the 1993 prosecution, were scheduled to appear in the failed 2009 prosecution, and showed up yet again as 'specimen charges' in the 2013 prosecution. 'Specimen charges' are a very specific instruction to a jury.
Count [X] is a specimen Count. The prosecution allege that D[efendant] also committed numerous other offences of the same kind. Instead of loading up the Indictment with Counts charging many offences, they have selected one as an example, as they are entitled to do. However, you may convict D[efendant] only if you are satisfied beyond reasonable doubt that he committed the particular offence charged in the Count [X], whether or not you are satisfied beyond reasonable doubt that he also committed other such offences.
In other words, the jury is asked to look at a photograph in isolation of other evidence, and decide whether they think (30 years later) that it is an 'indecent image'. If they do, then it is immaterial whether they think the other photographs in the 'collection' are actually indecent or not. Remember too, that these were photographs taken of naked children, posing for a drawing retrieved from Ovenden's hard drive – had he deleted them because he thought some were inappropriate? We shall never know.
I turn to part of a letter written by Maud Hewes' mother to Ovenden, after the police had visited her remote Orkney home to pressurise Maud (the subject of those photographs) yet again.
The mode of questioning was more like interrogation than anything else – very manipulative, full of leading questions and in Joseph's case they used both veiled and open threats. After 20-30 minutes Platt had reduced [Maud] to tears. At this stage I was allowed in. She said he became much less heavy and manipulative after this. Eventually she agreed to write a statement. Platt tried to steer it but she resisted quite well. In fact she showed an admirable defiant independence. Platt read it and said later to Joseph that she had been schooled by Graham Ovenden. He forgets of course that she is nineteen, intelligent and articulate, and that she's been out to the States to testify in a similar case.
It's not quite the tale as portrayed by the main stream media is it? The question is, why are the police behaving like this? Decrying young girls as deluded fools for believing that there is nothing wrong with their young bodies? Trying to 'groom' victims to give evidence that they don't believe?
Are we to believe that Michaelangelo and every other artist that has portrayed the naked body has worked from imagination, or are they all paedophiles, taking up art as a career for the titillation of other paedophiles?
Don't even think of photographing your own young children in the bath..Swiss artist Strba's 1990 photograph (of her then 12-year old daughter naked in the bath) became the subject of London's Metropolitan Police's enquiries into the possible commission of a criminal offence. They settled for prosecuting the gallery where the picture was on display.
Needless to say, the usual suspects have been out squawking this morning, appalled that Graham Ovenden hasn't been given a custodial sentence…
Peter Saunders, chief executive of the National Association for People Abused in Childhood, said: "It's an absolutely outrageous decision. A suspended sentence is not appropriate for such serious crimes and it doesn't take into account the suffering inflicted on the victims. (Do read Moor Larkin's brilliantly researched article on Peter Saunders!).
Mark Williams-Thomas (naturally): "He should have been jailed. Artist Graham Ovenden given a suspended sentence for sexually abusing young girls".
The Guardian (for a while) carried a comment by someone alleging she was one of Ovenden's victims…
Donna El Berry
08 April 2013 9:40am
what is painful for us he abused is this,wile the pics were taken we were being abused this is hidden as the pics are changed a bit with bright colors etc,so its like a complex i feel everyone can see me naked,sounds mad but thats the psychological damage from hes abuse.i wish all the pics of us were removed not just from the Tate,every day he sells pics of me and the other abused girls,some for over £.2000 EACH THIS MAKES ME SICK WILE I HAD A DISTURBED LIFE FROM HIM AND HES SICK FANTICS I LIVED ON THE STREETS ETC, never able to reach my full potential staved for many years etc he feeds of my pics. for 30 years i was called a lier etc bullied to the point of suicide.now i can slowly start my life ,shame is im 47 and not eating cos of hes sick food games and abuse i have not much left of me to have a life,i dedicated my life to proving hes a abuser and abused us,its took me 40 years of demos riots and complete press harassment and lies written about me,the papers all called me a lier last year now they are all jumping on the band wagon, not one of them has apologized,im more damaged by the c.p.s. and people calling me a lier and the proceeder of getting him to court than the abuse now,love to all,always protect you kids as abuse damage is life long,peace." (sic!)
Er, surely not that Donna Berry, victim of so very many tragedies?
There really is no more room on the bandwagon, petal!
** I am indebted to Bruce Wagner's website here, and Ray Harris' web site here, for their copious research and much background information.
June 14, 2013 at 07:20







June 7, 2013 at 14:51







June 7, 2013 at 14:22







June 7, 2013 at 08:42










June 7, 2013 at 09:45










June 7, 2013 at 13:14













June 6, 2013 at 23:38









June 6, 2013 at 09:40




June 6, 2013 at 08:59







June 6, 2013 at 08:56







June 6, 2013 at 05:44




June 5, 2013 at 22:40







June 5, 2013 at 19:27










June 6, 2013 at 08:31




June 6, 2013 at 11:52







June 5, 2013 at 18:31







June 8, 2013 at 16:05







June 5, 2013 at 17:38







June 8, 2013 at 15:59










June 5, 2013 at 16:21







June 5, 2013 at 16:09




June 5, 2013 at 14:06












June 5, 2013 at 12:53










June 5, 2013 at 12:14







June 7, 2013 at 12:35




June 5, 2013 at 11:23







June 6, 2013 at 07:57