Pop Goes the (Welsh) Weasel!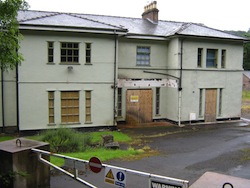 There is a lot you can do with £1.6 million pounds. Personally I'd go for the next ten years resident in The Mamounia, but trying to be civic minded, and bearing in mind that the £1.6 million I am talking about is the result of taxing British families on the fruits of their labour, I'd probably settle for employing more nurses, or another air ambulance, something of that order.
What wouldn't cross my mind, even for a split second, nay, a nanosecond, is blowing the lot on a derelict Welsh hotel in order to lure Shaolin monks from deepest China to spend time learning the Welsh language, and practising their myriad ways of kicking the living daylights out of each other. Call me unimaginative if you will – and it is probably why I would never be given a job with the old Welsh Development Board, that and the fact that I speak no more Welsh than the telephone operators at the Welsh Assembly, who gaily answer the phone with the standard Welsh greeting, and then offer to put you through to 'a Welsh speaker' should you have the temerity to respond in Welsh.
Those telephone operators are, of course, in South Wales – unless Cardiff has obligingly relocated itself. It is North Wales that is the epicentre of the jealously guarded Welsh language, so much so that they insist all children are taught in the Welsh language, every council meeting takes twice as long as everything has to be laboriously translated, and Aberystwyth University was forced to offer law courses to every Welsh speaker regardless of their academic ability simply because down in Cardiff they had passed a law saying that you had the right to be charged and tried in Welsh if you were a Welsh speaker. Local villains had great fun demanding their 'rights' as a Welsh speaker, in the full knowledge that at the time there was but a handful of (a) Policemen who could charge you in Welsh (b) lawyers who could defend you in Welsh and (c) a real rarity, judges who could hear your case in Welsh.
Any connection between these facts and the European Union's profligate habit of doling out taxpayers money in the form of grants to any organisation that could claim to be safeguarding a regional language or dialect are entirely co-incidental. As, no doubt, is the desire to teach Shaolin monks some Welsh whilst they kick the living daylights out of each other in the depth of water logged Powys.
It's not as though Llangollen did not have community facilities – taxpayers have paid for an excellent sports facility, the local church has drawn on a variety of funds to establish another community centre, even the local brass band managed to draw on funds to establish a new community facility, and that is without mentioning the Eisteddfod at the Royal International Pavilion, but Chinese Shaolin monks who wish to learn Welsh are shy and sensitive creatures; most particular about where they kick each other in the head. None of the above were apparently capable of luring them from deepest China to Llangollen.
So it was that Mr Pol Wong, a Plaid Cymru supporting local man of Chinese heritage formed the not-for-profit community organisation 'Powys Fadog'. Powys Fadog maintained that the presence of Shaolin monks and the martial arts they could teach youngsters (whilst learning Welsh, we must not forget) would be beneficial to the local peoples's health and welfare. Not in the same way as the much mourned community hospital was, which had recently closed for lack of funds, but beneficial in some mysterious Chinese kick-boxing sort of a way (entirely co-incidentally, a particular interest of the Welsh speaking Mr Pol Wong). How could a government official resist this multi-cultural opportunity? They couldn't.
They asked the District Valuer how much the site of the old River Lodge Hotel would be worth if they put social housing on it. 'Ooh about a million' he said in an off hand, unofficial sort of valuing way. 'Great' they said, delighted with their financial acumen. There was no need to get a formal valuation because they were only 'talking about buying it' then. In any case, they weren't really planning to put social housing on it straight away, not all of it, they were going to rent it to Mr Pol Wong and flood the area with Welsh speaking Shaolin monks. So it was that they agreed to spend £1 million, which actually shot up to £1.6 million when the delighted owners of the old River Lodge Hotel – with the looming housing market depression stretching out before them – said why not buy a bit more whilst you're at it?
The Civil Service, being what it is, even in deepest Wales, these things take time. Briefing papers have to be sent back and forth as everybody covers their backside, even in an 'entrepreneurial agency' like the old Welsh Development Board. In fact it took so much time, that by the time the sale went through, it was no longer the Welsh Development Board, it had morphed into the Assembly Government's 'Department of Economy and Transport'. with entirely different rules and regulations. All sorts of numpty rules and regulations like making sure that Mr Pol Wong had the money to rent the place from them, or the money to develop it. They had tried to find out from him, but he had cited 'commercial sensitivity' as a reason for not telling them how he proposed to pay his part of it. They even seconded the woman in charge of buying this white elephant, Amanda Brewer, to Mr Pol Wong's organisation as Company Secretary – lending governmental expertise to local 'enterprises' is apparently an accepted part of their ethos. She wasn't being paid, so nobody thought there was anything strange in this, just a bit of extra-curricular volunteer work if you like.
One person was concerned, and spent two years telling anybody who would listen that she was concerned. Assembly Member Karen Sinclair. Silly woman, worried about silly little things. Like the fact that Mr Pol Wong was using the address of the Hotel long before he leased it to register companies there. (It later transpired that he was living there in one of the abandoned flats before being summarily evicted). Oh, and Amanda Brewer, now Company Secretary for one of those registered companies, sending out 'begging letters' to other Government departments for funds and grants on her official gov.uk e-mail address. Hmmn, and quite why Mr Pol Wong was also a member of something called 'The People's Council for Wales' who were demonstrating against regional development work being undertaken by the Local Authority. Minor details when you have the chance to lure Shaolin monks from China.
Sadly, by the time everyone had finished firing off e-mails to cover their backside and noting precisely who was included in the reading list of briefing papers for Ministers (none of who ever seem to have read them) – the property market had collapsed, the River Lodge was worth nothing like the £1.6 million the government had paid for it; worse, it was 'suddenly discovered' that Mr Pol Wong didn't have a brass Shaolin monk-ey to his name and couldn't afford to do the place up anyway. The government have been landed with the bill for fencing the place off to keep out the local youngsters, and provide security for it.
Now Assembly members are consuming millions holding an inquiry into why anybody thought the future lay in Shaolin monks. There is an unholy row blowing through the Cardiff Assembly offices which can be roughly summarised as 'whose bloody idea was this anyway'? Amanda Brewer has been fired from her job (employment tribunal looming so enough said on that subject) owing to a 'conflict of interests' and the Welsh speaking Shaolin monk who had pinned his hopes on luring his fellow monks over here is described as 'deeply depressed'.
Plaid Cymru activists who see a conspiracy theory in everything are gaily e-mailing everyone their version of events in an effort to find a journalist who will understand that this is all a right wing plot to crush them as worthless worker ants beneath the flat feet of global capitalists (and they thought sending it to Anna Raccoon was a good idea? Grief!) and the Shaolin monks remain contentedly in China.
In other news, the Llangollen Community Hospital remains closed, and residents must now travel to Chirk for their medical needs. The only bus from Llangollen that passes Wrexham Maelor is the two-hourly Barmouth X94.
No bus service goes directly to Chirk hospital. Who needs a bus to Hospital when you can have a Shaolin monk on your doorstep? Mr Pol Wong demonstrating the intrinsic worth of Shaolin martial arts when you need to get to your hospital appointment in Chirk.