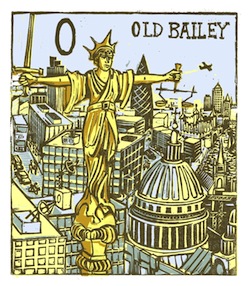 Lawyers are wordsmiths if nothing else. It is their only tool of trade. The ability to wrangle new meaning out of perfectly ordinary locution; they will happily wrestle for hours like greased weasels as they skilfully elude their opponents rhetoric and prove beyond doubt, beyond doubt, I put to you, that black is but a sub-shade of white and should be so categorised.
So I was tempted to believe this fine morning that the end of the world had arrived when I discovered that the entire legal profession had been struck dumb, to a man – and woman. Turned to blocks of bewigged granite; rheumy eyes casting about for sight of Magna Carta – did she die in vain as the old joke has it?
Overnight, Chris Grayling, our current venerable Lord Chancellor, or Justice Secretary as he prefers, has fired an Exocet into the bowels of the legal profession, the judiciary, the legal apparatus that we exported all over the world. It exploded shorty after midnight, in the midnight embargo way of these things. Some of our legal profession were safely asleep, spooned snoring besides their portly wives; others took their Port in the London clubs; none were expecting the deadly missile. Perhaps just one or two, the be-robed figures of Mssrs Slaughter and May, for they had helped assemble the incendiary device.
It was not enough for Chris Grayling, the savings he proposes to make by slashing the legal aid solicitors from 1600 to 400 – leaving just 35 to cover the entirety of London. Putting the provision of a legal defence into the hands of Eddie Stobbard or Tescos – delivering a flat pack barrister in your hour of need. Criminals, he says, aren't the best people to exercise choice. 'Too thick to pick'. Totally overlooking the fundamental point that those standing in the dock are merely accused of being criminals – some of them will be innocent men and women! This is a man who calmly stood by as a saga unfolded whereby commercial television and a private charity acted as judge and jury with official sanction on a citizen of this realm. Who said nothing when the evening TV lauded a vigilante group for their efforts to entrap citizens.
Now he has announced that he will 'privatise the courts'. They are to be sold to private companies with shareholders. Hedge funds even. No, really.
Tenders will be invited to take over the Old Bailey, always the Fortnum and Masons of our legal world – will it now quite literally be the Fortnum and Mason Bailey? Will our judges wear robes with prominent adverts for Tescos? Abandon their wigs for baseball caps Formula One style? When Sky TV tender to take over Birmingham Central Court will they insist on multi-coloured gowns, to distinguish prosecution from defence for their more challenged viewers when they open their new 'LawTV' channel – free to Sky subscribers?
Just how far will shareholders go to ensure that these private companies make a profit out of operating the courts? Floodlit hearings to time with the ten o'clock news? Verdicts held back for the six o'clock news? Perhaps 'change the rules' every year, Bernie Ecclestone style – to make it more exciting for viewers – for sure the TV rights will become as important to the courts as it has to football and motor racing. Stewards enquiries after every verdict? You may have thought you got a 'not guilty' verdict, but the stewards have decreed that the bar code detected on the back of his gown constituted cigarette advertising and your brief has been forfeited three 'not guilty' verdicts?
Press the red button now – Sky viewers deliver their verdict in the latest exciting sex abuse trial, or text 'CASTRATE' to 0800 800800, Our Judge is waiting to hear your views.
I'm off to e-mail Charon QC – the poor old boy is going to have a coronary when he hears this one; someone needs to break the news to him gently…
May 31, 2013 at 06:48







May 29, 2013 at 06:22







May 28, 2013 at 21:33




May 28, 2013 at 21:13




May 28, 2013 at 19:10







May 28, 2013 at 17:51




May 28, 2013 at 14:07







May 28, 2013 at 13:52







May 29, 2013 at 17:20




May 28, 2013 at 11:49




May 28, 2013 at 10:02







May 28, 2013 at 11:17







May 28, 2013 at 09:25