Battery Children – Scottish style!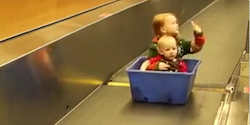 Put a large calendar in front of you this morning as you read this, you will need an efficient reminder that it is NOT April Fool's Day.
Remember when we were all terribly concerned with the quality of the meat that we eat? Remember when the government decided that all pigs/cows/sheep should have their own log book, a reminder that we could look back on and know exactly where they had been, with whom, what they had eaten, when they'd been sick, what had been prescribed for them, whether they had been given enough 'emotional stimulation', had their hair cut at the right time – and to make sure there was no cheating, we insisted that they have a tag in their right ear so that we could always match them up to that record? We thought it was a great idea, we could trace our lamb chop right back to the time when it was just a gleam in a randy Ram's eye. Farmers were just caretakers, right? Sure they bred the animals, but the state had a right to monitor how they went about it? Yes?
Keep looking at that calendar.
Remember when the new Children's Act came out? All that guff about 'best interests', and how at the end of the day, a child's 'best interests' was to be judged by the judiciary on behalf of the state. Parents might think that curtailing little Tarquin's TV watching to two hours a day was best for him, but if Tarquin went to court and argued about it, there was always the chance that the judiciary would over rule the parents. The parents might have bred the child, but the state had the right to monitor how they went about it.
Some overexcited commentators claimed that in fact children now belonged to the state, that they were a product, like a lamb chop, to be monitored. How we laughed! Battery children! So much oversight might be a reasonable notion for the child battering classes; but for the rest of us, well, we loved our children, we knew what was best for them, we would continue to rear them to the best of our ability, taking pride in the outcome.
Take a trip up to the Socialist Republic of Scotland, take that calendar with you – and see who's laughing now. Can't imagine every child with a tag in its ear? I can.
The Children and Young People Bill which has recently been introduced to the Scottish Parliament seeks to establish a universal surveillance system in respect of every child and associated adult in Scotland. I particularly like the 'associated adult' – not just the biological parents, but any adult that the child may come in contact with would be 'under surveillance'.
You are expected to focus on the 'child protection' angle of course. Those rare, but can never be rare enough, times when a household throws up a Baby 'P'. It will probably be known as 'Angus's Law' or Hamish's Law', or whatever name the latest one in six million battered child is called. Naming a law after a sadly battered child legitimises laws that are actually the will of the mob. The use of christian names, accompanied by the obligatory wide eyed photograph of the child, has the effect of stoking raw emotions, it is the tabloidisation of political manipulation. Who would oppose a law, no matter how draconian, named for a murdered child?
So you won't oppose it; you will keep the pleading eyes in the picture of Angus or Hamish firmly in your mind as you contemplate the new Act. 'We can never let this happen again', you will say, 'how dreadful, poor wee mite'! And whilst you are busy focussing on the one in six million chance that this might happen to another child, you will find that you too have become a household 'under surveillance'. You too will have become a battery farmer of children on behalf of the Scottish State.
For the Bill doesn't just allow for the minute by minute surveillance of those 'horrid' households where the parents put drink and drugs before food; those towering blocks of human misery that you pass on the way home and avert your eyes; those cubicles inhabited by single mothers with 'God knows who' by way of the sixteenth boyfriend this year; those households containing nasty men who think nothing of bashing a security guard over the head and who wouldn't flinch at meeting out the same treatment to a helpless child; those cold damp warrens with coverless cots containing miserable children that you try not to think about – the Bill is about your household too!
Yours! Where the children are tucked up warm every night after a home cooked supper; where you vet every baby sitter, and agonise over whether you can afford to send Tarquin on the educational trip to Vienna. Yours! The home you scrimped and saved for so that Tarquin could have a garden to play in, and bring the school hamster home for the holidays.
God help you if the hamster decides to peg it whilst you are out choosing Clarke's sandals for little Tarquin's growing tootsies. Because that could be a 'traumatising event' in Tarquin's young life. One that will be noted in his log book, so that others may look back and decided if it was all your fault that Tarquin grew up to become a radicalised Muslim…
You think I'm joking? The Bill imposes a 'State Appointed Guardian' on every child; not just those deemed to be 'vulnerable'. An apparatchik whose job it will be to collate information from a wide range of social workers, teachers and medical professionals – and neighbours. Who will keep and share notes on every incident in your child's life. When Tarquin tells his teacher that you didn't believe that he had tidied his room and went upstairs to check – that'll be a tick in the box marked 'Child's account minimised/not believed by carer'. Or 'Mummy says I have to ask Daddy too' – whoops, another tick – 'Carer continually defers to partner for response'.
Take a look at the different agencies that will be sharing this all important information about whether you actually believed that Tarquin had put his toys away – everyone from the local fireman to 'automatic equipment prescriptions' – that's the people who decide whether grand-dad can have a walking stick on the NHS! The ability of State departments to leak information is well known.
This is State dictated child breeding – and woe betide you if you don't live up to the 'wellbeing' outcomes dictated by their check list. It makes chilling reading. Known as GIRFEC (Getting It Right For Every Child), it is already being used, and in some cases abused, by professionals within universal services and other agencies who have been routinely gathering, storing, assessing and sharing sensitive personal data on every child and every associated adult without express informed consent and in the absence of any enabling statutory framework.
I can't understand why they have missed out a requirement for ear tags? How will they know whether you have switched young Tarquin for a teenager with a clean check sheet when you present him back to the Government and wait to collect your Gold star for child rearing? That is why they demanded ear tags for the little piglets…
Can anyone figure out how giving Social Workers a zillion more innocent families to monitor is going to improve life for the vulnerable children that they can't manage to monitor now? I can't see the logic of it at all.



May 29, 2013 at 16:06










May 30, 2013 at 03:14










May 30, 2013 at 10:51




May 29, 2013 at 05:01










May 29, 2013 at 00:50







May 28, 2013 at 16:14







May 28, 2013 at 16:16




May 28, 2013 at 06:22




May 27, 2013 at 23:44




May 27, 2013 at 20:42







May 27, 2013 at 20:26










May 27, 2013 at 20:36




May 27, 2013 at 19:06




May 27, 2013 at 17:48







May 27, 2013 at 17:25




May 27, 2013 at 14:30







May 27, 2013 at 14:19




May 27, 2013 at 12:25










May 27, 2013 at 12:12




May 27, 2013 at 11:51







May 27, 2013 at 11:24










May 27, 2013 at 12:15




May 27, 2013 at 15:57










May 27, 2013 at 17:29







May 27, 2013 at 19:09







May 27, 2013 at 19:42




May 27, 2013 at 11:04










May 27, 2013 at 23:37







May 27, 2013 at 10:52




May 27, 2013 at 10:03




May 27, 2013 at 10:00







May 27, 2013 at 13:40




May 27, 2013 at 20:23




May 27, 2013 at 09:15







May 27, 2013 at 09:13










May 27, 2013 at 09:12







May 27, 2013 at 09:04










May 27, 2013 at 10:29










May 28, 2013 at 12:27










June 2, 2013 at 13:01