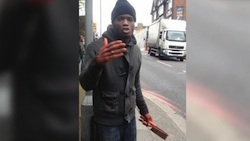 What is terrorism? As the old adage goes, one man's terrorist is another man's freedom fighter. But, in truth, that implies a certain degree of moral relativism which is a cop-out. In the end, there is a right and a wrong. Terrorism is the calculated use of extreme violence by any means, against anybody, outside the peculiar forum of the rules of war followed by "civilised" nations, and in the pursuit of ideological goals. I appreciate that it is quite proper to form the view that all war is by definition uncivilised, but you take the point.
The theory of terrorism is well-known and understood. On the one hand there is the role of terror itself. As the well-known saying goes, kill one, frighten a thousand. On the other hand Marxist-Leninist theory always emphasised the usefulness of acts of terror in provoking over reaction from the established government, thus creating resentment amongst the governed which could in turn be exploited in the revolutionary cause.
Yesterday we had our own "terrorist incident" in the appalling events in Greenwich in which a soldier was, it appears, first run down, and then hacked to pieces, possibly beheaded.
I have seen the video footage of one of the (alleged) perpetrators taken shortly after he had dragged his unfortunate victim into the middle of the road. Machete and carving knife in blood soaked hand, he voiced his world view in a decidedly jumbled London patios:
"We must fight them as they fight us. An eye for an eye, a tooth for a tooth. I apologise that women have had to witness this today, but in our land our women have to see the same. You people will never be safe. Remove your government, they don't care about you."
With this profound statement made, he shambled back across the road towards the wrecked and eviscerated body of his victim, to engage in further badinage with some rather brave passers-by. For reasons which seem obscure, and somewhat inconsistent with his previously expressed concern for the fairer sex, he was apparently quite insistent that no one other than women would be allowed to be near the body.
It seems a little ironic then that when the armed response team turned up, the officer who slotted him with a slug or two of lead was a woman.
I hope that the Met made sure that she was wearing a Burkha in order to avoid impinging on his cultural sensitivities. I expect that even as we speak, his no win, no fee, lawyers will be preparing a case for the enormous damages award for the infringement of his human rights caused by shooting him with a non halal bullet.
Is he a terrorist? Watching him, he made a pretty piss poor one. I understand that he is believed to be of Nigerian birth, having come to this country some years ago. Having thus nested in his generous host, he set about butchering one of its fine young people in a cowardly attack (running an unsuspecting victim down with a car before two of you set on him with weapons is, in my view, cowardly).
Why? A structured, simple, moral code, embracing and welcoming, giving the comfort which is the essential of all who commit ultimate atrocities, absolute and complete moral certainty, and hence complete disconnection with reality. Our lands? I suspect he had never been east of Peckham since arriving in our green and pleasant land. Our women? How revealing that he should see women as chattels of some unspecified master race.
In one sense, having weighed up this moronic, brutal, no-mark, I found it hard to grant him the status of "terrorist". It seemed that "nutter" might be a better label. However, that is not quite accurate.
Listening the BBC this morning, one has the usual fare. Since the Beeb itself is said to be non political, it cannot take an overt political line. But what it can do is set up a barrage of interviews with "authorities" and "community leaders" who all more or less peddle the same Establishment line:
No judgments yet, please, we don't know all the facts.
This is not a manifestation of Islam at all anyway.
Don't get emotional about this!
However, thanks to the wonders of modern social networking, and perhaps rather to the Establishment's consternation, I think we all rather do know what happened. And in this response there is an element of putting one's head in the sand.
One of the things that what I call the liberal or intellectual Establishment cannot get its head around is that there are people in the world who are unutterably and unspeakably evil, and opposed to every aspect of democratic civil society as we have come to understand it after about 2,000 years of troubled, and often bloody and cruel, European history. This concept is very difficult for the liberal Establishment to understand, because it involves a degree of moral compass, based on Judeo-Christian principles, and suggests that there is a limit to moral relativism which the intellectual elite have championed.
In one sense, the cruel, vicious and utterly inhumane perpetrators of yesterday's event are the product of the prevailing post-war intellectual view that anything goes, that "multi-culturalism" is not merely something which has to be carefully managed, but is actually to be positively encouraged. It is an intellectual system which invokes its own forms of terrorism, demonising and shouting down anyone who voiced concerns about the direction of travel as "racist".
I am not going to do the "Religion of Peace" jibe, at least not in that back-handed way. However, what is clear is that within Islam there is a particular strain of ideology which is utterly inimical to what I will call, in shorthand, civilised values. It is rooted in the philosophy of Wahhabism, fundamentalist and strident Islam which emerged in Saudi Arabia in the eighteenth century, and which is the corner stone of al Qaeda ideology. It counts amongst its goals the creation of a single and unified Caliphate across the "Islamic" world of the Middle East and Asian sub-continent, although there are plainly some adherents within this country who take the view that the Islamic world should include everyone, and that the black flag of Islam should fly over Downing Street. This is a strain of ideology which has strong roots in many Middle Eastern and Pakistani communities, and it appears to me that its trade marks include fanaticism, total intolerance of anything other than the pure interpretation of holy law as understood by its adherents, a strange and cultish fascination with death and causing death, the more gruesome the better – hence this love of beheadings and mass killings – and also an attitude to women which would make a medieval catholic bishop look like Germaine Greer. It is hugely anti Semitic and paranoid.
I have often considered that it is a curious ideology which denounces and despises everything the western world stands for, but ironically has a particularly loving fascination with the internet and mobile phones, Semtex, the Kalashnikov and international travel. It is the ideology which justifies ritual beheadings of unarmed prisoners, or putting a bullet in the bullet in the head of a 14 year old girl, Malala Yousafzai, because she had dared to campaign for education for girls. That sort of thing. Its default position is death. Death to the Unbeliever, of Kafir, and glorious martyrdom. It is a cult of death.
In 1996 the academic Samuel Huntington published a book called "The Clash of Civilisations" in which he argued that the primary cause of conflict in the post Cold War world would be the clash of cultural and religious identities. Whilst I am not a total historical determinist, I can see the force in his thesis, but would rename it: the Clash of Civilisation against the Uncivilised.
It is not without moral ambiguity. The forays into Iraq and Afghanistan have been ill thought through, even disastrous. And "we" are busily assassinating people in Pakistan and elsewhere with drones. All of these are morally complex issues, and there are paradoxes concerning all of them. These two animals are in some ways a response. They are moronic animals, devoid of conscience and morality. In themselves they are insignificant, and could best be described as insane. But that is not quite adequate. In a sense they are also manifestation of a strain of ideology which I believe is a real threat to civilisation as we recognise it, and which will seek out confrontation with all who do not bow before it. That is an uncomfortable thought for the intellectual Establishment, which has for so long been intrinsically hostile to the values which millions have died to uphold. We might begin by getting our own house in order, and politely asking those who seek refuge in this country if they espouse views which would destroy its freedoms – to leave.
The intellectual Establishment, particularly many in the judiciary, would chide me for having double standards, for being a threat to human rights, for cultural intolerance, so forth. I would perhaps agree, but refer them to the blood on the streets of Woolwich. Whether these perpetrators are terrorists or psychotics might be debated. I would prefer to call them straws in the wind.
May 28, 2013 at 04:14










May 28, 2013 at 09:00










May 28, 2013 at 21:37







May 28, 2013 at 22:18










May 29, 2013 at 02:14







May 29, 2013 at
08:49





May 27, 2013 at 08:25




May 26, 2013 at 07:45




May 25, 2013 at 18:31







May 25, 2013 at 20:08










May 25, 2013 at 13:10







May 25, 2013 at 12:03







May 24, 2013 at 12:14




May 24, 2013 at 03:48




May 24, 2013 at 00:11







May 24, 2013 at 00:05




May 23, 2013 at 22:38




May 23, 2013 at 22:06




May 23, 2013 at 21:38







May 24, 2013 at 01:30




May 23, 2013 at 19:18







May 23, 2013 at 19:09







May 23, 2013 at 18:27







May 23, 2013 at 18:31




May 23, 2013 at 23:31




May 24, 2013 at 21:50







May 23, 2013 at 18:29




May 23, 2013 at 17:37







May 23, 2013 at 17:35












May 23, 2013 at 23:00




May 23, 2013 at 16:54







May 23, 2013 at 16:40




May 23, 2013 at 15:34







May 23, 2013 at 15:08







May 23, 2013 at 16:25







May 23, 2013 at 14:14




May 23, 2013 at 14:11