Hearty Congratulations Raccoonteurs!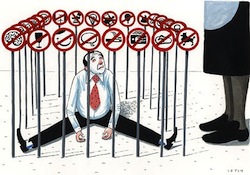 Back in the later half of last year, I rushed out an 'emergency' post, and asked for your help to publicise it.
'Edna' of this noble Raccoon Parish had drawn my attention to a Government consultation hidden away in the undergrowth which was more than alarming.
Social Workers were asking for the 'power of entry' to avoid the tiresome business of having to argue their case before a judge, when they wanted to barge their way into someone's home uninvited.
Such a power, it might be argued, would be understandable if they were talking about homes inhabited by the mentally ill, the victims of violence, the victims of fraud, the victim of domestic violence, where there is a child at risk, or any of the other 'vulnerable' categories. I still think that such a power should only be granted on a case by case basis, but I could see how it might be argued that it was defensible.
But they weren't. They were asking for a blanket power of entry! To anyone's home, at any time, under any circumstances. Just because 'they' thought that the occupants weren't followed approved 'health advice'. Dear God! A Social Worker standing over you as you light the first cigarette of the day, proffering nicotine patches, decaffeinated watery coffee, and an invitation to attend their latest 'safe sex' seminar….
The Consultation's aim was to determine the strength of the case for creating a new safeguarding power of entry. This issue is at the interface between issues of protection and civil liberties.
They advertised the consultation, on which the Government intended to make a decision, to the 'Safeguarding Adults Advisory Group', the 'Care and Support Alliance', and the 'NHS workforce', sat back and awaited their response. They expected 'between a 100 and 150 responses'. It should have been a 'slam dunk' – 'the Government, after consulting with interested parties have decided to grant' etc…
Thanks to 'Edna' and the readers of this blog, it hasn't worked out like that.
They got 212 responses.
An unexpected 88 were from people they hadn't expected to hear from at all, at all….us, the public, they people against whom this power would have been used. (What idiot told them? That bloody Raccoon blog again!)
124 came from the Social Work emporiums that they had thought would respond.
We believe it is highly significant that members of the public were far more strongly against the proposal compared to health and social care professionals […] it is clear that some people perceive themselves at greater risk of unwarranted intervention by social workers than of abuse in their home. "Therefore we will not be adding a safeguarding power of entry to the Care and Support Bill" What can I say? Raise your glasses to Edna please Ladies and Gentlemen! She won't be paying for drinks around here for a very long time!
And many thanks to all those who retweeted that post and responded to it. A small victory. The Government did listen, and backed away from the proposed legislation. I can only put this down to the readers of this blog and especially the sharp eyed Edna – for nobody in the main stream media so much as raised their pen in the direction of this story.
Some days it feels futile bashing away at this keyboard – and other days are like today!
May 11, 2013 at 23:37







May 11, 2013 at 18:15




May 11, 2013 at 17:10







May 11, 2013 at 16:11




May 11, 2013 at 15:57




May 11, 2013 at 14:36




May 11, 2013 at 13:12










May 11, 2013 at 13:22




May 11, 2013 at 13:05










May 11, 2013 at 13:13







May 11, 2013 at 13:01







May 11, 2013 at 12:23




May 11, 2013 at 12:20







May 11, 2013 at 11:28




May 11, 2013 at 11:27







May 11, 2013 at 11:23







May 11, 2013 at 23:35







May 11, 2013 at 10:19










May 11, 2013 at 10:06




May 11, 2013 at 09:56