An important advance in Child Protection.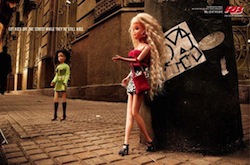 Whilst we were all busy reading the West Yorkshire Police Inquiry Report this morning, which having earnestly reported that it was keen to 'separate myth and rumour from fact' went on to tell us (amidst gasps of amazement) that Savile 'had duped millions' of us into believing 'that he was a genuine celebrity'. (He wasn't? Can we have a refund on our licence fee now then, now then? All those fabulous wages paid to him on the grounds that he was a genuine celebrity! Fraud!) something important was quietly rustling in the undergrowth.
Hidden away in a part of the BBC web site that most of us probably rarely visit, someone was concerned, not with the alleged misdeeds of long dead celebrity, but the with real sex abuse occurring right here and now, and about which something could and would be done.
No! Don't be daft, it wasn't Mark Williams-Thomas, nor the NSPCC – they are far too busy chasing headlines, donations and possible documentaries.
The Islamic Society of Britain, and the 'Hope not Hate' campaigning organisation, have teamed up to form the 'Community Alliance Against Sexual Exploitation' (CAASE) with the aim of mobilising campaigns against the grooming of under-age vulnerable girls, producing training material for faith leaders and creating local groups to work on tackling street grooming in areas where it is a problem.
What is of particular interest here, she says, picking her words carefully, IF the various articles that have been written are truthful, is that the under-age girls who need protecting from this activity are NOT from the same community that is organising something to help protect them. It is as though the Cat Protection League had offered to make sure every Dickey-bird got home safely, for it is alleged that this problem stems from young Muslim men who treat young white girls as 'easy meat'.
You might expect that the Muslim community would react with outrage at the idea that their young men are at fault.
You might expect that the white working class communities, from where these young girls are believed to originate, would have organised something themselves to protect their daughters and sisters.
You might expect that the multitude of organisations that claim to exist in order to further child protection might be busy organising something, making documentaries, tweeting merrily into the night, (and sending their followers pretty pictures of fluffy cats when it all became too upsetting to think about).
You would be wrong on all counts.
It is a coalition of Muslim organisations that has stepped into the breach to do something practical about the young white girls out alone late at night and susceptible to grooming and abuse. The coalition, which is being formally launched at the Manningham Mills Community Centre on Friday, also has backing from the Muslim Council of Britain, Muslim Youth Helpline, Christian Muslim Forum, City Sikhs and the Church of England.
Pretty stunning news would you not say? Obviously not stunning enough for the main stream media…
I am seriously impressed, and humbled. Thank God (and Allah) that someone is going to do something for those girls. It's about time that we saw something resembling child protection in the UK.



May 11, 2013 at 09:21










May 11, 2013 at 08:51




May 11, 2013 at 05:34




May 11, 2013 at 01:48




May 10, 2013 at 20:43







May 10, 2013 at 23:13







May 11, 2013 at 12:58




May 10, 2013 at 19:54




May 10, 2013 at 19:50




May 10, 2013 at 19:47




May 10, 2013 at 16:36




May 10, 2013 at 16:11







May 10, 2013 at 16:22







May 10, 2013 at 16:28







May 10, 2013 at 23:04










May 10, 2013 at 23:05







May 10, 2013 at 23:13







May 13, 2013 at 11:39




May 10, 2013 at 15:25







May 10, 2013 at 14:45







May 10, 2013 at 14:38