The incumbent government is desperate to stop money haemorrhaging out of the Treasury. They try to pick on some area of the economy where the potential recipients of funds are not too militant – they don't want miners flame throwing Downing Street; not too likely to generate yards of 'heartless Tory' newsprint – no use trying to save money by refusing to service wheelchairs; not likely to vote Tory anyway – (they don't worry about the Lib-Dems, they're toast as it is); and hopefully no one will notice – or care – until it is too late.
The 'Law and Order' arena is a good hunting ground for them, you don't notice the effect for a year or two, and then you can get brownie points before the next election by giving everyone a pay rise.
They've slashed the entry salary for Police Officers by 20% – not many ordinary people actually care how much Police Officers are paid, serving Police Officers are more concerned with their pension, those hoping to get a job in the Police force are hardly likely to start throwing Molotov cocktails in Downing Street, and with half the country out of work anyway, the newspapers aren't inclined to campaign for a higher starting wage for those lucky enough to get a pensionable job. So far so good.
They've slashed the number of Police Stations drastically, threatening to put Police officers in Tardis type Police boxes rather than stations with canteens and somewhere to park your civvy clothes, and an office biscuit box…..they even toyed with the idea of making them stand at the end of the aisles in Tesco's – report that historic sex attack whilst you're waiting for the doughnut counter to be loaded up again – which generated a flood of 'aisle be having you' and 'cell-by date' jokes.
But Police patience can only be stretched so far, so now they have moved to the other end of the Law and Order scale. The 'criminal defendant'. Note defendant. They could well yet be innocent, but that doesn't matter in these days of celebrity policemen acting as judge and jury. They intend to save some 220 million a year by cutting legal aid to those 'criminal defendants'. Who cares about them, they're criminals aren't they? Well, not until they've been tried and convicted actually, and it is long before that that they, and the totally innocent, need their legal aid, but most people won't bother to separate the words criminal and defendant into their specific meaning.
The intention is to cut the number of firms that can offer legal aid advice from 1600 to 400, split into 42 different areas. Or 10 per area.
"This would mean current providers would need to grow their business on average by around 250% (or join with other providers to create sufficient resource to deliver the expected caseload)," the consultation said.
250%! A tough requirement in the current economic climate. They only want the 'big boys' to tender under this 'price competitive tendering' model.
They have removed the old requirement that you had to consult a solicitor, incurring his fees, before being allowed to consult a barrister. Solicitors were gate-keepers, rather like GPs. They listened to the long fangled whine regarding where your Aunt Minnie was last Thursday, and how it was the day you usually took the cat to the vet – extracted the essential information – that you had been done for speeding on your way to work, and fired you off in the direction of a barrister that specialised in speeding offences.
Now you can go to a Barrister directly – but how are you supposed to know which Barrister specialises in speeding offences? He can't afford expensive ads on afternoon TV, "Give us £2 a week and you could save a Barrister from penury" – and even more to the point, where is he supposed to find the time to listen to Aunt Minnie's whereabouts for the past three months, and the likelihood of your cat surviving Christmas? He's used to being given a précis form of important details, preferably at least ten minutes before he has to defend you, and then speed away to his next case leaving your solicitor to listen to your howls of anguish at finding yourself banned from driving for ten years. Barrister don't all earn a fortune you know. Most of them spend their day roaring round the country on Virgin rail hoping to cover their train fare.
Hmmn, pondered the government – someone has to do the hand holding role, make sure you end up with the right sort of barrister, and dry your tears afterwards – but does it need to be an expensive solicitor? I don't think so, said our current venerable Lord Chancellor Chris Grayling, and opened the field to all players. Actually it was Labour which started all this off.
The role of ABSs in legal aid work was foreshadowed in March 2009 by the then Labour Lord Chancellor, Jack Straw, in a major speech on the future of legal aid. He said: "For law firms to survive they will have to look to how they are structured and how they operate. The introduction of the Legal Services Act has meant that new opportunities are there for firms who are able to adapt to the changing demands of the new legal market-place.
"Currently, 80% of all legal aid is carried out by firms with fewer than four partners, and nearly a third is undertaken by sole practitioners. But no firm, large or small, will be able to stand still in the face of the innovation which new business models will be able to bring."
Some remarkable players are in the running. Tescos, not surprisingly, they already aspire to have PC Plod stationed between the Turnips and the Toilet Cleaner. But what is this? Your friendly Eddie Stobart Lorry, with his well dressed drivers, unloading a fresh supply of flat packed Barristers to Liverpool Crown Court? They cannot be serious! They are.
Stobart's Group Legal Director was once the practice manager at a well known firm of solicitors, and reckons he knows how it all works well enough; he's set up Stobarts Barristers and is chomping at the bit to bid for one of the franchises.
Beware the flat pack Barrister delivered to your home – it will arrive with a few screws missing, and an incomprehensible instruction sheet. Not that it really matters any more, the Police will already have pronounced you guilty. Still, most defendants will probably jump at the chance to get a Zimmer frame and a walk-in bath delivered at the same time…
You couldn't make it up.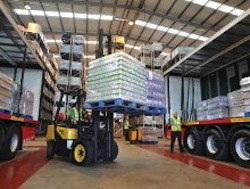 Flat-pack barristers waiting to be delivered to the next crime hot spot.



May 8, 2013 at 10:17




May 5, 2013 at 21:29







May 6, 2013 at 22:17







May 7, 2013 at 00:03




May 7, 2013 at 00:10




May 6, 2013 at 23:55







May 5, 2013 at 12:54




May 5, 2013 at 11:51




May 5, 2013 at 11:43







May 5, 2013 at 11:03




May 4, 2013 at 21:07










May 4, 2013 at 23:36







May 5, 2013 at 08:55










May 5, 2013 at 12:51




May 5,
2013 at 13:07





May 5, 2013 at 09:06







May 5,
2013 at 13:11








May 5, 2013 at 13:21




May 4, 2013 at 20:05







May 4, 2013 at 17:54










May 4, 2013 at 23:46







May 6, 2013 at 10:40




May
6, 2013 at 10:42





May 6, 2013 at 18:22