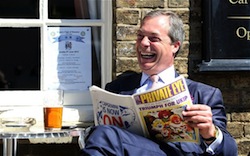 UKIP has acted as the Provisional Wing of the Pub Bore Society for some years. Seated on the far stool of political life, they have droned on endlessly about the failings of the big three parties. 'They're all the same as each other', 'nothing to chose between them', ' a shower of professional bastards'.
The resident Landlord has tried to shut them up, calling them a 'bunch of clowns', and 'fruitcake racists'. It had no effect. They droned on. 'Get us out of Europe', 'it's them thar Europeans that is causing all the problems', they said as they ordered another pint. A warm, cloudy, British pint.
'UKIP if you want to' said the Landlord, 'nobody is listening to you anyway'.
This morning he found out that 14% of the population were listening. He sent his potman out with something akin to an apology.
"People have sent a message, we get it, we hear what people are saying, people are concerned that we get on with the big issues facing hard-working people in this country, like fixing the economy, sorting out the welfare system, helping hard-working people to get on.
"Ukip have done well, I don't make any secret about that at all. We need to make sure that we are addressing the concerns of the public."
Revolutionary stuff! 'Addressing the concerns of the public'! That is a U-turn of megalithic proportions. When did the last politician even pay lip service to 'addressing the concerns of the public'? We have a government that is so proud of the 'nudge unit', the department that seeks, not to address the concerns of, but to re-educate the public, that they are privatising it, convinced they can make money out of it. We had, for 13 years, a government that was solely concerned with re-educating the public. Can it really be true that the Pub Bore has succeeded in revolutionising government to the point that it might actually act as representatives of its various constituencies and 'address their concerns'?
The big three parties (though the Lib-Dems seem to have a nasty dose of political anorexia, compared to the over-fed beasts of Labour and Conservative) have relied upon people not 'kipping', but 'sleeping' their way through the voting process. If they voted at all, it was as their Father had done. The public didn't seem to get the rather obvious point that if you vote as your Father did, you are liable to end up with the same government that your Father did – an oxymoron, if 'change' was what you wanted.
UKIP have done well, most definitely. But are they the answer to Britain's problems?
It seems to me that our problems are global ones. A global financial crisis, regardless of where it started or who did what. Global weather patterns changing (and no, I haven't become a 'ban all aerosols, fight climate change' enthusiast, just aware that the jet stream is/has been a different position to the one we are used to, as it has been before…) and thus different crops will need to be grown in different parts of the world, and if people wish to keep eating the food they are used to, they might have to get it from somewhere else in the world. Religious affiliation changing, and with our modern inventions of air travel, and television, not to mention the Internet, we are becoming a more global society, with people committed to the eradication of 'all infidels' happily studying computer science in the universities of Infidel Central…
Global problems require global solutions. I don't see how retreating into nationalism and brave little Britain 'going it alone' can possibly solve the problem. Nor does that make me a defender of the EU, too small a solution, based on an outdated political modus operandi. So while I sympathise with UKIPs anti-EU stance, I don't think that they hold the answer.
What they have done is wake up those quietly kipping over their pint, that 'something' needs to be done, and not something that we have tried already.
We have to get out of this 'Fort Little Rock' mentality, the idea that those who are different are to be feared, outsiders. We are all the human family, and the sooner we stop squabbling amongst ourselves the better. It is a product of democracy, the idea that the majority 'must' win. Why must there be 'winners', black and white, good and bad, left and right? If we all took responsibility for ourselves and spent our spare time helping others, we would be a lot better off than struggling to make sure that 'our man' gets the controlling job.
For sure, someone will come along in the comments and tell me that human nature isn't like that, that people are selfish, some will take more than others – but isn't that a product of our conditioning? That if we just vote the right man, our man, into the top job, he will take care of us, his supporters, and we don't need to think about it anymore? And if somehow the 'other side' manage to get their man into the top job, we just have to belly ache long enough and point out all his faults, and along will come another chance to get our man, our protector, into place.
And that is where all our energy goes to. Ridiculous.
May 7, 2013 at 19:53




May 5, 2013 at 19:08




May 4, 2013 at 21:23







May 4, 2013 at 22:38







May 6, 2013 at 10:27










May 6, 2013 at 14:09







May 4, 2013 at 19:53







May 4, 2013 at 19:51




May 4, 2013 at 14:09







May 5, 2013 at 12:18




May 4, 2013 at 11:37







May 4, 2013 at 13:02










May 4, 2013 at 17:01




May 4, 2013 at 07:54







May 4, 2013 at 02:05




May 3, 2013 at 23:31




May 3, 2013 at 23:10







May 3, 2013 at 23:15







May 4, 2013 at 09:17










May 4, 2013 at 14:08







May 6, 2013 at 10:15







May 6, 2013 at 14:07




May 3, 2013 at 23:02




May 3, 2013 at 21:41







May 3, 2013 at 22:56







May 4, 2013 at 09:08










May 4, 2013 at 13:47




May 3, 2013 at 21:24







May 4, 2013 at 14:11







May 5, 2013 at 09:00




May 3, 2013 at 20:44




May 3, 2013 at 18:27







May 3, 2013 at 17:57










May 3, 2013 at 17:29










May 3, 2013 at 17:20










May 3, 2013 at 15:34










May 3, 2013 at 15:48




May 3, 2013 at 15:33










May 3, 2013 at 20:10







May 3, 2013 at 14:31







May 3, 2013 at 13:55







May 3, 2013 at 13:44










May 3, 2013 at 15:37