The Thatcherite PLU-tocracy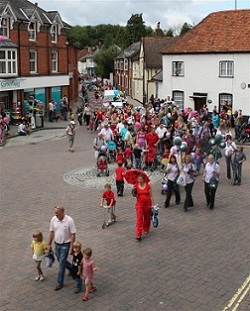 The abiding topic of the week has, of course, been the funeral of Lady Thatcher; the cost, the style and so forth.
Somewhat randomly, I offer up two memories of the week which will stick with me. The first was hearing an interview with comedian and satirist Alexei Sayle. The former member of the Communist Party of Great Britain (Marxist-Leninist) dismissed the former Iron Lady as simply a vile non intellectual who had set out to wreck the country as if this was simply a statement of fact. A second moment which will stay with me was the swelling "boos" and groans from the BBC's "Question Time" any time a hapless member of the panel might suggest that Maggie did anything good at all.
Both of these incidents made me wonder. Had I dreamed the entire 1980's? Had I been duped into thinking that Maggie had existed at all, rather than winning three elections?
And then, again randomly, my mind flicked back to an evening back in the early 1980's when I heard a speech and some questions and answers with the late Lord Denning MR at the Cambridge Union. Denning, for those who may not be quite old enough to remember, was a remarkable judge, famed for not following the established legal line, a sense of humour and a brilliant mind, all carefully concealed beneath a gentle Hampshire burr and homespun rustic style which I am pretty sure were entirely creatures of artifice. Denning was never a man to let the straightjacket of legal precedent deter him from reaching the just result, and he famously kept a library of history books in his Hampshire home. These, he would observe, taught him more than law books.
He gave a disarming and funny speech. I still remember him giving this advice for a happy life, with perfect comedic timing:
"Meet with good people. Eat with good people. And sleep……….. with a clear conscience."
After the speech the now very aged Denning was asked a difficult question: who should choose the judges, and be the judges. Denning's response to that was in one sense highly simplistic, but was actually enormously profound. He did not hesitate, but with a sly grin and a twinkle in his eye, he replied:
"People like us".
That of course recalls one of the central motifs of Thatcher's time; being "One Of Us". I am not suggesting that Denning was a Thatcherite, or even a Conservative, although I am sure he would have been to the right of the political spectrum. He was making a wider, and very political point. In continental Europe the political agenda has always been dominated by the intellectual, and intellectualism, in all its many and often less appealing forms. Intellectualism allows almost anything to be justified in the name of an "ism"; Marxism and Nazism made a pretty good job of demonstrating how an "ism" can end up wiping out large tracts of the population in the course of specious causes. In Britain and its history of political thought (Mill, Hobbes etc) there is always an emphasis of pragmatism, and simple moral decency. It is, of course, ironic that Thatcher got her own "ism", which she never claimed for herself.
Thatcher was indeed One Of Us. I am One Of Us. Who are We? We may or may not have brilliant intellectual capabilities. But we would never consider ourselves intellectual. Every argument would be tempered by a fair dollop of that most unappealing quality which the intellectual Left despise, common sense. For example, we would not regard it as a good idea for governments to endlessly spend more than they are receiving in revenue, or to tax people so much that they stop working or leave the country. On a less overtly political level, we are the ordinary backbone of the country (a significant word), who get on with things, do what we can for our families, and try to make a go of it. We don't make a fuss, but we honour and value our country and its history. We don't make a fuss, but we would like to see criminals sent to prison and people who arrive in this country with no intent but to blow us up sent home whence they came. We don't have a defining agenda. We are not "right on", like Mr. Sayle. We may be boring by many people's standards. In my own case I never "got" Punk or Ska, or the various obligatory fads of music and fashion which it is now considered obligatory for "yoof" to follow. We hold non pc views, which elected politicians find scandalous. We are not the people who appear on the Jeremy Kyle show, nor are we the people dining at the Groucho club. We have no particularly cohesive political credo other than a basic understanding of and loyalty to a free and open civil society based on Judaeo-Christian values and a healthy dose of that pragmatic common sense. We do not normally attend recordings of the BBC's Question Time. People who read The Guardian and The Observer do that. But we have antennae, and we know each other when and where we meet. Many of Us read this blog.
In short we have a value system which is wholly alien to a Marxist intellectual "comedian". And Margaret Thatcher was one of US.
The funeral is proving somewhat… divisive? This is understandable, even necessary. Margaret Thatcher was the incarnation of a value system which revolted both the privileged Establishment and the intellectual Left. The response of both these interest groups was and is – hate. So be it. As one of Us, I react with a notional shrug of the shoulders. If going out and buying "Ding, Dong, the witch is dead" upon the death of an 87 year old grandmother who was PM for 11 years is the level of your political awareness and debate, then I regard that as a supreme validation of Margaret Thatcher, and why she did what she did, and had to.
There was an interesting documentary about Lady Thatcher on Channel 4 last night, and one of the observations reached was that Thatcher was never an Establishment figure, nor even a Conservative. She was a radical liberal who wanted to empower the working class (at least those who wanted to work) and, what loosely might be called, the petit bourgeois.
This funeral is not about national unity. It is about People Like Us asserting a display that we are still here. In Britain's changing social landscape it may be a last hurrah, but that is for the future. Here is an interesting thing. Many of People Like Us were not and are not card carrying "Thatcherites" at all, and would have found many reasons to disagree with her individual policies and sometimes style. But she was still one of Us. The present cabinet with its phalanx of millionaire Old Etonians are not one of Us, and neither were the plausible faces of New Labour, or the Milibands or Ballses.
I think it is time to celebrate the spit and venom of the Left's complaints about the matter. It is not only ironic but delightful that the Left which has all but bankrupted the country for generations with spending on Diversity Coordinators and disastrous PFI Ponzi Schemes is carping. Let it carp.
As I say, I am sure that there are many policies where I would have taken a different or more nuanced line. But unlike Cameron and Miliband, she came from a humble background, without privilege, and made her own way in a man's world. Unlike Blair, she led the country in a war to defend its own sovereign territory when it appeared all was lost, rather than riding on Bush's coattails in support of wars that were at very best of dubious legality. Unlike any other post-war Prime Minister she reversed the apparently inevitable decline into grey, Union managed, Eastern European poverty, and she played a key role in diplomacy with Gorbachev which ultimately freed Europe from Soviet tyranny. Those are achievements which deserve respect. And she was one of Us.
People Like US will pay our respect, and to hell with what people like Mr. Sayle think.
Sigillum
Photo by Andrew Reeves-Hall
The 2009 Festival Procession makes its way through The Square in Whitchurch, Hampshire.
(Whitchurch is where draper's son, Alfred "Tom" Denning was born.)




April 18, 2013 at 11:00




April 17, 2013 at 20:54







April 17, 2013 at 10:52







April 14, 2013 at 23:05










April 15, 2013 at 00:06




April 14, 2013 at 21:57







April 14, 2013 at 21:22







April 14, 2013 at 20:44







April 14, 2013 at 20:39







April 14, 2013 at 19:46







April 14, 2013 at 19:38







April 14, 2013 at 18:45







April 14, 2013 at 18:04







April 14, 2013 at 20:02




April 14, 2013 at 18:04







April 14, 2013 at 17:53




April 14, 2013 at 16:48










April 14, 2013 at 16:56




April 14, 2013 at 17:13




April 14, 2013 at 16:04




April 14, 2013 at 15:58