The Horror Hiding in the Shadow of Left Wing Ideology.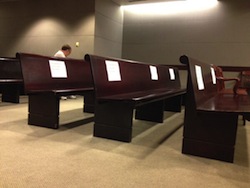 These are curious days in the media. They will give endless space and awards to those who speculate on possible horror attributed to the dead who cannot answer back; they cheerfully re-use photographs of dead babies, awarding those babies a nationality that changes to suit their current 'favorites' in the war game. They are, in short, mighty selective as to what they consider 'all the news fit for the plebs'.
This is a watershed moment in Left Wing ideology, more so than the doyen of free speech being accused of sexual crimes against women. This is the moment when the individual human rights of that protected species, 'my body, my choice' women, come face to face with the up and coming protected species, children. The media are truly struggling to know who to support as the ugly screams emanate from between the legs of 50% of their subscribers.
In Britain, only the Daily Mail has chosen to report on the trial of Kermit Gosnell; Dr Kermit Gosnell to his supporters, Gosnell the mass murderer to his detractors. Sky and the BBC both quietly reported that he 'would be on trial', some months ago; but neither have chosen to mention the matter since. In America, where the trial is taking place, the silence from the main stream media is even more stunning.
Gosnell's trial is more than just that of a Doctor on trial. It is a hideous blow-by-blow account in stomach churning detail of the realities of the life and death for the detritus of 'my body, my choice' women. It is one thing to debate over a Primrose Hill dinner table with a women with a subtle but just noticeable bulge in her stomach of her right to make a 'choice', preferably using euphemisms such as 'you don't need to go ahead if you don't want to' or 'I'm not ready to commit to this child, perhaps next year' – it is not so easy to listen to the stark facts of the result of that 'choice' – the training given to staff in Dr Gosnell's abortion clinic:
Lynda Williams said Gosnell taught her how to flip a baby over and snip its neck with a pair of scissors to ensure 'fetal demise.'
Correct me if I am wrong, but outside of its progenitors body, that is no foetus. That is what we call 'a child'. A child that one human being is calmly training another human being in the dark art of 'snipping its neck' – or murdering that child, as the more old fashioned of us would term it. It is a subject of intense debate in the US. They actually needed to pass a law – The Born-Alive Infants Protection Act of 2002 – to point out to enthusiastic abortioneers that just because you could get away with disembowelling something called a foetus in its mother's womb, didn't mean that you had the right to have another go if it inconveniently refused to die before emerging into the world.
That has been the problem. 'Are you going to keep it' may have replaced 'congratulations' in the modern lexicon, on learning of a new pregnancy – but embryos weren't just turning into foetus, they were inconveniently refusing to die even when poked and prodded with terminal intent. They just wouldn't 'go' quietly. They lack the good grace to remove themselves from world with the same quiet efficiency that your average empty packet of fish fingers displays. Dustmen. Abortionists. They are all one in the modern world.
A woman who worked for Gosnell testified that she was called back to a room at his abortion clinic in Philadelphia where the bodies of aborted babies were kept to hear one screaming amid a shelf-full of dead babies. "I can't describe it," says the woman. "It sounded like a little alien." She says the body of the child was about 18 to 24 inches long and was one of the largest babies she had seen delivered during abortion procedures at Gosnell's clinic.
President Obama listened to Jill Stanek recount how she'd spent 45 minutes holding a living baby left to die, until finally it was removed to a 'soiled linen room' to perform its moral duty and die alone and unloved. He still voted against the Born-Alive Infants Protection Act:
"if that fetus, or child — however way you want to describe it — is now outside the mother's womb and the doctor continues to think that it's nonviable but there's, let's say, movement or some indication that, in fact, they're not just coming out limp and dead"
Obama continued to fret throughout the debate on 'what liabilities the doctor might have in this situation' and 'burden[ing] the original decision of the woman and the physician to induce labor and perform an abortion' not a word about the rights of the future voter 20 years ahead. Politicians were ever short sighted. Doctors and Women bring votes today.
The media face the same predicament now. Do they pander to their women subscribers and draw a discrete veil over the gruesome details of the Gosnall trial, or do they do what they normally do in the face of gory details and murder trials – swarm en-masse round the Philadelphia court room breathlessly repeating every blood stained detail of severed feet in jars and snipped necks, on the hour, every hour?
Confronting the masses with the news that abortion is not the sterile 'are you going to pay for it or shall I?' procedure beloved of the soap operas is a real ideological dilemma for them. They are dealing with it by hiding behind irrelevant stories of Wizard of Oz tunes suddenly topping the charts. Martin Brunt with his characteristically hesitant delivery – 'I'm not sure if I should be saying this, but I'll tell you anyway' – pontificating on the security buildup for Margaret Thatcher's funeral being down to a couple of hundred anarchists 'who may be' planning a demonstration, whilst ignoring the reality that every important political figure in the western world will be there, and the security might just be for their benefit!
Brunt should be in Philadelphia, that's where the real news is. Why he isn't there is just as worthwhile a story.
Edited to add: I am indebted to commentator BenSix for giving me a link to the graphic I have added. 'Reserved seats for the Media Yesterday…..' says it all really.



April 16, 2013 at 04:20




April 14, 2013 at 18:00









April 14, 2013 at 17:36







April 13, 2013 at 11:38




April 13, 2013 at 05:37







April 13, 2013 at 04:43







April 13, 2013 at 17:30







April 14, 2013 at 13:51




April 13, 2013 at 02:57




April 12, 2013 at 20:21







April 12, 2013 at 18:57







April 14, 2013 at 22:23




April 12, 2013 at 17:10




April 12, 2013 at 16:47












April 12, 2013 at 14:40







April 12, 2013 at 13:24




April 12, 2013 at 13:18







April 12, 2013 at 12:56







April 12, 2013 at 12:52







April 12, 2013 at 12:43







April 12, 2013 at 12:31







April 12, 2013 at 12:26







April 12, 2013 at 11:41




April 12, 2013 at 11:40