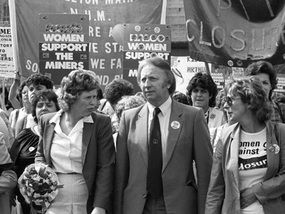 I understand that at certain "street parties" held to "celebrate" the passing of the late Lady Thatcher one of the songs of choice was "Ding, dong, the wicked witch is dead." As others have observed, many of the charming, upstanding individuals who attended the gay events were not even born when Thatcher came to power. Why was she so hated? Why does this persist?
I think the first reason is very simple. She broke all taboos by being a woman. She emerged from a world dominated by the male Old Boy Network in Parliament and on the wider political stage. The heavyweight union bosses who wielded power over much of the country like so many latter day robber barons were not moisturizing metrosexuals. They were a largely Marxist bunch of middle aged, heavy hitting chauvinists. Neither the comfortable, old school and discredited public school boys of the Right who had been content to let the country stagger to towards a lingering, less than genteel obscurity, nor the Left's bully boys of the Politburo-in-waiting looked well on this alien, active, female persona who was willing to challenge their entrenched interests.
But that alone does not explain it. I think part of the answer lies in the cross fertilization of "feminism" and left wing ideology.
One of the nastiest intellectual habits of the intellectual Left is that it prescribes set political agendas or menus which must be followed by rote or diktat, and in full. If the first course is the emancipation and equal treatment of women, the main course must be a smorgasbord of left of centre, politically correct social attitudes. Any deviation from this norm, and from this prescribed package of values and policies provokes a "moral" outrage which requires the vilification of the "deviant" who has strayed from orthodoxy. That vilification can often be carried out with all the zeal of a medieval religious fanatic confronting a so called "heretic", that is someone who had the temerity not to follow God's will as revealed to the zealot.
Therefore, so much greater the ire and rage of the Left that the first woman in the Western World to become leader of her nation did not wear an African style turban whilst dancing and whooping round Greenham Common airbase, singing Joan Baez songs. She was a tough, no nonsense, plain speaking woman from middle England clad in twin set and pearls. She was the kind of woman who would, if given the chance, treat public spending in the common sense way she would manage a family's finances, who would stand up to the menace of the Soviet Union and whack errant French euro-apparatchiks with her hand bag. To coin her own famous phrase, No! No! No! This did not fit the Leftist feminist agenda at all. This still so irritates the feminist Left that it either ignores Thatcher, or demonizes her as not really a woman, but somehow a proxy man, something which has been done to many woman of history who had dared to raise their voice in a man's world. Listening to a discussion with Thatcher's recent biographer Gillian Shepherd today, Shepherd pointed out that in the past year or so there had been something like 60 books on feminism published in the United Kingdom. Almost none of them made reference to Margaret Thatcher, and where they did so it was in uniformly negative terms. Yet it is hard to appreciate the sheer scale of her personal breakthrough at a time when it was still unusual for a married woman to have their own bank account, single women struggled to get mortgages, and the less than 3% of university lecturers were women.
Listening to another interview with Ann Widdicomb, the hapless interviewer put what he seemed to think was an important point: couldn't Thatcher have done more to promote women in her government? Widdicombe treated the question with brutal disdain worthy of Thatcher. Thatcher was not in office to promote women, she snapped. She was in office to turn the country round and deal with immense problems. Heresy indeed!
She committed another crime in the eyes of the intellectual Left by going to war, and worse, winning a clear and decisive victory. This was reactionary, and contrary to the prescribed script of decline and defeatism. I often encountered this attitude abroad. I remember being lambasted by a young Swiss man who decided to vent his opprobrium about Britain's inexplicable and wholly unreasonable behaviour given Argentina's lawful and friendly taking back possession of the "Malvinas". Given that this young gentleman hailed from a country which remained steadfastly neutral as the legions of Nazi Germany swept both West and East, I thought it was probably a bit pointless to discuss the merits of taking a stand against military regimes which stamp control on populations at the point of a gun. But to me and most people at the time the Falkland's issue was and is entirely clear. A military Junta sought to impose its will by force on a free people under the British flag who did not want their rule. That required and justified a military response. It was the very epitome of the Augustinian concept of a just war. In many ways it made her; I think she would have lost the subsequent election without it, and Britain was blooming lucky to win, but it woke in Britain a new sense; a sense that we had not completely lost all touch with an illustrious past. That we were a nation, and that we were no longer a joke. That we had a woman who could change things, a leader. The Left disliked all of this.
Thatcher's next crime was to threaten revolution. She threatened the Establishment. That Establishment comprised of both the failed and impotent grandees of the Right, and the dreary, defeatist, and pacifist intellectual consensus of the Left. Both parts of this consensus are in fact deeply snobbish, and Thatcher was their very antithesis. Not only a woman, but a woman from a background which was truly horrific, the petit bourgeois lower middle classes. And she embodied the views, tastes and attitudes of those classes. She was a walking, talking, Daily Mail brought to life. Thatcher was by birth, experience and necessity a meritocrat and on the side of the little man with a shop, or the worker who might want to own his own home. Neither the privileged elite of the Right and the Left (think "Tony" Benn) could bear this. It challenged the deep rooted paternalism which required the serfs to know their place, and stay in it.
Then there is the constant charge that she "wiped out" whole industries and blighted communities. Thatcher had the fortune or misfortune to arrive at what I would contend was the inevitable dénouement of the Industrial Revolution. From its heydays of the Victorian era, the dynamic of the British economy had stagnated, or remained in not just an industrial but even more importantly a psychological straight jacket. In terms of the actual viability of many heavy industries, whole sectors such as coal and steel were in many ways simply not viable in their then state. Anyone who had the misfortune to own a car manufactured by the "master craftsmen" of what was called British Leyland could attest that the quality of much of British manufacturing was shoddy to the point of embarrassment. I had to drive an Austin Allegro once, so I know.
This presented and continues to present an enormous structural problem for not just the economy but for whole communities which had been built around and depended on these strategic, but doomed industries. I can well see that there could be differences in the management of change, that perhaps more could have been saved here and there – but in the macro economic and social sense, large communities such as the mining towns and villages of Wales and South Yorkshire had become wholly welded to these industries which I would argue were, like the mammoths of old, about to come to terms with oblivion in a changing world. Taking the long historic view, World War II was still relatively recent memory, and had artificially preserved these industries for a few decades more. This could not last. But the times were changing. New industries, technologies and nations were beginning to emerge. It was, in other words, the beginning of the end for the mammoths. The only question was how long it would take for them to die out.
Britain is a highly tribal, class conscious nation, and its working class traditions and outlooks often tend towards stasis. There is an old saying about the difference between Britain and America and can be illustrated thus. A British miner and an American miner were having a chat over a beer.
The British miner says: "I am a miner. I am proud to be a miner and I have worked hard all my life. I want my son to be a miner like me."
The American miner says: "I am a miner. I am proud to be a miner and I have worked hard all my life. I want my son to be an engineer/doctor/wall street trader" [add aspiration of your choice].
In short, whilst there were no doubt admirable values to be had in no doubt hard working, close knit communities, these generated communities also fostered an insular culture, highly tribal, resolutely and determinedly working class in their allegiances and attitudes, and unable to change. I suggest that these communities were the product of generations of social conditioning derived from social patterns set in the rather brutal furnace of the industrial revolution. In these communities there were not only valuable and laudable virtues of community and hard work, there were also less attractive attitudes such as a culture of belief in entitlement, narrow mindedness, and an entrenched belief that they were entitled for these industries to exist, and to be supported by the State if necessary.
I would argue that they were doomed. To take an example, I heard a woman from Liverpool berating Thatcher today for having "destroyed" her city and ruined her family. But you only have to walk around today with your eyes open to see the problem. Liverpool is a port. Its trade with the world brought in vast riches and shaped and created a city with magnificent buildings. But today the docks are empty. There are no trading ships. Trade has changed. Trade has gone elsewhere. Thatcher did not destroy Liverpool. In a sense, Liverpool's reason for existence ceased.
Thatcher refused to accept a form of eastern European model in which one of the main functions of society was to glorify and maintain heavy industries which were inefficient, loss making and ultimately beyond salvage. She refused to follow that model, and the results were what they were.
With her twin set and pearls, clipped diction, lower Middle Class persona and frankly blunt and sometimes confrontational attitude, Thatcher was not just an instrument of doom, but the incarnation of all the class attitudes these communities could not understand and loathed. She was the perfect hate figure upon whom the anguish of industrial and social extinction could be focused.
That brings me to the biggest "crime", the Miner's Strike and taking on the unions. The Miner's Strike was a hard time and its confrontations and divisions still echo. But I suggest that Thatcher's approach and attitudes to the strike and indeed to Trade Union reform as a whole have to be understood in context. I remember the earlier Miner's Strike in 1972 and the power cuts that went with it that had reduced the Heath Government to impotent irrelevance. I remember the IMF having to bail Britain out. I remember 1978-79 and the Winter of Discontent. I remember the rubbish piling up, fuel shortages, bodies going unburied as the gravediggers refused to turn up. I even stood on a picket line myself. I remember the 98 per cent tax rate.
I will not be far from the only commentator to make the point, but by 1979 there was the sense that Britain might fade into total collapse like some once gloriously beautiful woman, now wracked and impoverished by alcoholism and dying a quite unmarked death of an unknown tramp in a back alley, soaked in her own urine. That is what living in Britain felt like. I will add that there is another school of thought, which is that if things got much worse, Britain might have convulsed into armed revolution not of the Left, but a putsch by the Right, and a truly authoritative Fascist regime take power.
Thatcher's remit, mandate, conviction and overwhelming achievement was to take on this challenge and reverse decline. It was a Britain in which the brutal and Luddite, Marxist Unions stood as an apparently all powerful, unchallengeable, entrenched and militant interest group which was a direct challenge to democratic rule. It was a Britain in which all sense of ambition and hope was being slowly throttled. Britain was slowly turning into Albania.
Politically, in stark terms it came to whether the country was to be run by the elected government of the day, or by the Unions. From the perspective of a political historian my view is that the Miners' Strike had less to do with the economics of the coal industry, and more to do with a set piece clash between the mightiest and most militant Union of all, the NUM. I know the Yorkshire mining areas quite well, and have even had my dealings with some of the protagonists in that drama, and I have no doubt that the issue could with no great exaggeration be boiled down to this: who runs the country, Arthur Scargill, or the elected government? The clash was, to use the word Marxist theory loves so much, "inevitable." Scargill looked for it, wanted it, and miscalculated. Thatcher foresaw the clash, and after backing down once, made preparations and stood firm. I suggest that however nasty some of the incidents of that clash were, any other result but defeat for the Union and the miners would have presented a clear and present threat to the democratic institutions of the country. As I say, I have had some involvements with the area, and I will only say Arthur Scargill is not a man you want to have running the country. Or, indeed, anything. Ever. Anywhere.
What was her achievement? Former MP and noted columnist Matthew Parris was a junior member of staff in her private office and put the matter this way. He said that Thatcher took on the dominant "intellectual" doctrine of the day, which was rooted in a belief in the long term decline of Britain, and on the Marxist premise that this was some inevitable historical process. Margaret Thatcher, he said, took the view that one person, with clear and moral vision and purpose could take on the decline of Britain head on and that we could take our destiny back into our own hands. That one person could change things. In doing so she again preached a heresy for which the left of centre intellectual establishment has never forgiven her.
She may have gone a bit barmy in the end. She probably lost perspective. I met her once, at a dinner in Manchester in 1993 which was part of her tour promoting the first part of her memoir, "The Downing Street Years". All sorts of people attended; the left leaning firebrand barrister of choice Michael Mansfield QC was on the next table. Her after dinner speech was something like 40 minutes long, delivered without notes. It was hugely impressive, clear, forthright, and combative and touched with humour. The standing ovation was extraordinary, with even Mansfield on his feet.
Readers may be amused to know that your author is not and has never been a card carrying Conservative. In fact, I was a founder member of that most muddled headed mix which was called the "Social Democratic Party". With that in that context I heard a very balanced appreciation of Margaret Thatcher from David Owen, by far the most sensible of the "Gang of Four". He found her judgment of many social issues and the consequences on social policies often flawed, but as to the necessity to fight two wars, one external against military aggression and one internal against Union aggression, he was generous and positive in his praise.
I think Margaret Thatcher, for all the faults she may have had, had a courage, directness and genuine sense of conviction which I simply fail to identify in politicians of today. She had more balls than Blair, Brown, Cameron, Clegg and Miliband put together. If she was tough, maybe she had to be. If she was ruthless, maybe she had to be. She was of her time. She changed Britain's perception of itself. And for that she will be both loved and hated, probably in equal measure.
Sigillum
April 13, 2013 at 19:15











April 13, 2013 at 16:20







April 13, 2013 at 21:47







April 13, 2013 at 13:32







April 13, 2013 at 11:10







April 13, 2013 at 11:49







April 12, 2013 at 20:55










April 12, 2013 at 20:47







April 12, 2013 at 18:26












April 12, 2013 at 11:18




April 11, 2013 at 16:22







April 11, 2013 at 16:06









April 11, 2013 at 16:01




April 11, 2013 at 13:42







April 11, 2013 at 13:50




April 11, 2013 at 13:35










April 11, 2013 at 15:50












April 11, 2013 at 07:57










April 11, 2013 at 14:11




April 11, 2013 at 18:52




April 10, 2013 at 23:07







April 10, 2013 at 22:05







April 10, 2013 at 21:55







April 11, 2013 at 00:19




April 10, 2013 at 20:49




April 10, 2013 at 19:51







April 11, 2013 at 14:23




April 10, 2013 at 19:46




April 10, 2013 at 19:45







April 10, 2013 at 19:44










April 11, 2013 at 12:53




April 10, 2013 at 19:26







April 10, 2013 at 18:53







April 10, 2013 at 18:50







April 10, 2013 at 17:43







April 10, 2013 at 17:53




April 10, 2013 at 18:17







April 10, 2013 at 18:20







April 10, 2013 at 18:32










April 10, 2013 at 18:33




April 10, 2013 at 17:42










April 10, 2013 at 17:51




April 10, 2013 at 18:37










April 10, 2013 at 19:52







April 10, 2013 at 19:52







April 10, 2013 at 17:41










April 10, 2013 at 18:13







April 10, 2013 at 19:59










April 10, 2013 at 20:10










April 10, 2013 at 20:22




April 10, 2013 at 20:20










April 10, 2013 at 20:35










April 10, 2013 at 21:09




April 10, 2013 at 22:56










April 10, 2013 at 23:15










April 11, 2013 at 11:21




April 11, 2013 at 13:32




April 11, 2013 at 12:05







April 11, 2013 at 14:19










April 11, 2013 at 14:58







April 11, 2013 at 17:47




April 11, 2013 at 14:05







April 11, 2013 at 14:40












April 10, 2013 at 17:20