Wealth, Sex, Sin and Hell – what is Wrong with the Catholic Church?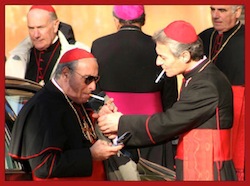 As a Roman Catholic, I mentioned  to our learned editor Anna that it might be a good idea for me to make some observation on the appointment of the new Pope. She kindly agreed. I had, after all, enjoyed following the whole process enormously. I like the "Da Vinci Code" style mystery and plotting, the history, the pageantry, the eccentricity, and the beautiful setting. But as a tried to do so I soon found that I had to address wider issues with the Catholic Church, and its theology, philosophy and practices. In fact, I began to find this a daunting task, and a slightly worrying one as I do not want to upset some of those I know who are also Roman Catholic with my views, which are, shall say, not altogether orthodox. But here goes.
I should start out saying that if there are – as I would assume there must be – readers who have antipathy towards the Catholic Church itself, or organised religion in any form, I would understand that at once. If I was called upon and minded to do so, I could trash the Catholic Church (and a few other religions) with a few brutal lines. I could simply describe the obvious irrationality of being a member of an institution which, on no scientifically demonstrable basis, professes to guide the behaviour of more than a billion people, in the name of what I believe is traditionally referred to on Twitter as "the Sky Pixie". I could point to endless intolerances displayed, cruelties done and wars fought in the name of  Peace by religions of all sorts. I might suggest, as the late author Douglas Adams often did in his "Hitchhiker's Guide" book, that any form of religion which involved the necessity of an innocent man being nailed to a cross was at best undesirable. I argue the case for the hypocrisy of an institution which asserts that it cares for the poor, and yet seats itself in the sumptuous, imperial magnificence of the Vatican City. I could describe a cabal of self serving old men, not themselves democratically accountable, electing one of their own to rule this empire. I could talk about sexual abuse. And some, indeed a lot of that, would be true, put that way. I am not blind to any of it. So please don't switch off. But I remain a Catholic, and there are good and kind men and women in the Church, doing their best to make the world a better place. The question is: is the Church helping them do that as it should?
So what then of the new Pope. Francis I, formerly Jorge Mario Bergoglio?
Well, so far I have been reasonably charmed. I never warmed to his predecessor.  I don't know why, but I had a bad feeling about him. All that learning and theology is very nice, very impressive, but not necessarily concomitant with genuine compassion – or insight. And then there was that uneasy feeling that he had previously been tasked to investigate the sex abuse claim but had not exactly been keen to act to do so.
The new Pope is, of course, from the order known as the Society of Jesus – a Jesuit. For those who don't know, the Jesuitical Order has a reputation for intellectual rigour and a militant, even slightly military attitude. They are a bit "hair shirt", the Jesuits. There is that well known cliché that they are "the Pope's Storm Troopers", although I have heard from "Vaticanistas" that they may often be regarded of late as more hard-line than even the Papacy on some issues, such that they have become "the Pope's Official Opposition".
Anyone who has ever played a game of Rugby against a Jesuit orientated school such as Stoneyhurst that you are not going to be facing the milk of human kindness. In fact you will be facing well drilled, and probably quite dirty and fanatical violence. I well remember attending a mission at my local Church when I was a young man, conducted over a week with a Jesuit, a certain Father Edwards. He was very much in the classic Jesuit mould, a rather handsome man with the bearing of a war weary paratrooper captain, He impressive, a far cry from the insipid priests who usually droned on of a Sunday; as to which see further below. I recall too that during the course of my sacrament of Confession with him he observed that I was a much better and even holier young man than I gave myself credit for. Cunning Jesuitical psychology? The well known axiom attributed to the Jesuits is "give me the boy and I will show you the man". Or foresight? Perhaps both; there is, in fact, a slightly harsh and possibly Jesuitical edge to my approach to life on many issues. In the end I am not sure I could put up with the strictness of the order. But I liked Father Edwards a lot.
Despite that Jesuitical background, the new Pope seems personally a great deal more charming than previous Pope. I like the stories I hear about him refusing to ride in limousines and taking public transport, and even when elected Pope picking up his own hotel tab. I like what I hear about his care and devotion to the poor and the needy such as victims of AIDS, which can't have been easy. I very much approve of the choice of Papal name, Francis. St Francis was a deeply  insightful man, and his love of animals commends him to me more than many other of the Church's notable figures of the past. But he is 76, and a conservative on many issues. I don't think there is going to be a lot of change. Perhaps from the insider's point of view a safe pair of hands.
Now, as perhaps hinted at above, I am not blind to the faults of Holy Mother Church. Indeed, as a young man it was an institution which actively sought to thwart my education by doing its level best to block my path to a well known and celebrated Grammar School and force me to the local and (surprisingly for the Church) poorly run Catholic "Comprehensive" which had a reputation for low achievement, poor discipline and extreme bullying of "nicer" kids. I haven't forgotten that, and I never will. In truth I attend Mass not because, but despite, many of the aspects of the Church. I am comfortable with the ritual, and find meaning in its familiarity and consistency, which sometimes I have to disassociate from the often well meaning but intellectually challenged person nominally in charge. Readers will have picked up a touch of intellectual arrogance from that last line. It was quite intentional. But I digress.
Anyway, the certainty and beauty of Mass is something which allows me to feel that I have been a part of something which has something sacred and mysterious about it. Mystery may be a pointless intellectual tool from a logical positivist's point of view, but I don't care. So, technically, are emotions such as surprise and awe and joy. It works for me. I therefore find it useful, and valid.  A while ago, I visited our learned editor Madame La Raccoon in France, and attended Mass in the simple but beautiful old stone village Church at 8.00 am of a Sunday morning. Although I do not speak very good French, I felt perfectly at home and at peace, in a bond of unity with other souls of all ages, at peace and making my own communion with God. I could tell exactly where I was and what stage proceedings had reached. It was all rather beautiful.
Be that as it may I noticed this morning that the Holy Father has said that he wanted a poor Church for poor people. Now, that sounds rather lovely and humble and holy, but it is at that point I start to diverge, and my intellectual differences with the Church start to emerge. Let me try to explain.
When I was a little boy growing up I would be dragged to Church of a Sunday morning by my devout and loyal parents. Our parish priests tended to drone on about stuff, which all seemed to be quite meaningless, anodyne and even pointless to me. Jesus was nice. Let's all be nice. It is good to be nice. And loyal to the Church, of course. Always that. The only good point about these expeditions was that I got to see Anne, the girl I had had a crush on at primary school. We were always the stars of the School nativity plays. She was the beautiful girl with golden hair and an angelic voice, so she was always cast as Mary. As I was the only one who could read properly, I did the narrations. But I digress again.
Even at the time, there seemed to be no practical point to this ritual other than blind loyalty and rote, and being able to look longingly at Anne. What I was hearing did not seem to have any practical relevance at all. What knowledge was being imparted of any practical use? Indeed, it was worse than that. Whether consciously or unconsciously, the message being preached seemed to be as follows: the world is a sad place, not a nice place. You are poor. It is OK to be poor, even good to be poor. You will get your reward in Heaven!
Now, as a quinquagenarian with a mind of my own and having spent a great deal of the past decade in the study of history, philosophy, religion, and theology, I have come to the conclusion which many readers who will have spent that time more practically engaged whether in the pub or gardening would reach in about two shakes of a donkey's tail.
It is absolute bunkum. I would actually say that it is practically, philosophically and theologically bunkum. But I suspect we would get to the same point.
I think the author, speaker commentator and high authority on a remarkable psychological work known as "A Course in Miracles" Marianne Williamson puts the matter this way. Any religion or philosophy which professes no practical application or benefit to problems and issues in this life and merely offers deferred rewards in the unknown hereafter is not really worth bothering with. It has no useful functionality. And to take the matter one step further, in theological terms it is actually, I suspect, technically incorrect. In my library I have a gentle little book called Prosperity Secrets of the Ancients, by a Methodist Minster, Catherine Ponder. In it Reverend Ponder analyses the Old Testament and explains a lot of the symbolism and metaphors being used. As she points out, in the culture of the Middle East then and even now metaphor is commonly used rather than direct communication. Ponder suggests that a great number of the metaphors and stories are intended to evoke attitudes of positivity and exhortations to go forth and prosper magnificently – with God's blessing and help. To put the matter in a more neutral way, that "the Universe", correctly understood, is trying to fill your life with abundance and prosperity. We are equipped with the psychological tool box which allows us to work with that power, but we have to learn how to use the tools.
In fact, it struck me the other day that many of the miracles of Jesus Christ described in the Bible are about, if not money, then more significantly, about abundance, about having more than enough.
We could, at this moment, pause to debate the nature of wealth. People have a tendency to equate wealth with amounts of money. It is not always the same. There have been times in my life, as when I was a student, when I have had very little money, but a magnificent and fantastic carefree lifestyle. At the moment I have a very high income but I am burdened by debt and commitments into which I was lured by someone who betrayed and abused my trust. My lifestyle is awful.
Now, if the dreary Parish priests had preached a message about having faith in abundance of God, or the Universe, about how the human spirit cannot be contained, about how faith can help overcome adversity, about joy; these would have been useful psychological or spiritual tools for life and meeting its challenges – you can take them either way, and perhaps it matters not whether you look  at them with through either secular of non secular glasses.
But to my ears they preached a message of material poverty which was actually a reflection of spiritual poverty; a passive acceptance that nothing can change. That is practically, philosophically and "spiritually" misconceived.
I think it is for this reason that many Catholics I know, including myself, have real difficulties with simply being happy, and accepting that it is OK to be happy. I have not touched on the issue of guilt, but it is psychological tool which the Church deploys with aplomb.
What is psychologically correct is spiritually correct, and vica verse, and the converse is true. If you believe in a gentle and loving God, he would and could not create spiritual laws which would be a cross purposes with our real psychological well being. Living simply and free from too many cares is psychologically and spiritually sound. Living in abundance where there is more than enough to go round is again both psychologically and spiritually sound, and even better. Working solely for money is a psychological and spiritual dead end. And being in want, without abundance and with lack of fulfillment and waiting for some unknown reward after death is psychologically and spiritually unsound. As the saying goes, "I have been rich and I have been poor; and rich was better".
I mentioned above the possible incongruity of the magnificent surroundings of the Vatican in the election of a spiritual leader. But consider the matter from a different matter. What better place than somewhere that is a magnificent testament to what man can do with his God given talents when he uses them? So I have no problem with that. But to validate that magnificence the Church must be engaged in spreading that magnificence into the daily lives of men and woman throughout the world, to help us all make our own experiences magnificent and a tribute to and expression of the Divine. Or just to be fantastic, if you like.
The Pope's emphasis on humility is laudable. Humility is a virtue. As is quiet self confidence, which quite compatible with it, and is also a virtue. But with his emphasis on poverty I suggest the Holy Father is mistaken. I listened recently to a talk from the well known "New Age" guru, Dr Wayne Dyer. I would not agree with all that Dr Dyer has to say, but then as is apparent from this piece I don't always agree with other people say, even priests or Popes of my church. But in it he said something very simple but perfectly sensible. He said you can't make someone happy by being unhappy yourself. No matter how unhappy you get, you can't make them happy by doing that. And you can't make someone well by getting sick yourself. And so it is with money.
As it happens, despite my difficult circumstances I help someone who is struggling to find a job. Just little things like help with petrol to let this person get to interviews and so forth. Now, I can't do that if I am poor. If I have abundance of money, I can help this person more. I can help other people too. I can help them improve their lives. I can be a philanthropist, or a saint: you choose the label. It does not really matter to me.
So we don't want a poor church for poor people. We want a wealthy Church which is able to help people out of poverty into material and spiritual abundance. It is a subtle difference. Sort it out, Francisco.
If anyone still has the will to live, I will perhaps pen part 2 of this post and deal with topics which the Church needs to address: sex; the child and sex abuse scandal, and the rise of militant Islam.
Here endeth the lesson.
Gildas the Monk 
 So then, as a selfish, old fashioned, slightly cynical, semi detached semi Jesuitical mixed up Catholic, what do I think of the new Pope? Does the Papacy even matter?
 Edited by Anna to add: Picture cheerfully filched from Dick Puddlecote.
Alexis Marlons
March 20, 2013 at 02:35

belinus
March 19, 2013 at 11:25

belinus
March 19, 2013 at 11:02

Moor Larkin
March 19, 2013 at 11:27

Illiterate Prat
March 19, 2013 at 13:06

Anna Raccoon
March 19, 2013 at 13:09

belinus
March 19, 2013 at 14:29

Anna Raccoon
March 19, 2013 at 14:35

MTG
March 18, 2013 at 12:59

Odin's Raven
March 18, 2013 at 12:56

Sam Smith
March 18, 2013 at 12:54

belinus
March 18, 2013 at 10:39

miss mildred
March 18, 2013 at 10:19

Jim
March 18, 2013 at 06:19

Bill Sticker
March 18, 2013 at 04:15

Peter Melia
March 18, 2013 at 00:11

Dioclese
March 17, 2013 at 21:31

Griffin
March 17, 2013 at 18:58

Therealguyfaux
March 17, 2013 at 17:58

Moor Larkin
March 17, 2013 at 20:20

Therealguyfaux
March 18, 2013 at 09:20

Moor Larkin
March 17, 2013 at 17:51

Elena 'andcart
March 17, 2013 at 17:44

Strategicdata456
March 17, 2013 at 17:15

miss mildred
March 17, 2013 at 15:40

drsolly
March 17, 2013 at 14:24

belinus
March 17, 2013 at 14:42

drsolly
March 17, 2013 at 14:17

Jonathan Mason
March 17, 2013 at 13:56

belinus
March 17, 2013 at 14:06

Mudplugger
March 17, 2013 at 17:58

alan scott
March 17, 2013 at 19:07

belinus
March 17, 2013 at 19:20

Elena 'andcart
March 17, 2013 at 19:26

Jonathan Mason
March 17, 2013 at 15:19

belinus
March 17, 2013 at 13:45

belinus
March 17, 2013 at 15:13

miss mildred
March 17, 2013 at 13:32

Illiterate Prat
March 17, 2013 at 13:38

belinus
March 17, 2013 at 18:00

robbo
March 17, 2013 at 13:11

Illiterate Prat
March 17, 2013 at 13:25

belinus
March 17, 2013 at 13:07

belinus
March 17, 2013 at 14:11

robbo
March 17, 2013 at 12:58

Moor Larkin
March 17, 2013