Starve the BBC and Other Savile Initiatives.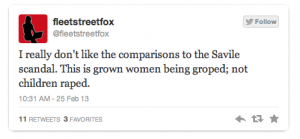 A while ago, someone drew my attention to a Tweet from @fleetstreetfox regarding Lord Rennard. I was quite shocked at the time, for Susan Boniface has said that the reason she took up the 'anonymous identity ' of fleetstreetfox was to allow her to write of things that might have caused a problem in her day job as Mirror journalist. Now I can quite understand that the tabloids are all under orders to follow the party line on Savile – 'definitely' Britain's worst ever paedophile, despite a startling lack of evidence – but this was an anonymous comment apparently buying into the party line that Savile 'raped children', a claim that had only previously appeared in the uncontested Yewtree allegations.
Quite by chance, last week one of those 'child rape' allegations made it into the harsh light of day, in evidence given 'under oath' no less. We haven't seen anything that substantial in the entire Savile saga so far – unless you count Fiona Scott-Johnston giving a statement 'under caution' at Staines police station, which I seriously hope is a misunderstanding on the part of the woman described as devious and manipulative by Meiron Jones and other Newsnight researchers, for the only reason that a 'victim' might be required to attend an interview under caution would be if they were suspected of having committed a criminal offence themselves, like perjury or conspiracy to waste police time, and that surely can't be a possibility?
This new and brave survivor of historic abuse had decided to publicly identify herself after 34 years of silence as Leisha Brookes, now aged 45. What a horrific tale she had to tell. At nine years old she was befriended 'by a cameraman' who she thought 'would make her famous'. She was taken to meet Jimmy Savile three or four times at BBC centre. For two years this nine year old was regularly encouraged to 'sit on the knee' of 35 other men at the BBC. Or maybe the 35 'other men' were seen on the three or four occasions she also saw Savile. That's nearly nine pairs of knees on each occasion, but however many pairs of knees were involved, it is difficult to see the evidence of abuse, or why Savile is singled out for naming in this shocking account – if there are 35 child abusers still alive, including the cameraman, why is the Sunday Express so shy of naming them? Surely they are not waiting for them to die, and be named and shamed like Savile? There could be children at risk right now!
Still, Ms Brookes hugged her secret to herself for 34 years, not telling her parents, nor teachers, nor even confiding in a friend, narry a phone call to child line, nor even an anonymous letter to the BBC warning them of the dangers lurking within; nobody noticed that this innocent child was being horrifically abused by being forced to sit on men's knees as the price of potential fame. The damage done was immense. Her five children were taken into care as a result of her mental health issues. Her life ruined.
Still she forced herself to watch the BBC, despite the terrible memories it must have brought back for her. The one thing she couldn't bring herself to do was to pay a TV licence. To give the BBC money after all that had happened to her was a step too far; three times in the past seven years she has been fined for not having a TV licence citing 'personal reasons' for her refusal to pay. Until last November when she finally decided to give evidence to Operation Yewtree. Savile was dead and she felt that she could safely disclose her ghastly secret.
Last Friday, she was back in Colchester court for the fourth time in seven years – failing to pay her TV licence yet again. This time she was prepared, the knowledge of all those other 'Yewtree' victims had given her fresh courage; the stunned magistrates listened in shocked silence as she explained how sitting on Savile's knee 34 years ago had wrecked her childhood and left her a broken woman who couldn't possibly agree to pay a penny piece to the BBC:
"I have always refused to buy a TV licence because I was one of the children that was sexually abused at the BBC." Miss Brookes went on to state that she had been abused by Savile and had documents in court proving that she had given evidence to police as part of Operation Yewtree.
'No matter what you fine me , I am not going to give a penny to my abusers from the BBC. I cannot pay the BBC or anyone connected with it.'
Personally, if it was me, I'd refuse to have a television in the house, rather than just to pay the licence fee; all those repeats of Top of the Pops must have reignited the nightmare. The article in the Express and the Mail detailing this story have attracted a rash of comments along the lines of 'starve the BBC, none of us should be paying those sorry abusers a penny….' which might prove a tad inconvenient for Ms Brooks.
See, if we all take this line and refuse to pay a licence fee, then her court case against the BBC for allowing her to sit on all those knees all that time ago, will come to a sorry end, on account of there being no money to pay the victims….
Still, she's suing the Savile charitable estate as well. I do wish she'd name those other 35 abusers though, a little thought for other potential victims wouldn't go amiss.
As it happens, I think a countrywide refusal to pay the BBC another penny would be an excellent idea. I will be outraged if licence payers money, which should be used to 'educate, entertain and inform' is used to pay compensation from an organisation which willfully allowed nine year olds to be taken to a workplace and sat on a man's knee. The compensation should come personally from the pockets of the executives, producers and researchers who allowed such a shocking thing to happen, it shouldn't be allowed to penalise the licence fee payers who had no control whatsoever over what was happening at the organisation.
Name the other 35 men Ms Brookes, and let's see some personal responsibility for what happened. They are still alive you say? Good, let's see them in court now you have your courage in both hands. You've proved you can give evidence under oath, take the next step. Protect other children!
March 16, 2013 at 12:25




March 14, 2013 at 00:57




March 13, 2013 at 15:12







March 13, 2013 at 14:00










March 13, 2013 at 10:56




March 13, 2013 at 02:05







March 13, 2013 at 01:20




March 12, 2013 at 23:55










March 12, 2013 at 22:39




March 12, 2013 at 21:24




March 12, 2013 at 20:24







March 12, 2013 at 19:15










March 12, 2013 at 19:49




March 12, 2013 at 21:36




March 16, 2013 at 12:44







March 12, 2013 at 19:08










March 12, 2013 at 19:42










March 12, 2013 at 21:45







March 12, 2013 at 20:16










March 12, 2013 at 21:40







March 12, 2013 at 18:31







March 12, 2013 at 15:00







March 12, 2013 at 14:35







March 12, 2013 at 17:09







March 12, 2013 at 14:30










March 12, 2013 at 14:20







March 12, 2013 at 14:15




March 12, 2013 at 14:11










March 12, 2013 at 14:11







March 12, 2013 at 13:50