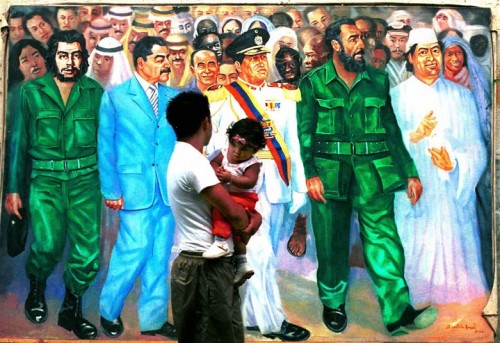 When I was a child, I found the obituaries page of one of the big American dailies — I can no longer remember which one it was, nor the person whose life was commemorated in words so striking and vivid, they remained with me ever since. I was, grotesque as that may seem, enthralled by the obituary. I was amazed by the fact that another man, one like whom I would aspire to become, has in his short time on earth – barely longer than six decades – accomplished so much. The obituary was for a physician, a father of three, grandfather of one, a husband, brother, uncle and godfather. Yet the words flow with the grace and dignity that can only be inspired by true love. He is grieved for, but more than anything, the authors of his obituary express how blessed they are to have known him. Sometimes, when I feel I'm getting cynical and despair about the state of the world, I recall this obituary, the kind and appreciative words, and that amidst all the human corruption and failings, it is possible to live a good life: loved by a few, admired by many, grateful for by all.
Whom we eulogise (and how we do it) tells the story of who we are. It tells the story of whom we remember, and what we feel worthy of remembering: courage, kindness, intellect, and above all, humanity. What, then, are we when our society eulogises those who perverted those values — who punished the courageous, murdered people for their kindness, waged war on his countrymen that exceeded him far in intelligence and made a mockery of humanity? What are we when we eulogise Hugo Chavez?
What are we, when people like Derrick O'Keefe, who grew up in the privilege of a world where no-one fears the secret police knocking down their doors, a world without labour camps and forced praise police, eulogise Chavez as an undefeated hero for depriving millions of ordinary Venezuelans of that self-same privilege. According to O'Keefe's childish diatribe, there is a conspiracy of the corporate media to paint him as an enemy of freedom. According to people like O'Keefe, Chavez's sin was not maintaining a regime of repression, but simply going against the ideas of Big Capital. According to people like O'Keefe, the pathetic eulogies of left-wing commentators making all kinds of excuses for the closest our generation has seen to evil incarnate possess the truth that the corporate media is hiding from us.
There is indeed plenty the 'corporate media', or rather the corporate-enabled left is hiding from us.
It has hidden from us the support Chavez gave to the homicidal regime of Frères Castro – a regime that repressed political dissent, incarcerated people with HIV and jailed and tortured dissenting political activists. It did so not by some magic iron curtain through which no information can pass, but by the the plenitude of equivocation that surrounds the assessment of Castro, and Chavez's complicity.
It has hidden from us the real face of Bolivarian socialism, a failure – albeit an aspirational one. It has hidden from us the power cuts that are now becoming an every-day reality in Venezuela, and which newspapers are no longer allowed to report on. It has hidden from us what lies amidst all the lauded statistics, applauding the reduction of the inequality gap but never paying notice to the immense rural poverty. It is comfortable to condemn a third of Venezuela's population to a life under the poverty line, as long as that poverty is dressed up in a sufficiently anti-capitalist rhetoric.
It has hidden from us the fact that beyond Castro, Chavez had sympathy for every and all mass-murdering fanatic, from Robert Mugabe (whom he called a freedom fighter) through Aleksandr Lukashenko (who presided over what Chavez called a model of a social state) to narco-terrorist lunatics FARC, whom he had all praise for.
It has hidden from us the fact that Venezuela's security forces, the shock troops lining the railings when Dear Leader speaks, regularly torture anti-government dissidents. It has hidden from us the fact that the best Chavez could come up by way of international verification of the 2012 elections was Jimmy Carter, a failure of a President desperately hunting for the tiniest scrap of political relevance like a heroin addict hunting for the next shot.
The Chavez fans are right. The corporate media has indeed misled us. In its mad scramble to save ground lost to political blogs that cater for the hard left, it has painted Chavez as a jovial South American archetype, a 'friend of the people' and a social reformer (and never mind the torture and police brutality). There is, indeed, a 'conspiracy' — one to paint our generation's most noxious fascist dictator as a populist hero, and in a sickening act of political necrophilia, use the fact that he just died to white-wash his blood-stained legacy.
If there is one thing to eulogise about Hugo Chavez, it is his keen awareness of the Western establishment of 'useful idiots'. Chavez knows that there is nothing he cannot get away with if he dons certain fashionable ideas. No police brutality will not find its fierce defenders amidst 'human rights advocates' in the West, as long as whoever committed it was sufficiently anti-imperialistic. No theft of a nation's oil reserves and squandering it on useless social programmes with no impact won't go uncriticised, as long as Chavez 'sticks it to the Man'. No complicity in, and support for, global terror is unforgivable if the motives were sufficiently anti-American.
The likes of Noam Chomsky, Derrick O'Keefe and Michael Moore — not to name some of the worst offenders! — have created a world in which mass murderers can be eulogised in words we reserve for cherished family men, a world in which youthful rebellion is hijacked to support the worst of repressive regimes and in which it is hip to wear a t-shirt emblazoned with the face of someone who herded homosexuals into prison camps, oversaw executions and personally carried out extrajudicial killings. We are desensitised against evil, because we have been told it's ok if it's the 'little man sticking it to repressive America'.
Two nations will mourn for Chavez tonight. South of the Equator, people will be lining the street, in anguish not so much about their dear leader's death, but whether they will — like North Koreans — face jail unless they express their grief in the most heart-rending of wails. North of the Equator, however, another nation will grieve: this one, fretting with the deeply ingrained terror of white guilt and fearing for their 'cred', the set that fills the columns of the Nation, Mother Jones and left-wing zines will engage in the strangest of mental calisthenics, trying to explain away the blatant human rights violations Chavez has committed on the 'counter-revolutionary cadres'.
Right after a flaming diatribe condemning Republicans for their support of torture for the millionth time.



March 9, 2013 at 02:18




March 9, 2013 at 00:19







March 8, 2013 at 17:47







March 8, 2013 at 02:07







March 8, 2013 at 10:03







March 8, 2013 at 00:03







March 7, 2013 at 22:23











March 7, 2013 at 11:13