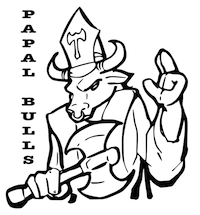 Our religious correspondent has sobered up for long enough to remember that last week he was sent copies of several job applications for the position of Pope, by a man claiming to be a Butler; at the time he was too pissed to appreciate their historical significance. A belated apology for their late publication.
Mr Hack is of the opinion that he may have left several more letters of a similar nature in the saloon bar of 'The Reluctant Pontiff' or possibly 'The Papal Bull and Tosh', he is believed to have spent considerable time in both establishments that night – if any reader has mistakenly picked them up and still has them, could they print the contents in the comments section please? I am particularly interested in the one from Mar
Damn these power cuts!
Dear Vaticant and Romanians,
Do please forgive me in making this letter what like letter this thing isn't it but what I am saying is that what I just said.
Anyway this vacancy what there is now that that Benedict Cumberbatch bloke has resigned – he was crap in "Sherlock," what was all that bollox about anyway – and this vacancy of Pope is one for which I as an elected formerly representative of the people well I would like to put my hat in this particular ringer.
I don't really have enough jobs and pensions – you see that is the problem with Murdoch and the press and they are all innit together with the police – so I wont to apply becoz I think I am very well prequalifiactionised and have lots of experience of High Offices, but don't worry about banging that secretary bird on the desk, oh the press got into me on that one. Bloody Murdoch, bloody Thatcher. I've had me phone hacked you know.
I feel that I can give total consistency that I am in complete and ineffective agreement with your doctrine of transubstantiationism, especially clause IV.
In fact the objectives shall remain the same and indeed that has been made clear in a speech I made yesterday that the objectives are clear and the one about the removal of Dan Brown that not something we have as a clear objective to implement but it is possible a consequence that will flow from the Taliban clearly giving protection to Dan Brown. I think the UN resolution made it absolutely clear that anyone that finds Dan Brown in that position declares themselves an enemy and that clearly is a matter for these objectives.
Anyway I don't have enough pensions and cars and pies and stuff like that at the moment and Hull, Hull, they turned me down for a big job recently, the bloody back stabbing traitors, in Hull, that is, and I want the job another job give it us but I need to me sure about how much I get a year. That Pope Mobile is no good either the misses wants another Jaguar, we only have the two. And that Italian food will have to go, I want pies.
I've had me bloody phone hacked, you know?
Yours,
The Right Honourable Lord Prescott
-.-.-.-.-.-.-.-.-.-.-.-.-.-.-.-.-.-.-.-.-
Hi Guys!
First of all my I pay tribute to the wonderful Pope Benedict XVI. He really is a, wonderful, wonderful man, and a close, close friend of mine. Really. I know that this may seem a tad hasty. Seem that way, but really its not. I really, really admire him, you know, and I am a pretty strait kind of guy, and you know that. But anyway, if I could just say that I am a proper Catholic now. I am not bigging myself up at all, but it does seem like Fate, doesn't it, when you look on it that way?
The thing is, not that I am putting myself forward, but Cherie (and she is a Catholic too) has been saying I have been hanging about the house a bit lately, getting on her tits (she didn't put it like that, natch!) and frankly there is not quite enough money coming in, so…well, you know?
I know being married seems like a problem, but Cherie is only my "wife" in a purely technical "legal" way, which doesn't matter, and I can promise that there is plenty of evidence that in 45 minutes, she wont be. Probably.
If you look at CV, you will see that not only am a Catholic, a law giver, a pretty straight kind of guy and a peace maker, but I am also always honest and Divinely Guided. In fact, I speak to God regularly. On my invisible telephone. He is a pretty good, guy, that God bloke.
I used to play guitar in a rock band, you know.
So, just two questions from Cherie. Do we get a private plane? And all those paintings and silver and gold artifacts. Cherie has a special place to keep them, so you wouldn't mind if she kept them safe for you, would you? Oh, and one extra thing. Those Swiss Guards. Have you ever thought about invading anyone? Y'know? It's really cool, invading people.
Yours, really, really sincerely,
"Tony" Blair
-.-.-.-.-.-.-.-.-.-.-.-.-.-
Dear Sirs,
I find myself currently contemplating a change of career, for reasons which I have accounted for, and which happened some time ago. I would like to apply for the soon to be vacant position of Pontiff.
I completely agree with and abide by all the Holy Mother Church's teaching, including those on abortion. I am scrupulously honest.
I must point out that in the event that I am successful I will not be able to fulfil my Papal Duties in person for the next few months, due to a forthcoming commitment.
Your sincerely,
Christopher Huhne, esq.
-.-.-.-.-.-.-.-.-.-.-.-.-.-
Guys!
I understand you need a new Pope. Just an idea; what about "Pope Idol". You know? It's got legs. Give it the big treatment on a Saturday night and maybe we can split the revenue from the phone votes? I don't want the bloody Louis Walsh on the panel though, he's a twat. Get your people to call my people, OK?
Simon
-.-.-.-.-.-.-.-.-.-.-.-.-.-.-
Dear CARDINALS, members of the most HOLY Papal Conclave
From the Sisters of Alternative Consolation, GREETINGS! May you be blessed and Divinely Guided by the Holy Spirit in your deliberations upon the to be elected BISHOP of ROME and Keeper of the Rule.
Can I just say. My SPECIAL FRIEND Gildas is a bit shy, so I thought I would put his name forward for him. And that incident with the "Strippagram" and the mop: it was all a MISUNDERSTANDING. I have quite forgiven him.
He would be like dead Totes Amaze, OMG good!
Looking forward to La Duce Ryvita soon!
Tra la laaaa!
In love and light!
Sister Eva Longoria
_____________________________________________________________________________



February 13, 2013 at 07:14




February 12, 2013 at 10:14




February 11, 2013 at 23:15




February 11, 2013 at 22:35







February 12, 2013 at 09:58




February 11, 2013 at 22:15










February 11, 2013 at 17:34







February 11, 2013 at 16:21