Happy Lays are here again!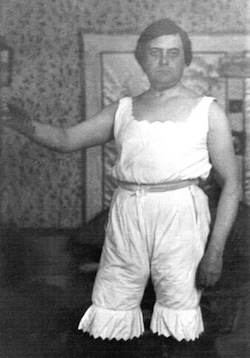 From the Sutton Guardian this morning we learn those those living in the comedic suburb of Sutton – all those mock-Tudor houses, privet hedges, manicured lawns and Margot Leadbetter look-a-likes in Hermes scarves and Wellie boots so beloved of the sit-com writers – are conducting the most joyous of sex lives. Who'd a thunk it eh?
Not the achingly trendy Range Rover driving, Conran interiored denizens of Notting Hill or Islington, nor any of those gritty Northeners with their appetite honed by stoking furnaces in a Dickensian Hell all day; not the Welsh, fresh home from sheep guarding duties, nor even the Scots with their curious garb designed to keep the crown jewels cool and ever ready for action – but the boringly safe, golf club wielding, Sunday car washing and hedge trimming experts.
The Spanish ambassador, describing London to the Queen of Spain in 1657, predicted that 'there would be no City left shortly, for it will all have run out the gates to the suburbs.' Heading for Sutton, no doubt.
We should have known, who could forget our own Libertarian parliamentary candidate, so cruelly lampooned by the Sutton Guardian in their 'balanced coverage' of parliamentary candidates as:
The website cites his hobbies as [..] "running across all eight lanes of the M25 at junction eight dressed only in a basque and a pair of Pretty Polly 15 denier stockings".
It seems that if you want an above average sex life, you should nab one o' they imaginative Suttonians.
Curiously, Sutton also came top of the poll as those who least felt that they were 'above average' performers in bed. And the meek shall inherit the moving earth…
Or perhaps it is just that those who can do, and those who can't talk…
*****************
Ms Raccoon is planning a short trip out of the aquatic wastelands of the Dordogne. A woman can have too much of riverside life, particularly when she lives smack in the middle of a ten acre field. I did hopefully suggest Sutton, but Mr G was adamant that it would be Marrakech. I admire his optimism, but personally I think he will be lucky to find a camel herder prepared to take me off his hands at all, far less part with their favorite camel, but you have to admire the man's determination to improve his lot at this late stage in his life….
With that in mind, do any of you have any particular recommendations for Riads that you have stayed in? Restaurants? Desperate Camel Herders?
******************
That picture of adventurous Sutton man does look extraordinarily like John Prescott doesn't it? Perhaps we should be told.



February 14, 2013 at 22:48







February 12, 2013 at 16:51







February 12, 2013 at 16:49




February 12, 2013 at 16:38










February 12, 2013 at 14:37







February 12, 2013 at 13:47







February 12, 2013 at 13:27









February 12, 2013 at 12:27







February 12, 2013 at 11:20




February 12, 2013 at 11:19




February 12, 2013 at 10:45