The Star of the Libel Courts.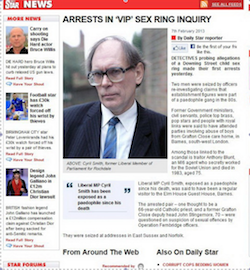 The cyber vigilante paedo-mob, charging across the Twitterscape with flaming torches held aloft, ever alert for the naming and shaming of a fresh celebrity (preferably celebrated for right wing political affiliations) were temporarily baffled by the early morning on-line version of the Daily Star.
The head line brought news to cheer them – 'Arrests in 'VIP' sex ring' – but the photograph turned glee to consternation. Could this weedy looking individual really be the famously rotund Cyril Smith? Had Cyril been disinterred, could this account for his pasty appearance? Perhaps the picture was mislabeled? Could it be the '66 year old Catholic priest' that the Star assured them had been arrested. Or perhaps the '70 year old deputy head of Grafton Close'. A Google search of the picture was called for to establish exactly who he was. The Google search turned up screen shots of the man's appearance on BBC. Raincoat? Shopping trolley? Certainly fitted the widely held perception of what a paedophile should look like – but who was he? More Google searches established that it was one Anthony Bennett, disgraced solicitor – and one time right wing politician. Politician for scarcely longer than that photograph reigned on the Daily Star.
Alert commentators soon informed the Daily Star of their mistake – this was no 'VIP' but a common or garden stalker and libeler. The Star didn't actually remove the picture – they left it in place and put the right story beside it. The one telling how Anthony Bennett was on that very day in the High Court himself – accused of being in contempt of court.
Now normal, everyday folk would be reaching for the telephone to call their lawyers if the Daily Star, or any other newspaper, portrayed them as that vilified figure, an arrested paedophile, however momentarily, but there is a twist in this tale.
Some years ago, the McCanns, parents of missing Madeleine, were forced to take Anthony Bennett to court for libel. Along with other high profile celebrity cases he has shown an obsessive interest in – Stuart Lubbock, Lee Balkwell, Tia Sharp; Bennett had set himself up as a campaigner for 'the truth' – his 'truth'. Always accompanied by the ubiquitous request to send small amounts of money and postage stamps to a suburban address in Harlow to help him fight the good fight…
In the case of the Madeleine McCann mystery, he had appropriated Madeleine's good name to form 'The Madeleine Foundation'. An organisation which the McCann's claim has harmed the search for Madeleine's whereabouts by continuing to relentlessly promote the idea that she is dead – and further that it was the parents 'wot dun it'. Now there may well be other people in the UK and elsewhere who are of the opinion that Madeleine is no longer alive, everyone is entitled to their private opinion – however there is a world of difference between holding a private opinion and portraying as FACT in published words that this is so. You might think that someone who once underwent legal training might grasp that difference, but apparently Bennett did not.
Time and again, Bennett sallied forth on forums in the darker recesses of the Internet and expounded theories as factual which the McCann's alleged were libelous. Eventually, after he had organised a leaflet distribution of these 'facts' to their neighbours, which involved skulking round in the bushes outside their home, they had had enough. They turned to the libel specialists Carter-Ruck.
Carter-Ruck were sufficiently convinced that Bennett's statements were libelous to take the case on under a conditional fee arrangement – contrary to popular opinion, it is not being financed out of the money donated to help in the search for real 'facts' regarding Madeleine's disappearance. Bennett took professional advice from the Wirral firm of Kirwan's, who pointed out that the only defence available to him was to prove the Madeleine's parents were indeed responsible for her death – something he was manifestly unprepared to do.
He chose to sign a legal undertaking with the High Court not to repeat the libels. According to Carter-Ruck, he has broken that agreement on no less than 26 libelous occasions. Hence his current appearance in the High Court for Contempt of Court before Mr Justice Tugendhat. Not for libel, but for breaking a solemn undertaking to the High Court.
Mr Bennett's defence so far would appear to be that any libels he may have 'inadvertently' committed were 'fleeting' and not 'widely publicised', and therefore shouldn't be punitively dealt with. Mr Justice Tugendhat's judgment on the matter has not yet been released.
Which is going to put him in an interesting position if he choses to take the normal course of action against a newspaper that 'fleetingly' and 'inadvertently' publishes a libelous innuendo. Bennett's own supporters have been freely distributing screenshots of the Daily Star's mistake all night.
Bennett v Northern & Shell, publishers of the Daily Star, if it ever was unwise enough to occur, could prove to be the ultimate case to exercise the minds of law students for years to come on the subject of 'clean hands' and all that.
*Declaration of interest (1): Bennett is one of the only two people I have had to permanently bar from commenting on this blog, such is his propensity for libel…
**Declaration of interest (2): Such is Bennett's 'interest' in the welfare of children and child protection, that I once had to bar him from another web site for posting information regarding a child murderer that would have derailed the entire case, potentially allowing the murderer to walk free.
***Declaration of glee: Bwa-ha-ha *gasp* bwa-wa-ha-ha….ho-ho-ho. Hoist Mssr, firmly hoist.
February 11, 2013 at 17:12







February 11, 2013 at 14:32







February 11, 2013 at 14:40




February 10, 2013 at 13:14




February 10, 2013 at 10:58




February 10, 2013 at 10:48




February 9, 2013 at 08:26










February 9, 2013 at 01:51







February 9, 2013 at 09:45







February 9, 2013 at 12:52




February 9, 2013 at 13:16







February 11, 2013 at 10:19










February 8, 2013 at 23:32







February 8, 2013 at 23:45







February 9, 2013 at
00:09








February 9, 2013 at 00:50




February 8, 2013 at 23:49










February 9, 2013 at 13:49







February 8, 2013 at 20:41










February 8, 2013 at 20:46




February 8, 2013 at 22:16




February 8, 2013 at 14:27







February 8, 2013 at 16:39







February 8, 2013 at 17:53










February 8, 2013 at 22:14




February 8, 2013 at 13:27







February 8, 2013 at 15:19







February 8, 2013 at 13:23




February 8, 2013 at 12:46







February 8, 2013 at 12:08







February 8, 2013 at 12:05




February 8, 2013 at 11:39










February 8, 2013 at 12:12







February 8, 2013 at 12:37




February 8, 2013 at 11:35




February 8, 2013 at 09:15




February 8, 2013 at 09:03







February 8, 2013 at 13:23







February 8, 2013 at 21:17




February 8, 2013 at 02:23




February 8, 2013 at 02:09




February 8, 2013 at 01:42




February 8, 2013 at 01:28







February 8, 2013 at 09:13




February 7, 2013 at 23:49




February 7, 2013 at 22:55




February 7, 2013 at 20:03







February 8, 2013 at 08:59







February 8, 2013 at 14:10







February 7, 2013 at 18:23










February 7, 2013 at 18:19







February 8, 2013 at 13:17




February 7, 2013 at 17:52










February 7, 2013 at 17:43







February 7, 2013 at 17:36




February 7, 2013 at 17:05







February 7, 2013 at 17:19




February 7, 2013 at 17:05







February 7, 2013 at 16:57




February 7, 2013 at 16:46







February 7, 2013 at 16:45







February 7, 2013 at 16:54




February 7, 2013 at 16:40







February 7, 2013 at 16:21




February 7, 2013 at 16:12







February 7, 2013 at 23:46







February 7, 2013 at 23:59










February 8, 2013 at 00:53




February 8, 2013 at 08:55










February 8, 2013 at 11:28







February 8, 2013 at 12:02







February 8, 2013 at 12:32




February 7, 2013 at 16:02







February 10, 2013 at 18:56




February 11, 2013 at 10:26




February 11, 2013 at 13:48




February 11, 2013 at 13:56




February 11, 2013 at 16:56




February 12, 2013 at 00:11