The Son that Eclipsed the Huhne.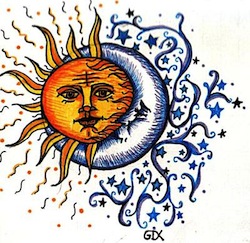 The towering ego of Chris Huhne, brought humiliatingly to ground in supplication at the altar of public opinion by his Son gives me no pleasure. I am no supporter of Huhne, his crimes against constituency and country at large are too numerous for that; I do feel immense sadness for his teenage son, however.
To be sitting your final exams at Oxford university, when your head should be full of the intricacies of the inner meaning of Godot, and yet your heart is so full of pain that you pen, not a superlative essay, but a text to your Father, bursting with impotent rage.
Leave me alone, you have no place in my life and no right to be proud. It's irritating that you don't seem to take the point. You are such an autistic piece of s**t. Don't contact me again, you make me feel sick.
And later:
Don't text me you fat piece of s**t.
'Fat piece of s**t'. It is the language of the anonymous Twitterer; those of us who dwell in the blogosphere see such phrases hurled casually several times a day, they have long since lost their ability to shock, or so I thought. But from a Son to his Father? It carries such utter contempt, such bridge burning finality, such fiery desire to lash out and hurt the recipient, that I was truly shocked, and saddened for the young man who must carry the burden of this hatred within him until, if ever, it finally burns out.
It was said at the week-end, that one sixth of Conservative marriages have failed since the last election. That this is somehow a reason why we should 'ease up' on our politicians, not focus on their personal shortcomings; take the spotlight off their personal peccadillos whilst they selflessly deal with the business of sending our sons to have their legs blown off in some fly blown desert.
I disagree; if a man can induce his son to loathe him so profoundly, he has no place telling the rest of us how to live our lives.
Rachael Sylvester in the Times this morning puts up a spirited defence of Huhne – she is a friend of his. It was, she says, a speeding offence 'that took place before he even became a politician' and he has 'paid an extraordinarily high price' for 'driving a bit too fast'. Not a bit of it, I have no doubt that the Judge will ignore his public position in sentencing him, and sentence him in the same time frame that he would sentence any other man or woman. Probably nine months in an open prison and then an electronic tag and the inevitable book deal…
Mr Huhne did not defraud the taxpayer with his expenses claims, accept bribes from lobbyists or get involved in an arms-dealing scam.
I find nine months in prison an extraordinarily low price to be paid for having damaged his family to the extent he has done.
Bryan Appleyard says that:
Maybe, just maybe, if we started treating these people with respect we might, in, say, twenty years, acquire people of substance at the top. It has to be worth a try.
We did, Bryan, historically we had great respect for our politicians; it was they who lost our respect with their sordid affairs with the interior decorator and their predilection for sex with added orange. Perhaps if they tried living their lives as ordinary, honest, men and women, in twenty years we might treat them with respect again.
The irony is that Huhne lost his licence anyway six months after 'driving a bit too fast' – for using his mobile phone whilst driving down the Old Kent Road. Here was a man who believed that laws were something he made for the little people. A man who lied to his colleagues, to parliament, to the country; a man who wasted acres of police time, paid for by the tax payer, investigating his lies. A man who saw no reason why he should be held to account for anything, least of all breaking the law. A man who campaigned for parliament as a 'family man', relying on their silence of what they knew of him, and then repaid them once he was safely installed as MP for Eastleigh by leaving them to fend for themselves whilst he ran off with his press agent and spinner in chief.
I doubt that he can rely on Carina Trimingham to support him financially, as his wife Vicky once did, when he tries to rebuild his life after prison. Her expertise was allegedly in presenting politicians in a positive light in the media. Given the press which Huhne has endured since he hooked up with the bisexual Ms Trimingham (who has her own track record of leaving partners in the lurch) any politician who hired her to conduct their publicity would need their head seeing to.
I only hope that Peter Huhne is able to find some peace and solace in having performed, so effectively, that age old rite of 'decking' your Father.
Truly a case of the Son having eclipsed the Huhne.



February 7, 2013 at 12:15




February 7, 2013 at 02:09










February 7, 2013 at 00:43







February 6, 2013 at 20:23




February 6, 2013 at 11:52










February 6, 2013 at 11:08







February 7, 2013 at 00:40




February 5, 2013 at 23:51




February 5, 2013 at 22:41




February 5, 2013 at 20:19










February 5, 2013 at 20:19




February 5, 2013 at 20:14







February 5, 2013 at 19:23







February 5, 2013 at 18:05




February 5, 2013 at 17:21







February 5, 2013 at 17:33




February 5, 2013 at 17:02










February 6, 2013 at 20:29







February 5, 2013 at 16:34




February 5, 2013 at 15:15










February 5, 2013 at 14:19







February 5, 2013 at 14:18










February 5, 2013 at 13:43










February 6, 2013 at 20:24




February 5, 2013 at 13:29







February 5, 2013 at 14:08







February 5, 2013 at 20:40




February 5, 2013 at 13:27







February 5, 2013 at 12:48