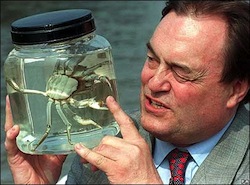 Some intriguing news from Hull.
They are to revive the ancient title of High Steward of Hull. The honorary post was abolished in 1974 as part of a local government re-organisation. Historically, the office holder was expected to act as a highly-placed lobbyist for the interests of Hull within central government in return for the honour of the title.
A condition of any appointment was for the postholder to be a Lord and a Privy Councillor.
Fortunately for Hull, they already have an ex-'steward' who is both a Lord and a Privy Councillor. Lord Prescott – or Baron Prescott, as the famously 'down to earth' ex-steward prefers to be known these days…
Curiously, they have overlooked him for the post, and offered it to the man he once described as a 'crab'. Lord Mandelson.
I understand that the Blairite Alan Johnson, MP for Hessle, is the man behind this offer of new titles and baubles for Mandelson's jewellery box.
Labour's internecine wars soldier on…
February 8, 2013 at 09:16







February 7, 2013 at 15:44




February 5, 2013 at 13:04










February 5, 2013 at 11:03










February 5, 2013 at 11:04




February 5, 2013 at 10:44







February 5, 2013 at 09:58







February 5, 2013 at 11:59







February 5, 2013 at 09:40