"Kill them all – God will know his own"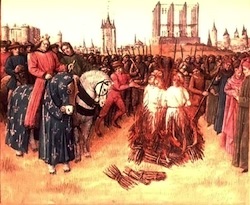 The words above are attributed to Arnold Amaury, a Cistercian Monk as he sanctioned the massacre of anywhere up to 20,000 largely innocent men, women and children in the provincial French town of Béziers on 22nd July, 1209. Whether he actually uttered these words is a bit controversial. What is not controversial is that within three hours a rampaging army/mob slaughtered every single inhabitant in the town. Their crime had been to refuse to turn over "heretics" in their midst; people of good character who were friends and neighbours, brothers and sisters.
A lot is made of the word "crusade" these days. It is a bit of a taboo, because it still raises high emotions in the Middle East, as the floundering George W Bush was to discover a few years ago. But not many people realise that there was once a crusade inside the borders of Europe, and that terrible slaughter and torture came in its wake.
A couple of years ago I picked up a book called "Labyrinth" by Kate Mosse. I believe think it was Miss Mosse's first novel, and it did very well. It is a sort of murder mystery thriller which is part set in 13th Century Languedoc in France amongst a "Cathar" community, and part in the present day. The whole Dan Brown "Da Vinci Code" genre has taken a whole set of Holy Grail related myths, legends and interpretations (or some truths, depending on your standpoint), many of which originate in or are closely associated with Languedoc, and repackaged them as popular fiction. I find Brown perfectly entertaining albeit poorly written throwaway holiday mush. Mosse touches on some of the history and mystery of the Languedoc and its "Grail" associations, but unlike Brown, she writes very well. The book evokes the beautiful but also mysterious and forbidding landscape of the Languedoc and has its own twist and turns, with a particular twist at the end, of which I shall say no more. However, I do recommend it for the intelligent reader who likes a mystery and historical fiction. And her follow-up, "Sepulcher", is very good too.
As I have mentioned, the book is in part centered on a "Cathar" community and their unhappy fate. Before I explain that, it is necessary to set out some introduction to Languedoc itself.
Languedoc is a province in central part of southern France, below the old and mighty medieval fiefdom of Aquitaine, with Provence and then Italy to the east and Aragon of Spain to the west.
Away from the coast the patchwork of fertile olive groves and vineyards gives way to rugged mountains such as the Corbieries. The chief city was and is Toulouse, but other towns include Montpellier, Carcassonne, Foix, Albi, Narbonne and the aforementioned Béziers
It seems that geological location and strong local traditions have always made the Languedoc a little bit of a maverick, independent place apart. The very name is significant, derived from "The Langue D'Oc" that is "The Language of "Yes". In the local dialect "yes" is not "oui" but the clipped "oc". It was also sometimes know as "Occitania" or "L'Occitanie" and other similar names, and the language or patois as "Occitan". In fact in the early Middle Ages the dialect of the Languedoc was probably closer to Catalan than classic French. I am informed, although cannot attest to it, that the modern Languedoc accent can be still quite far removed from the smooth tones of Paris. That is hardly surprising.
It seems that there is something of an "atmosphere" in Languedoc. It is associated with many myths and legends, one of the strongest being an association with Mary Magdelene and an alleged child of Jesus Christ. There are various versions of the legend, but one of the most common is that after Jesus' death Mary Magdelene fled to Alexandria where the child, a girl called Sarah, was born, and they lived until the child was 12, and thereupon they moved on to the Languedoc. In another version the Magdelene flees directly to the region and arrives "in a boat with no oars" – perhaps some obscure symbol or metaphor, but of what?
In any event, there is much folk-lore which connects the figure of the Magdelene with the region; it is argued by many, for example, that she is the inspiration for various "Black Madonna" shrines and icons particularly associated with the region. It is this association that ultimately gives rise to the concept of the "Holy Grail" being the "blood line" of Jesus, mysteries and conspiracy theories surrounding the village of Rhennes-Le-Chateau and its curious church, and ultimately the whole "Da Vinci Code" industry.
But I digress. In any event, in the late 1100's Languedoc was a pleasant and rather well off place, benefiting from its strategic position on the sea and on trade routes, and with a fertile plain by the sea. In his work "The Cathars" historian and author Sean Martin describes it thus:
"The Languedoc in the year 1200 was a society in remarkable flower. It was one of the most cosmopolitan and sophisticated areas in Europe: trade flourished in the great towns of Toulouse and Carcassonne, with Toulouse itself being only outclassed by Rome and Venice in terms of size and cultural life."
There was indeed plenty going on socially, with troubadours wondering about celebrating the new fangled notion of "Courtly Love". These 12th and 13th Century "pop stars" composed and sang ballads on various set topics. Previously in the rest of France poetry and song had been singularly martial. In laid back Languedoc, as with pop stars of today, poet songsters could be male (troubadours) or female (troubairitz), and they sang of unrequited love from afar, and sex, very often with an adulterous twist. Here is one effort from a lady songstress, a 13th Century "Rhianna":
I was plunged into deep distress
By a knight who wooed me,
And I wish to confess
For all time!
How passionately I loved him;
Now I feel myself betrayed,
For I did not tell him of my love
Therefore I suffer great distress in bed when I am fully dressed
Would that my knight might one night lie naked in my arms
And find myself in ecstasy
With me as his pillow!
For I am more in love with him than Floris was with Blanchfleur
To him I give my heart and love
My reason, eyes and life
Handsome friend tender and good
When will you be mine?
Oh to spend with you but one night
To impart the kiss of love!
Know that with passion I cherish
The hope of you in my husband's place
As soon as you have sworn to me that you will fulfil my every wish!"
Hot stuff! In short she wanted a good seeing to, as I understand it. But I again I digress…
This free thinking, rather racy and in some ways egalitarian society a religious phenomenon had become established, and they became known to popular history as "the Cathars".
The origins of Cathars are extremely problematical. I can trace some of the core ideas way back to Zoroastrianism and Dualism back to ancient Egypt and Persia, well before Christianity, but how this version of religion came to be refined and brought into a cohesive disciplined theology and spread is very mysterious, It seems that the theological origins of "the Cathars" was bred in eastern Europe, perhaps in Bulgaria or Romania, and then spread west. In any event they come to the attention of the Catholic Church in 1143, when internal church letters refer to the existence of a heretic group in Germany. There seems to have a complete underground counter church, organised and in direct competition to the established Catholic Church, which it condemned as a Church of Satan. In Germany, those who did not recant were burned. As you do,
The word "Cathar" may derive from the Greek word katharós, meaning or "pure" or "having been cleansed", but it is also more than possible that it is a slanderous play on the word for the German for cat, for it was alleged that "Cathars" worshipped Lucifer who appeared in the form of cats, so they would kiss cats on the anus. The "Cathars" called themselves "the Good Christians"; I can't help that this was in deliberate and pointed contradistinction to those whom we may assume they regarded as "the Bad Christians".
What did it mean to be a "Cathar"?
Cathars had very different doctrines to the orthodox Christian church. They drew on a tradition of "Gnostic" thought which they believed pre dated the later and what they believed were misinformed doctrines of the Catholic Church.
In the Catholic Church there is what a belief in a Good, omnipotent God, and a bad and powerful figure of evil, Satan. This is called dualism, but "relative" dualism, because when push comes to shove Satan, who is a fallen Angel, will always get his arse kicked. But in the Cathars World the two were equal.
In the Cathar theology this physical world and all that were in it are the creation of the Satan, or the Dark God. So everything in it is evil. We literally live in Hell, not in some ethereal after life when sins are punished, but now. The realm of the true or Good God lay beyond this physical plane. The aim of this existence was to achieve purity and learn the lessons needed to ultimately move to the next plane and live with "good" God. This required more than one life time. Cathars believed in reincarnation; and worse from the point of view of the Medieval Establishment, an egalitarian re-incarnation; you might be a count and a knight in one life, and a peasant in the next. Even more disturbing, you could be a girl or a boy. There was no big difference between the sexes. The Divine Self was sexless.
They regarded the Catholic Church as pedaling untruths. They rejected the doctrine of transubstantiation. They believed that Jesus had manifested by some sort of mysterious act of divine will, rather than a physical birth. They regarded the physical body as of this world and therefore unclean. In their metaphysical world souls were created in Heaven, but then when they fell to earth the souls were clothed by the Devil with "tunics", or bodies. In every human being therefore the soul belonged to God, and the body or "tunic" to the Devil. At the end of days there would be no physical resurrection of the body, as the Catholic Church prescribed, but a reunion of the soul with God. They has priests, called "Perfects", who lived ascetic lives dedicated to purification, abstaining from meat, sex and alcohol, and each with a team of 12 disciples. Cathar Perfects did not distance themselves from the general population as did the sometimes corrupt clergy of if Catholic Church. They lived and worked with everybody else. Below them were "Believers" who were full devotees, and "Listeners", who were free to attend ceremonies and sermons and so forth on an ad hoc basis.
Much of the symbology of the Catholic Church was rejected. The cross was not holy; it was of this world and simply a representation of an instrument of Roman torture. They did not consider churches to be holier than any other place, and there is some suggestion that they were more at home worshipping amongst nature. Cathar women played an almost equal role as men, albeit with some differences. They were free to become Perfects, albeit usually after having children.
The only prayer which was shared with the Catholic Church was the Lord's Prayer, with a slight change as the Cathars substituted "supersubstantial bread" for "daily bread". I am not sure what this signified but it was obviously of great import to the Cathars, who often carried small crusts of stale bread as secret symbols of their allegiance and faith.
They were also essentially pacifist (although it seems that they were at least willing to defend themselves on occasion) and against the killing of animals, although only the "Perfects" were required to abstain from eating meat.
Even a brief acquaintance with these principles will show that the Cathar faith it was anathema to the two great pillars of traditional Medieval society; feudalism and the Church.
In the dotted fortified settlements around Toulouse and across Languedoc Cathars made up anywhere between a tenth and a majority of the population followed the faith.
In 1998 Innocent III was made Pope. Within 2 months he commissioned a team of Cistercian monks to preach in Languedoc with the aim of converting the Cathars back into Church. The embassy was renewed in 1203 with an elite team of three monk, the most important two being Arnold Amaury, Abbot if Citeaux, and Peter of Castenau. There were debates. The Cathars hated the nosy and interfering monks and regarded them as the servants of Satan. For years the monks harangued the Cathars, but achieved no significant success.
In 2008 Peter of Castenau left to return to Rome. He never made it; when he was waiting for a ferry to cross the Rhone a mysterious hooded rider galloped up and ran him through with a sword. In Rome, this was regarded as a sign of war. On 10th March 1208 Innocent III called for a Crusade.
Anyone who followed the Crusade got very considerable spiritual and practical advantages. For a start the forgiveness of sins, the cancellation of debts and the promise of loot. The Languedoc also had the advantage of being a lot more convenient to reach than the Holy Land. The result was a flood of recruits. No doubt as well as or indeed included in the professional armoured nobles and men at arms at the top of the food chain they would have included the scum of the earth, anxious to avoid their past crimes and on the look out for loot. The Papal Legate Arnold Amaury was nominally in charge. The army was about 40,000 strong, and it trundled down the Rhone valley and into Languedoc. On the feast day of St Mary Magdelene, 22nd July 1209, the host bore down on the Languedoc town of Béziers and demanded that the town hand over its Cathars, who formed a small minority, perhaps no more than a few hundred. It says a lot for the character of both the Cathars and the other, perfectly orthodox citizens that they refused to do so. Harsh words were exchanged between the besiegers and men on the town walls and a small group of hotheads from the town ventured outside the walls to give someone a bit of a lesson. It was a stupid and major miscalculation. Amazingly, the gates of the town were left open. Word spread amongst the besieging army, and they stormed the gates into the town. It sounds like a disorganised chaotic frenzy, with a mob running wild, and whether it was directly authorised by their leader the monk Amaury or not, the result was a total and indiscriminate slaughter, Catholic and Cathar alike. I quote from the redoubtable source, Wikipedia:
"Arnaud, the Cistercian abbot-commander, is supposed to have been asked how to tell Cathars from Catholics. His reply, recalled by Caesar of Heisterbach, a fellow Cistercian, thirty years later was "Caedite eos. Novit enim Dominus qui sunt eius."—"Kill them all, the Lord will recognise His own." The doors of the church of St Mary Magdalene were broken down and the refugees dragged out and slaughtered. Reportedly, 7,000 people died there. Elsewhere in the town many more thousands were mutilated and killed. Prisoners were blinded, dragged behind horses, and used for target practice. What remained of the city was razed by fire. Arnaud wrote to Pope Innocent III, "Today your Holiness, twenty thousand heretics were put to the sword, regardless of rank, age, or sex."The permanent population of Béziers at that time was then probably no more than 5,000, but local refugees seeking shelter within the city walls could conceivably have increased the number to 20,000."
With this bloody massacre over, the army moved on the various Cathar strongholds and more mayhem and murder followed such as the forbidding fortress town of Carcassonne. Relentlessly the Cathar strongholds were overcome and the Cathars persecuted.
The persecution continued over the next century. An Inquisition was set up. In a development which had more than an echo of darkest days of the 20th Century, those convicted of being "heretics" were at the least forced to wear yellow crosses as a mark of shame and opprobrium – provided they were repentant first offenders. There were harsher penalties. From May 1243 to March 1244, the Cathar fortress of Montségur was besieged by the troops of the seneschal of Carcassonne and the archbishop of Narbonne. On 16 March 1244, a large and symbolically important massacre took place, where over 200 Cathar Perfects were burnt in an enormous fire at the prat dels cremats near the foot of the castle. I am afraid I have to add that in the Medieval world, burning someone to death was something of an art form. They made it slow. In her book "Labyrinth" Mosse describes this event in some detail, and as far as I can see her book is meticulously researched. She describes the Cathars going willingly to their deaths, singing hymns, and content that whatever happened they would be reborn or their souls would join with God.
A popular though as yet unsubstantiated theory holds that a small party of Cathar Perfects escaped from the fortress before the massacre at prat dels cremats. It is widely held in the Cathar region to this day that the escapees took with them "le tresor cathar". What this treasure consisted of has been a matter of considerable speculation: claims range from sacred Gnostic texts to the Cathars' accumulated wealth to the inevitable Holy Grail.
But by the end of the 1300's the religion had been stamped out. Some historians calculate that some 500,000 died, although the basis of their calculations is not clear to me.
These days Cathars have been adopted by many a New Age and fringe movement as their precursors. I am not sure what they would have made of that. Perhaps, though, they would have pointed to their yellow crosses, and compared them to the yellow stars the Nazis required the Jews to wear, and pointed to the ashes of their peers and the Death Camps of the 1940's and said: You see! We told you!
I don't know. I have never been to Languedoc, But I do know that I find them a compelling subject and for some strange reason I want to go. It calls to me. A French friend, a remarkable and very sensitive woman has told me about the "atmosphere" at some of the sites mentioned above. She says there is a sense in which they, the Cathars, are still there. I trust her instincts. And there is all that stuff about re-incarnation.
Go figure.
Gildas the Monk



February 6, 2013 at 17:35




February 5, 2013 at 22:40












February 4, 2013 at 00:43




February 3, 2013 at 23:20







February 3, 2013 at 20:44










February 3, 2013 at 21:01







February 3, 2013 at 21:09




February 3, 2013 at 19:53




February 3, 2013 at 19:48










February 3, 2013 at 20:18










February 3, 2013 at 20:42










February 3, 2013 at 17:35










February 3, 2013 at 18:21







February 3, 2013 at 17:21










February 3, 2013 at 16:11










February 3, 2013 at 16:33







February 3, 2013 at 16:03




February 3, 2013 at 15:08







February 3, 2013 at 14:39







February 3, 2013 at 14:13







February 3, 2013 at 13:51







February 3, 2013 at 13:56







February 3, 2013 at 14:09