The Many Apologies of Dr Eoin Clarke (Phd, Plnkr, BF)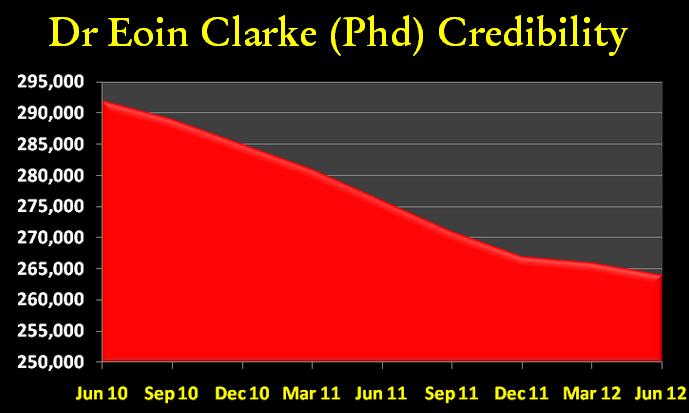 This post is an archive of all Dr Eoin Clarke's multifarious apologies for defamation, with some commentary.
I have posted them here, just in case Dr Eoin Clarke decides to drain the swamp into which he has sunk his credibility. They may go the same way as the 60 or so articles he has deleted after admitting that they were "defamatory".
This is a long piece; if you want a shorter read, the Virgin Care Apology (Exhibit 2) is a corker. Dr Eoin repeats all the baroque things he spent months saying, and declares one by one that they are all false.
Anyone not paying careful attention may have missed the "bonus apology" to the Broxtowe MP and Parliamentary Under-Secretary of State Anna Soubry MP, in which Dr Eoin Clarke agreed to pay her legal fees.
There's still no end of libel and defamation dripping from Dr Eoin Clarke's blog, and he may have future apologies to make.
It seems that Dr Eoin Clarke made a fresh start on December 3rd, when he took out a new domain greenbenchesuk.com, which I'd speculate is related to instructions from a whole phalanx of Defamation Lawyers to stop publicising defamation.
Exhibit 1, 30 October, 2012: An apology to Lord Ashcroft.
Accusing someone on the basis of a shareholding he hadn't owned for more than a year was brilliant.
Link on The Green Benches, also on Labour Left, Dr Eoin Clarke's thinktank.
I would like to make 5 sincere and unequivocal apologies and clarifications about earlier pieces I wrote in relation to Lord Ashcroft. My earlier writings used hyperbole in 2 cases, may have caused a false impression to be received in others 2 cases, and was incorrect on the facts in 1 case.1. An earlier piece on this website alleged that Lord Ashcroft had a significant stake in the Priory Hospital Group. Whilst this was the case up until March 2011, Lord Ashcroft had divested of his interests from this date. Therefore, I was wrong to link his name to any current Care Quality Commission shortcomings experienced by the Priory Group after that date. For that, I apologise. Lord Ashcroft cannot be responsible for CQC failings at the Priory Group if he had by that stage sold his share.
2. The CQC Inspection of the Priory Group Hospital found that it could only pass them on 2 of the 5 criteria. It found some serious shortcomings with the way adolescent patients were treated at the hospital but I accept that it was a use of hyperbole to call this failings 'horrific'. I was myself genuinely moved by the plight of the patients who were unhappy with the care they received. You can read the Care Quality Commission Report for yourself (here). I took it as a given that people would realise that Lord Ashcroft is not a trained medical doctor and so therefore did not 'literally' provide on-site medical care, but for those who thought that unclear let me apologise.
3. Lord Ashcroft has donated many millions of pounds to the Conservative Party, and he (and his family) has held a financial interest in private healthcare company Medacs for more than 10 years. But in no way are these two facts linked, and I apologise if I created the impression that they were. The two facts in their own right are of public interest, and it is that which I sought to fulfill. I have never said Lord Ashcroft corruptly receives NHS contracts, but for those who got that impression let me also apologise.
4. Medacs only passed 3 of 4 of the criteria at the inspection of their service mentioned and whilst this is a serious matter, I accept that I used more colourful adjectives in describing those shortcomings than was needed. For that I apologise. You can read the Care Quality Commission Report for yourself(here).
5. Medacs benefits from the use of agency staff in the NHS, and it is the case that the use of agencies such as Medacs has expanded since 2010. By the Daily Telegraph's estimation, agency spend has gone up by 50%. And whilst it is true that Medacs have financially benefited from this increased use, that is not to say that this has been in any way as a result of Lord Ashcroft's donations. If I created the impression that Lord Ashcroft's donations led to a policy that more increased use of agency staff as some sort of 'pay off' then I apologise. There is no evidence that that is the case. I think the public are rightly interested in donors who have private healthcare links and that is what I sought to report. Yours sincerely,
Exbibit 2, 12 November 2012, An apology to Virgin Care for inaccurate articles I have written and published
Link on The Green Benches
An apology to Virgin Care given by Dr Eoin Clarke
I, Dr Eoin Clarke, apologise wholly and unreservedly to Virgin Care, its employees, subsidiaries and service users, as well as my readers, for writing over 46 blog entries that contained false, inaccurate and defamatory statements. In light of this, I have decided to remove all of the articles from the internet and shall not publish them again. I sincerely regret this error of judgment and request that my readers take the time to reflect and reconsider any opinions they have formed as a result of reading my blog.
Following a review of The Green Benches, I have decided that from now onwards each entry about Virgin Care or its services shall be thoroughly researched before it is posted on my blog to ensure the accuracy of any claims I make.
For the record, in the course of writing I have regretfully made a number of statements about Virgin Care and its services that are incorrect and misleading. In response to some of my more serious mistakes, I have decided to list the following facts in an attempt to ensure my readers are better informed.
1. Virgin Care does NOT put profit before patient care. Virgin Care has been instrumental in helping to strengthen the NHS by providing high quality services that are valued by patients and improve health outcomes, whilst saving the taxpayer money.
2. The CQC has NOT reported that Virgin Care leaves patients lying in urine.
3. The CQC has NOT reported that Virgin Care put lives at risk in Croydon.
4. Virgin Care is NOT a tax avoider.
5. Virgin Care does NOT have hundreds of "sleeper cells" in Clinical Commissioning Groups. As such, any claim I have made that Virgin Care represents the biggest conflict of interest in the history of the NHS is INCORRECT .
6. Virgin Care has NOT made donations to a political party.
7. Virgin Care has NOT introduced charges for NHS services or limited the number of free physiotherapy sessions it offers.
8. Virgin Care does NOT sack staff with impunity and is bound by the same employment rules and regulations that apply to any company.
9. Virgin Care has NOT taken the NHS to court. A complaint was made by Virgin Care to the Cooperation & Competition Panel which is NOT the same as court proceedings. It is used by many organisations to review decisions made by the NHS.
10. Six months into Virgin Care's community services contract in Surrey, there are NOT severe patient-safety and financial concerns.
Exhibit 3, 15 November 2012, Ms Anna Soubry MP, an apology
Link on The Green Benches
I would like to make 5 key corrections regarding an earlier piece that appeared on this website about Ms Anna Soubry MP. I am sorry for any inconvenience or annoyance this has caused her.
In an earlier piece I stated that Anna Soubry now earns a ministerial salary in excess of £100,000.00 per year. This is incorrect. It is a matter of public record that a Junior Minister's salary is £89,435.00, comprising £65,738.00 basic wage of a Member of Parliament, and £23,697.00 for being Parliamentary under Secretary of State. I incorrectly overstated the salary that Ms Soubry MP is currently receiving. I made the claim in good faith but I am sorry for my error.
I also stated that Anna Soubry's Constituency Office has accepted £94,000 in donations. This is incorrect. Anna Soubry did not have a constituency office until elected in May 2010. Until that time all £94,000 donations were in fact given to Broxtowe Conservatives which is her Constituency Association and who are responsible for and continue to run campaigns. I should have made clear that all donations were to Broxtowe Conservatives, and were made long before Miss Soubry MP had any connection to the Department of Health. Donations of £90,000 were not paid to the constituency office since taking up an appointment as either a PPS in the Health Ministry or as a Junior Minister. All donations were made prior to the elections or within a few days of completion of the election. I lazily referred to "Constituency Office" in my earlier piece when in fact I should have said "Local Conservative Association's Office"
I incorrectly alleged that a person with an interest in health care companies made a contribution to Miss Soubry's Constituency Office. This was in fact completely wrong. Mr Tyler who made donations substantially before the election has no connection to the Health Industry. He has no connection to the RoyceFund or the Health industry. The majority of the contributions from Mr Tyler were made in 2008. A further substantial contribution was made in 2009. The smaller contributions made in 2010 were made a few days after the election of that year. Mr Tyler has made no further contributions. You can view every donation to Broxtowe Conservatives at this link (here). Besides, at the time of the election Miss Soubry was not involved with the Ministry of Health. Her appointment as PPS to Mr Simon Burns MP, Health Minister, occurred in November 2010. No payments of any description were made to Miss Soubry's constituency office or Broxtowe Conservatives by any person, let alone James P Tyler of the RoyceFund after her appointment as a PPS and certainly no payments have been made since she was appointed Junior Minister at the Ministry of Health.
Although I stated it was not possible to confirm whether or not this person is the same Jean Barber as the person who made a earlier contribution to Miss Soubry's office, my reference to this person who is in fact another American citizen; Vice Chairman of a US The Jean Barber referred to is not the person who made donations to Broxtowe Conservatives long before the election. I apologise for even raising the donation in the first place.
In my piece I claimed that Ms Soubry claimed more than £90,000 in expenses and has hired a cleaner more than 20 times at £30 cost to taxpayers each time. For the record, and to avoid confusion, Ms Soubry does not hire a cleaner for £30 per day. The Constituency office receives a weekly clean, which is billed monthly at £30 per month. All MPs expenses are fully documented and properly described. Moreover, an MP does not personally receive the amounts listed but instead, the disbursements are paid directly to the company responsible for providing the service. Thus the Independent Parliamentary Standards Authority pays bills directly to the provider/ creditor. Other expenses not reimbursed in this way are staffing costs and wages. You can view every one of her £90,000+ claimed in expenses from this link (here).
In my piece I stated that given that "Ms Soubry has claimed £90,000.00, earned £100,000.00 a year in his ministerial salary and that she has received £90,000.00 plus in donations to a constituency office, Soubry is an immoral and unethical hypocrite to slash the pay of regional NHS staff while she rakes it in". But this has incorrectly caused readers to believe Miss Soubry has received money improperly and committed or procured a conflict of interest. Ms Soubry has not incorrectly received a her wages or expenses. She did not procure a conflict of interest. All donations were correctly reported to the Electoral Commission and paid to Broxtowe Conservatives not Miss Soubry. Although I never alleged any wrong doing on Ms Soubry's part, my piece may have caused others to form that impression. I wish to apologise unreservedly for the errors which I made in my earlier piece and withdraw any implication that Miss Soubry allowed a conflict of interest or behaved in any way improperly.
Dr Eoin agreed to pay Anna Soubry's costs on this occasion, according to a comment posted on the Beestonia local blog in her constituency by her Office:
FROM THE OFFICE OF ANNA SOUBRY MP for BROXTOWE
You have removed an inaccurate and defamatory article about Anna Soubry from your web site which was written by a Dr. Eoin Clarke. He has removed the article from his web site and posted a full and unreserved apology accepting he had published wholly inaccurate figures and had made false allegations against Anna Soubry.
You are aware that Dr. Clarke agreed the apology with Anna's solicitor but you have not posted Dr. Clarke's apology on your web site nor apologised for publishing an article which you did not check, which was factually inaccurate and which made false allegations against Anna. Dr Clarke has also agreed to pay the costs of Anna's solicitors.
Anna Soubry has no desire to engage in legal action against you given that you would have to bear those costs. Recent events have shown, though on a far more serious and damaging level , the need for anyone who publishes allegations against another person to verify them and stay within the law. In the circumstances please would you publish Dr Clarke's apology which he has agreed with Anna Soubry's solicitors.
He gets around, does Our Eoin.
Exhibit 4, 20 November 2012, An Apology to Circle Health
AN APOLOGY TO CIRCLE HEALTH
In several posts on my blog "The Green Benches" in 2012, I made a number of defamatory statements about Circle Health. I now acknowledge that there was no truth to those statements, and am happy to correct the position as follows:
1. Circle has not sacked any cleaning staff at Hinchingbrooke Hospital. When re-negotiating its agreement with the external contractor which supplies cleaning services at Hinchingbrooke, Circle ensured that cleaning of all clinical areas (including wards) has been maintained, and in some areas increased.
2. The outbreak of a bug in a ward at Hinchingbrooke was caused by patients arriving at the hospital with diarrhoea and vomiting. It was not as a result of any reduction in cleaning services at the hospital.
3. Circle has not sacked any nurses at Hinchingbrooke.
4. Hinchingbrooke Hospital has to date received fewer complaints since Circle took over the running of the hospital than for the same period last year.
5. The staff sickness rate at Hinchingbrooke has also decreased since Circle took over the running of the hospital.
6. Circle does not engage in kickbacks, nor has it entered into any "lock-in"agreements with GPs. Circle's contracts with consultants are legal, ethical and transparent. They always include an obligation on the consultant to act in accordance with all guidance issued by the GMC on clinical, medical and ethical issues and in particular to practise in full accord with the statements on Good Medical Practice issued from time to time by the GMC and the consultant's own Royal College.
7. There have been no deaths linked to C-Difficile at Hinchingbrooke since Circle took over the running of the hospital.
8. Circle has not sacked 73 staff at Hinchingbrooke, nor do they plan to sack 320 staff in total.
9. Circle has not sought approval to sell the estate of Hinchingbrooke Hospital, nor has such approval been granted by the Trust Board. Furthermore, Circle does not own the estate of Hinchingbrooke Hospital therefore if any sale of land took place, Circle would not profit from the sale.
10. Circle has not, and will not, prevent or impede the use of Hinchingbrooke Hospital by NHS patients in order to increase the number of private patients treated at the hospital. The franchise agreement under which Circle runs Hinchingbrooke Hospital specifically states that private patients can only be treated at Hinchingbrooke "provided that such treatment does not adversely affect the treatment of NHS patients".
I would like to offer my sincere apologies to Circle Health for any inconvenience and damage which the untrue statements in my blog have caused. I have removed the offending posts from the blog and undertaken not to repeat the allegations which I made.
Exhibit 5. Your Cut Out and Keep Apology form, for you to send to Dr Eoin should he ever say anything about you.
Kindly provided by Damian Thompson, the Blogs Editor at the Daily Telegraph.
I, Doctor Eoin Clarke, unreservedly apologise for suggesting that _____ neglected patient care at _____ Hospital. I now recognise that _____ had no financial interest in _____ Hospital, nor in _____ Hospital, the two of which I inadvertently confused, the former having closed in ____.
Furthermore, I apologise for repeating the rumour that ______ engaged in _____ with _____ in the _____ and accept that no such person as _____ actually exists. It was loud in the pub and I must have misheard.
Otherwise I stand by every word.