Vera Baird and the Ineptocracy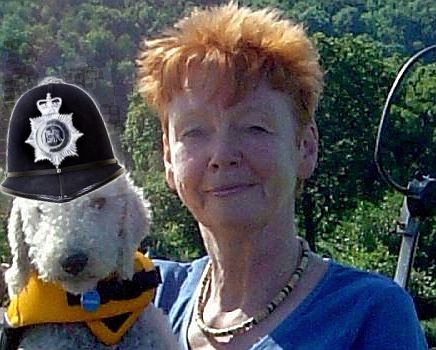 We maintain a healthy interest in the Life and Times of Vera Baird, known as the 'Towering Inferno' (apparently she explodes when insufficiently respected).
Our Vera is now perambulating – presumably at significantly less than 98mph – around the North-East, telling policemen what to do.
And she managed a mention in Parliament yesterday.
Here's Paul Flynn, Labour MP for Newport West, asking a question about the outgrageously outrageous cost of "Deputy Police and Crime Commissioners' Salaries", while channelling Roget's Dinosaurus:
Paul Flynn (Newport West) (Lab): What the average salary is of deputy police and crime commissioners. [135592]

The Minister for Policing and Criminal Justice (Damian Green): Not every police and crime commissioner has appointed a deputy. Whether PCCs decide to have a deputy, and what salary that person should be paid, is for the PCC to decide. They must publish that salary. PCCs are accountable to the public, and it will be for them to justify their deputy PCC's salary.

Paul Flynn : The maladroit election timing, the sinfully wasteful funding, the creation of cronyism and the sapping of democracy make the setting up of police commissioners one of the most egregious examples of political incompetence, and it will be seen in the future as an example of the coalition's signature policy in creating its ineptocracy.
I love Ineptocracy, which was incorporated into this non-question question.
The background is that sixteen Police and Crime Commissioners, out of forty-one, plan to appoint Deputies, typically at salaries of £60 to £70k. In Northamptonshire they plan to appoint four Deputies. If the reply is to be believed, Flynn the Rhetoric needs to do some homework. By some innate instinct for bad publicity Vera Baird has won the competition to offer the highest salary of them all:
Damian Green : The hon. Gentleman asked about the cost of the deputies. The highest-paid deputy at the moment has been appointed at £68,000 a year—[Interruption.] I am interested that Labour Members are shocked by that figure, because that was an appointment of the Labour PCC for Northumbria, Mrs Vera Baird, QC.
Northumbria is clearly (ahem) the most expensive area of the country in which to live as a Deputy Police Commissioner, and therefore requires the most money to be offered.
The one thing I will say in praise of Vera is that she has at least appointed a former policeman as her Deputy – Mark Dennett, former Chief Superintendent of Northumbria.
We wish Mr Dennett luck. He will need it.
This is slightly different to Our Vera trying to telling Magistrates what to do when she was on trial:
Barrister Vera Baird – who occupied the £125,000-a-year post for Gordon Brown until last month – was caught on camera speeding at 98mph.

She claimed a ban would cause her 'excessive hardship' because she needed her car to wind up her affairs after losing her seat in Redcar, Cleveland.

And she told magistrates the punishment would cost taxpayers more money, as she is still eligible to claim

MPs' expenses and would have to file a bill for taxi fares for the delivery of her paperwork.

The QC tried to persuade the court to allow her to keep her licence after researching the speeding laws.

But magistrates banned her for six months for the offence on the M4 near Cardiff.
Or, for that matter, telling PCSOs what to do when her doggy did-did-did come on and do the pooh-pooh, on the platform at King´s Cross station in 2009:
The drama started when Mrs Baird, 58, was walking her puppy in King's Cross train station in Central London in October.

A mother with her young child confronted the minister after allegedly seeing her fail to pick up the dog's mess after it fouled the platform.

It is an offence if an owner does not clean up immediately after their dog has fouled land to which the public has access.

The fine is usually a £50 fixed penalty notice. According to sources, Mrs Baird took great offence at being challenged by the woman and gave her a 'complete mouthful'.

When a police community support officer turned up to deal with the altercation, a by-now furious Mrs Baird made it clear she felt she was being humiliated and allegedly said 'don't you know who I am?'. The minster denied this today.

Eventually, the PCSO took Mrs Baird's details and submitted a report suggesting the minister be investigated for a low level public order offence for causing 'harassment, alarm or distress' – which carries a maximum fine of £1,000.


The incident was officially logged as a crime.

According to sources, a number of officers thought charges would be brought. But, after reviewing the evidence, senior transport police officers ruled that the case be dropped.
Keep 'em down, Vera.
That's the way to do it.
Photo Source (without helmet).
January 12, 2013 at 01:14




January 9, 2013 at 21:40







January 12, 2013 at 12:46




January 9, 2013 at 19:15




January 9, 2013 at 18:53




January 9, 2013 at 18:37







January 9, 2013 at 13:36