Not Quite All-You-Can-Eat in Brighton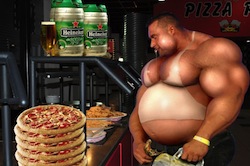 In the news this week, we read of a Mongolian restaurant in Brighton which has banned a pair of enthusiastic regular customers for taking its offer of 'all-you-can-eat' too literally.
I'm no expert on the relevant legislation but would start from a point that the 'offer' was clear, a 'consideration' was tendered and that, therefore, a contract should exist. Any trader indeed has a basic right to decline to do business with any particular customer (providing he is not doing so on grounds of race, gender etc) but when such a clear public offer is made, surely the customer should reasonably expect it to be honoured ?
When a trader creates such a blanket offer, he should have taken into account that, among the general public attending, he would expect to get a varied mix of the gluttons and the virtually anorexic, accepting that the balance would still leave him in front on the deal. If not, he just puts up the standard blanket price to achieve that end.
Some close friends of mine own a very popular Asian restaurant in these parts, where an all-you-can-eat buffet system operates. They accept the varied mix of customer types, supplying whatever volume of tasty food is required to satisfy the customers' needs without question and, at the end of the year, they record a tidy profit. They never express concern about the occasional gluttons, positively accepting them as a natural part of the mix – if such food enthusiasts like your food, it's a good recommendation.
What really annoys my pals, however, is when customers load up their plates with food, then leave much it uneaten – that inappropriate use of the open buffet system really winds them up. There's nothing stopping customers revisiting the buffet as often as they like, gathering freshly-cooked food each time, regardless of total volume, so why they insist on collecting far more than they can eat and creating waste remains both a mystery and a commercial annoyance. They note that it is almost always their Asian customers who do this, the Western types tend to leave very little for the scrap-bin.
Although not a glutton myself (and with a Mrs Mudplugger who significantly increases her impact on the weighing-scales when wet through), I would not give my custom to a business which reneged on a public offering such as the Brighton Mongolian appears to have done. If their business integrity is so delicate, what might it say about the qualities of the source ingredients ?
Perhaps our landlady should start an 'all-you-can-drink' offer at the Raccoon Arms – that would soon sort the men from the boys.
Edited to add:
OK, I'll bite – 'all you can drink' until tomorrow morning when the landlady will be back with a vengeance to see who is still standing…regards, Anna



December 31, 2012 at 01:26







December 31, 2012 at
05:57





December 28, 2012 at 19:54




December 28, 2012 at 19:37




December 28, 2012 at 02:20







December 28, 2012 at 04:42




December 28, 2012 at 11:14







December 28, 2012 at
16:21





December 28, 2012 at 17:24




December 28, 2012 at
20:26





December 27, 2012 at 23:49







December 28, 2012 at 04:34

December 27, 2012 at 19:36







December 27, 2012 at 20:56







December 27, 2012 at 21:55




December 27, 2012 at 18:22




December 27, 2012 at 17:34







December 28, 2012 at 04:30

December 27, 2012 at 12:08










December 27, 2012 at 14:08







December 27, 2012 at 19:09




December 27, 2012 at 12:06







December 27, 2012 at 11:49







December 27, 2012 at 10:26







December 27, 2012 at 08:03